With the second season officially scheduled to premiere on June 21, and an entire new cast which includes Colin Farrell and Rachel McAdam as the next "true detectives," my feminist part in me has already begun to imagine a third season consisting of two female detectives.
Chances are you've come across a public service announcement (PSA) from the Ad Council, such as their recent "Love Has No Labels" campaign that went viral with over 86 million views. I interviewed Laurie Keith, Director of National Media Accounts at the Ad Council, to shed some light on how technology is used to empower their campaigns.
What makes a woman independent is her imagination, a desire to become the shero in her own story and the master of her fate. It has nothing to do with "the reality" others see, only what she chooses to see and act upon.
Yet another violence allegation against accused child abuser Adrian Peterson has bubbled up beyond the protection racket of NFL commissioner Roger Goodell and sponsors like Cover Girl who protect the league for profit.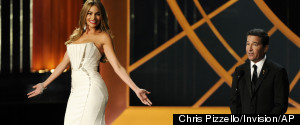 Would we be having this discussion if Hugh Jackman had been displayed shirtless on that rotating pedestal? I think not. This was tongue and cheek, people. A parody. A lark. And a creative way to present a boring part of the show. Geesh!
There are no car chases, no murders, no grisly scenes of carnage or even graphic sex scenes... though the sumptuous shots of food are seductively voluptuous.
Because of terrorism and violence brought upon Colombians by drug wars, my family and I have never experienced peace in our country. That is why there is a sense of extreme frustration that overwhelms us. Colombians are not associated with drugs just because we were born in Colombia.
Neighbors may not be a particularly well-thought-out film (huge third-act problems). But it has some of the biggest sustained laughs of the summer.
In the hilarious old-school tradition, Bullets Over Broadway at the St. James Theater, based on Woody Allen's 1994 film of the same name, features a w...
There are so many potentially interesting elements swirling around Wally Pfister's Transcendence - something old, new, borrowed and blue - that the...
Over the past few days I've met a ton, literally, of innovative men and women at the National Association of Television Producers and Executives (NATPE) conference who are creating incredible ways to create, produce and deliver great content to you wherever you are.