By Emilia Petrarca, W Magazine. ...
The profane, bowling ball-licking, hairnet-wearing maniac fleshed out by Turturro for the 1998 film was based on a real person, according to the actor who received the John Cassavetes Award at the Denver Film Festival on Nov 12.
The Venezuelan star, who recently relocated from Miami to LA, explained that she is both appealing and intimidating to some because of her habit of being upfront with people.
Feminism has become a dirty word. For many, it can alienate. For some it conjures up images of people demanding opportunities that they do not deserve. It's a complicated topic with which this generation of women struggle. Knowing they are capable, the suggestion that special treatment is required, mocks the very concept that women are trying to overcome. Judge each person on their ability.
What gets lost in the strip routines of Magic Mike, the articles about body building, and the occult romance of True Blood is, perhaps, Joe Manganiello's most impressive characteristic: he's incredibly bright. According to him, everything he has is primarily a result of his brain, not his body.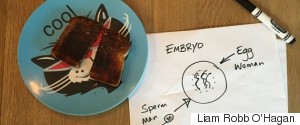 The moral dilemma here is this: Should one person's right be a parent outweigh another's not to be forced to become a "genetic parent" against their will?
The reality is that family-making today increasingly includes a mixture of sophisticated science, contracts, and negotiations. Unfortunately, at times some of that negotiating is characterized by unequal bargaining power, coercion, international outsourcing, and mechanized deliveries.
Radhika Sanghani spends most of her life writing in London. Besides working on a sequel to her bestseller, Virgin, she works about 50 hours per week as a journalist, as she is one of the Wonder Women columnists for The Telegraph.
With the second season officially scheduled to premiere on June 21, and an entire new cast which includes Colin Farrell and Rachel McAdam as the next "true detectives," my feminist part in me has already begun to imagine a third season consisting of two female detectives.
Chances are you've come across a public service announcement (PSA) from the Ad Council, such as their recent "Love Has No Labels" campaign that went viral with over 86 million views. I interviewed Laurie Keith, Director of National Media Accounts at the Ad Council, to shed some light on how technology is used to empower their campaigns.
What makes a woman independent is her imagination, a desire to become the shero in her own story and the master of her fate. It has nothing to do with "the reality" others see, only what she chooses to see and act upon.
Yet another violence allegation against accused child abuser Adrian Peterson has bubbled up beyond the protection racket of NFL commissioner Roger Goodell and sponsors like Cover Girl who protect the league for profit.