Sanders and Clinton have criticized each other for raising some taxes on the non-rich, but this criticism is misplaced. There are taxes that are good and necessary policy, even they fall partly on the middle class. Examples are payroll taxes that finance Social Security and Medicare, taxes on tobacco that deter tobacco consumption and taxes on carbon. The issue is not whether taxes should ever be levied on the non-rich. Rather, the question is offsets and benefits. High taxes on sugary drinks and on tobacco make sense to deter unhealthy consumption. If they fall heavily on the working class, that impact can be offset with other benefits. Higher payroll taxes to finance universal health insurance make sense, because the result over time will be lower costs and a more efficient system. That said, not everything in Sanders' program makes good sense as tax policy. But the idea of a big and long overdue increase in public outlay deserves mainstream consideration.
The GOP cynically flips the table and blames the wealth gap and even the poverty rise on Obama's supposedly reckless tax and spend policies. This is more myth-making. Obama's budget has not broken the government's fiscal bank.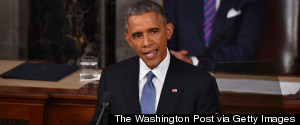 Although the president didn't go into detail in his State of the Union, the details that were released in the week before the speech should make middle class American's think twice. Despite the rhetoric of "taxing the rich" -- it's pretty apparent that the middle class will do most of the paying.
The best thing Republicans had going for them in this election was the fact that they weren't in the same party as President Obama. But it would be a huge mistake for them to act as though this was an endorsement of their policies -- a mistake they seem likely to make. A mistake that seems destined to be part of the 2016 Republican autopsy.
Obama wanted to be the president who would change the tone in Washington, meaning a more collaborative relationship with the Republicans. That was not to be. The Republicans would not allow it.
Newt Gingrich has done it again. With his new tax plan he has raised the bar from irresponsibility to recklessness.
Money always does something. It is always being used to enable the functions an economy needs. By taxing the rich, all that is achieved is a transfer of wealth from the private sector to the public sector.
While whacking our parents and grandparents with a big cut in Social Security benefits apparently draws bipartisan support, the supercommittee will not even score a plan to tax Wall Street financial speculation.
Thanks to a hit piece by one of those Beltway pseudo-"bipartisans" we can now state conclusively what many of us have long suspected: Occupy Wall Street speaks for the American majority. We've got the polling numbers to prove it. We now know where the real center lies.
"We are the ones we have been waiting for."- thus said candidate Barack Obama who used it for a Presidential campaign speech in February 2008. Althou...
Obama has put forward a revenue proposal worthy of support and organizing. Progressives need to engage the media and our neighbors -- and dramatize the reality that a majority support increasing taxes on millionaires and corporate tax dodgers.
We now need ten thousand more like Warren Buffett to speak up, people with incomes over $250,000 that know in their hearts that they should pay more.
The oh-so-loaded residents at New York's poshest addresses pay less of their income in federal taxes, a new analysis reveals, than the staff who clean...
The centrist lobbying powerhouse for the elderly, the American Association for Retired Persons (AARP), is scheduled to endorse the House health care bill despite its possibly flawed public option.