Between 1939 and 1941, the city of New York took a 35-mm black-and-white picture of every single building in NY.
Every single building. In all five boroughs.
This massive undertaking was a way for the city to appraise real estate for tax purposes and resulted in over 700,000 photos. In the 1980s, the project was repeated, this time in color with an end total of 800,000 pictures.
So where can you view these pictures? Hopefully at home on your computer via Google soon. According to this NY Times article, Google is in talks to digitize the 90,000 Manhattan pictures and add them to Google Maps (unfortunately, the outer boroughs are left out as usual).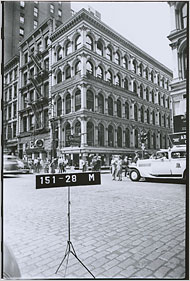 If you don't feel like waiting, you can view both the 1940s and 1980s picture sets on microfilm for free by going down to the Municipal Archives at 31 Chambers Street (hours: M-Thu 9a-4:30p, Fri 9a-1p). Make sure to bring your building's unique borough-block-lot number, which can be looked up here.
At the Municipal Archives, you can print out grainy pictures for cheap. Or, if you'd like an 8x10 or 11x14 photographic print, the Archive will do it for $35-$60 - click here for more info. The price is a bit steep, but I gotta say, that would make a pretty unique holiday gift for just about anyone living in New York (note: 4-6 weeks processing time required).
Thanks to Scouting NY devotee/researcher Jack for the note!
SUBSCRIBE AND FOLLOW
Get top stories and blog posts emailed to me each day. Newsletters may offer personalized content or advertisements.
Learn more