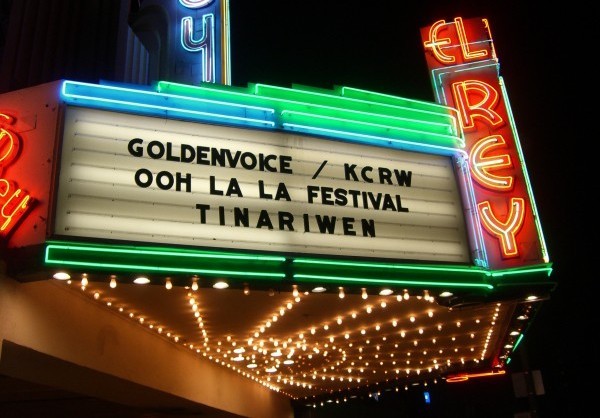 Amid the hubbub of the Pacific Standard Time-anchored art extravaganza unfolding all across town, the OohLaLA Festival sashayed onto the scene last weekend for a third installment of its French musical showcase. Running from September 29th to October 1st at the historic El Rey Theater, the annual festival featured a diverse lineup of contemporary talent, each exuding a certain je ne sais quoi.
Thursday's festivities began with an acoustic set from Parisian favorite, singer-songwriter Hugh Coltman and culminated in festival veteran Nouvelle Vague's exclusive performance of "Dawn of Innocence," a sultry and experimental musical directed by fashion designer/artist Jean-Charles de Castelbajac. (Yes, the many wardrobe changes of the collective's singers were to die for!). The festival continued Friday night with exciting cross-cultural panache, as Moroccan-born, award-winning vocalist Hindi Zahra took to the stage, followed by the Malian Tuareg collective Tinariwen and their surprise guest collaborators, members of TV On The Radio and the Red Hot Chili Peppers. For its final evening, the festival presented some of the finest electro DJs and producers working in France: Etienne de Crécy, DJ Cam, Feadz and Chateau Marmont -- whose name further endeared the band to the L.A. audience. (Etienne de Crécy stepped in for the evening's scheduled headliner Birdy Nam Nam, who were unable to perform.)
Artistic director of the OohLaLA Festival, Sylvain Taillet, a top A&R executive for the French record label Barclay, graciously took a few moments to speak about the festival he created and share his picks of Gallic artists on the rise.
With the second-largest French community in the United States and an exploding international art scene, Los Angeles seems like the place to be. Would you comment on the festival's reception with the "Frenchy" community in L.A.?
I'm not sure the French community is more receptive to our line-up [than the Americans]. The acts are not mainstream French and we don't program OohLaLA specifically for French audiences. We're targeting the indie audience that's mostly American, but of course "Frenchies" attend, as they are always curious.
How does the fact that you are an A&R executive influence your style of leadership and organization of the OohLaLA Festival?
As A&R executive I try to present artists and bands who represent the diversity of the French music scene. As some of them are not exposed to the masses, we offer them the opportunity to play in the festival because we believe in them and think that these artists have potential to be developed in the U.S. market.
To what do you attribute the festival's success?
I guess since the first edition, L.A. audiences have been prepared to discover quality new talent in their town, and they're curious about it. Of course, we also try to select headliners that will appeal or offer exclusive performances specifically created for the festival, [such as] Nouvelle Vague's. Also, for this past edition, we featured surprise guests as part of Tinariwen's show, which included members of TV On The Radio as well as Red Hot Chili Peppers.
The final night of the festival was devoted to electro music. Does this reflect a growing demand for French Touch in America?
I don't think this is new if you consider the international success of acts such as Air, Daft Punk, Cassius or Justice. With that, people know that electro music in France constantly produces amazing new sounds. We try to present this 'laboratoire,' and our line-ups [have reflected that] by including artists such as Kavinsky, Jamaica, Brodinski, Feadz, The Shoes and Chateau Marmont.
Fashion designer and artist Jean Charles de Castelbajac participated in the festival for the first time this year with his direction of Dawn of Innocence, a musical performed by Nouvelle Vague. Can we expect more cross-genre collaborations of this sort at the OohLaLA festival in the future?
That is definitely something we want to develop. We really are focused on fusing different genres and we're looking to go further that way next year.
For which emerging French artists or bands should we be on the look-out?

Woodkid, Housse de Racket, Birdy Nam Nam, Yuksek, Owlle, François & The Atlas Mountain, Lou Doillon... for example. But also expect amazing new albums from Sébastien Tellier and Amadou & Mariam.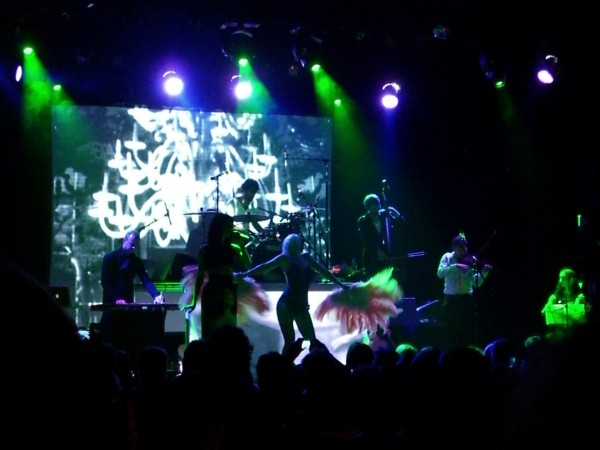 Nouvelle Vague performs "Dawn of Innocence" directed by Jean-Charles de Castelbajac
Photo credit: Nicole Garton, courtesy of Ink Tank PR/OohLaLA Festival
FOLLOW HUFFPOST