When asked recently if the states are headed toward the same end as some of the country's major banks, Washington state Governor Christine Gregoire had this response:   "We're not going to fail. That's not in our vocabulary. I don't know a governor who would say we're going to fail," she told me in front of a Starbucks in downtown Seattle.   And yet, all signs in her state -- and many others -- point toward a long-term struggle at best as the states continue to beat back the recession.   Last month on CNBC, famed bank analyst Meredith Whitney offered an ominous prediction for the U.S. states: "The similarities between the states and the banks are extreme," she said, suggesting that some of the states are poised for failure of the same proportions as U.S. banks in 2008.   Responding to Whitney's comment that the states resemble the banks pre-crisis, Gregoire said that, "We're in crisis mode. We the states are not in pre-crisis at all."   She would know: Washington state is quickly running out of money. State budget reserves have dwindled to $72 million, an amount needed to last through the remaining eight months of the state's budget cycle. Should the state experience further tax revenue losses toward the end of the year, this reserve cushion could disappear all together.   The economic record for the individual states isn't encouraging, and it's all over the map. State tax revenues were 11.5% lower in the 2010 fiscal year than in 2008, while the need for state-funded services did not decline, and in many places actually increased.    According to a report released by Whitney's firm, there is a "real danger" that municipalities could start defaulting on their bonds. The cities and towns themselves guarantee these bonds, and the municipalities receive one-third of their revenue from the states. In the event that the states hold back those funds to use toward their own budgets, towns and cities won't have the money to make their interest payments.    Economist Nouriel Roubini told me he is also /www.cnbc.com/id/39829548" target="_hplink">worried about municipal debt default, saying that municipal debt is already 20% of GDP. He added that unfunded liabilities of state and local public employee pension funds are as high as $3 trillion -- or another 20% of GDP.   Tony Crescenzi, VP of bond firm PIMCO, said that the pressure on the municipalities is heightened by local unemployment data, most notably with layoffs in the education sector. "States are pushing down their burdens onto local municipalities," he said, "So it is important for now to focus in particular on local governments."   Whitney warned: Should the larger states fail, they might cause problems for the others by creating a vacuum for federal resources and domestic trade.   "We're struggling, there's no question about it," said Gregoire.   Forty-eight states addressed shortfalls in their fiscal year 2010 budgets, totaling $191 billion or 29% of state budgets -- the largest gaps on record, according to a report by the Center on Budget and Policy Priorities.    "Hopefully these concerns will convince states to defer borrowing while deficits remain wide," said Peter Delahunt, of Raymond James financial services company, explaining that raising taxes and making budget cuts are still viable alternatives, as long as state governments are willing to make some big changes. "Thirty-seven gubernatorial posts are up for election," he said. "The best approach for a new governor is to blame the previous administration and take action early in the first term, having four years to recover."   In Delaware, Democratic Governor Jack Markell has decided that budget cuts alone are not enough, telling me when I met with him in Wilmington, "We're not going to cut our way to a prosperous future."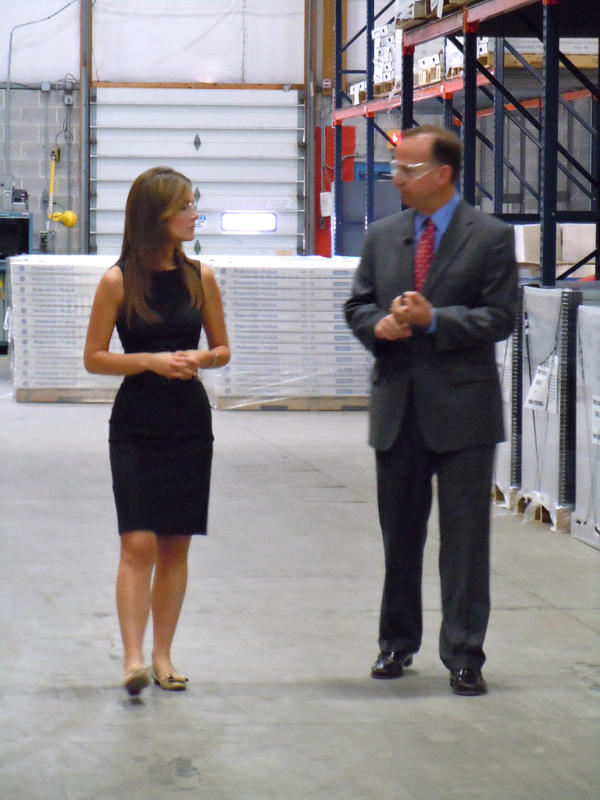 Nicole Lapin interviews Gov. Jack Markell (D-DE) at a solar power plant in Wilmington. Courtesy CNBC
For some states, like Delaware, that means creating more jobs. Markell recently solicited a deal with Taiwanese silicon giant Motech, which joined the ranks of corporations based in Delaware with its merger with General Electric's silicon business based there. The deal saved about 70 jobs in the area, and Motech officials have announced plans to hire an additional 75 people by year-end.
"We have to continue to grow our way out of this," said Markell of his efforts to create new jobs.
But job creation is not a guarantor to economic recovery, a fact that Washington state has had to learn the hard way.
 
"All the private gains and jobs you can make can be paled in comparison when you look at the kind of layoffs we're going to have to do at local government, state government," said Gregoire. 
 
The unemployment rate in Washington has held steady at 8.9% for three months now, a source of frustration for workers and state officials alike. Washington picked up an estimated 1,000 private-sector jobs in September, but overall payrolls were down 3,200 due to the loss of an estimated 4,200 government jobs.
 
While his state is among the smallest in the U.S. for population, Montana Governor Brian Schweitzer emphasized that every state, regardless of size, has the same basic operations.
"85% of Montana's budget, as in every other state, is to educate, to medicate, to incarcerate," he told me when I met him on his ranch in Helena. "Every one of us runs the same business. We might be a little smaller shop than the big shop but we have to buy our goods and services the way they do, we have to sell them the same way they do. So just because you're a Wal-Mart, doesn't mean that you're not the same business as the ma and pa store down the road. We're the ma and pa store that's more efficient than Wal-Mart. "
Whitney also found the dichotomy between larger, troubled states and their smaller colleagues to be especially troubling. "Imagine you're conservative, fiscally sound Nebraska and you have to bail out California, or you're fiscally conservative Texas and now you have to bail out Michigan," she said. She added that, should this situation arise, the consequences on the dollar and the national recovery would be enormous.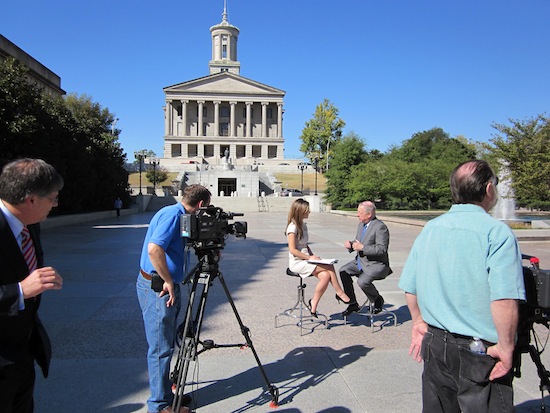 Nicole Lapin interviews Gov. Phil Bredesen (D-TN) in Nashville, Tennessee. Courtesy CNBC
In response to Whitney's gloomy predictions, Tennessee Governor Phil Bredesen said that, "You can't say 'states' and talk about all 50 in the same words." He told me when I interviewed him in Nashville that he is more concerned with the enormity of the cuts made in each state, most of which are taking a toll on services that the states have historically provided, including education and healthcare.
Forty-eight states addressed shortfalls in their fiscal year 2010 budgets, totaling $191 billion or 29% of state budgets -- the largest gaps on record, according to a report by the Center on Budget and Policy Priorities. 
 
For some, it's not a question of hitting rock bottom, but how to climb out of the fiscal hole once they do.
 
"It hasn't been easy," Maine Governor John Baldacci said of having to make deep budget cuts and layoffs, especially in a state with a small population comprised of tight-knit communities. "I've made a lot of tough decisions. I've irritated an awful lot of people," he told me when I traveled to meet him in Portland.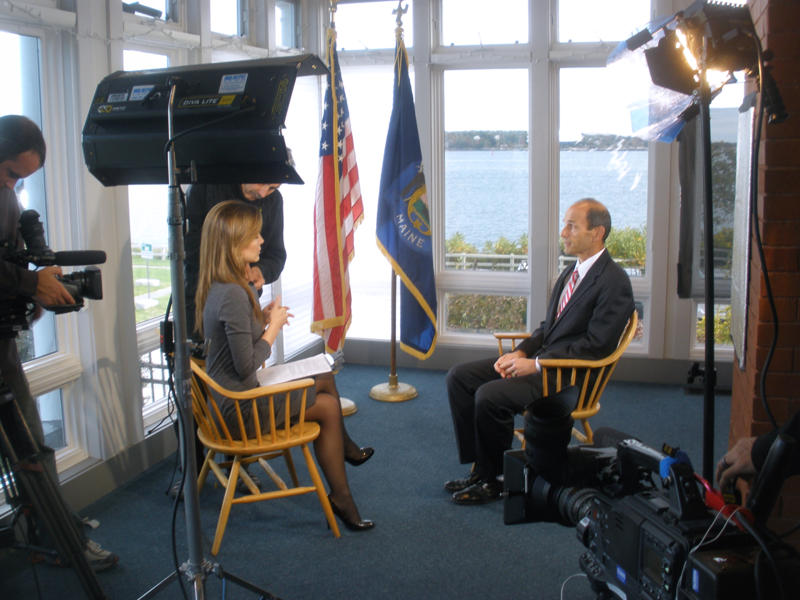 Nicole Lapin interviews Gov. John Baldacci (D-ME) in Portland, Maine. Courtesy CNBC
When I recently asked about the possibility of state failure, Jim Rogers, legendary investor and financial commentator, said, "This is old news. I and others have been explaining about the perilous state of the US states for a few months."
 
Moving forward, the first quarter of the 2011 fiscal year will be a true test of how far the states have come in repairing their bruised economies. In some cases that's "judgement day" -- when the federal stimulus money that many states have included as part of their budgets will run out.
"A lot of these states think Uncle Sam will be there just in case," said Bredesen, suggesting that those states may learn the hard way that a federal safety net is no longer available.
Governor Gregoire and her team of economic advisors remain cautiously realistic, if not optimistic.
 
"There's not more bad news," she said. "It's just going to take us a while to get out of it."