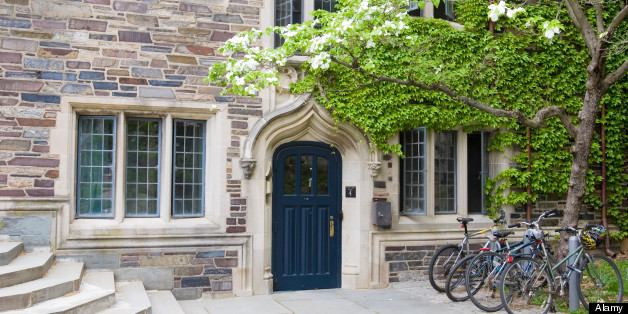 Last Thursday, the infamous "Princeton Mom" Susan Patton visited her alma mater April 18 for a Q&A with current students.
Susan and I don't see eye-to-eye on much. Contrary to her perception of how young women think, I have no problem with the idea of a female peer wanting to get married and have a family in her 20s, or to forego a career for these things. My issues lie with the elitism of her statements, how little faith she has in men's ability to find an appropriate partner if and when they want one, and her total acceptance of the notion that women have a shelf life.
Anna Mazarakis, class of 2016, covered the event for The Daily Princetonian, and included some choice quotes from the talk.
"A woman looking for a husband in her 30s gives off total desperation," Patton reportedly said, comparing this effect to a "man repellent." No matter that the median age for a woman's first marriage in the U.S. is 26.5 years old -- once you hit 30, apparently, it's all over.
Insulting single women in their 30s wasn't enough -- there was some slut-shaming, too. "[Finding a mate has] always been a problem for the good girls, the smart girls, the nice girls competing against the girls who are easier to make than a peanut butter sandwich," Patton stated. Diana Barnes, a student who attended the lecture, told the Huffington Post in an email, "She got a huge amount of offended gasps when she used that phrase."
And, after they came for the thirtysomethings and the sluts, they came for the feminists. According to Jezebel, Patton called feminist women "bullying" and "intimidating."
Barnes said that the atmosphere at the event was respectful, but many student were frustrated by the double standards Patton claimed as truths.
"The audience was sort of denied the opportunity to really debate with her," Barnes said, "Because she wouldn't engage in discussion of her different expectations for men and women."
When I strip away all of the absurdity, I can agree with the part of Patton's argument stating that we should be thoughtful about who we choose to spend our lives with. I believe that wholeheartedly. But when it comes to the rest of the message, I'd prefer to take the advice Sheryl Sandberg offers in "Lean In" :
When looking for a life partner, my advice to women is date all of them: the bad boys, the cool boys, the commitment-phobic boys, the crazy boys... But do not marry them... When it comes time to settle down, find someone who wants an equal partner. Someone who thinks women should be smart, opinionated and ambitious. Someone who values fairness and expects or, even better, wants to do his share in the home. These men exist and, trust me, over time, nothing is sexier.
This is a much more inclusive view of relationships than Patton's. Though of course we're all free to disregard her advice, her viewpoint is divisive and -- to the many students, graduates, and other women her message has reached -- infuriating.
"It's a shame that this would-be pioneer is so backward-minded," writes Jessica Wakeman of The Frisky.
Yes, it is.