If there's one Queens neighborhood your parochial Manhattan-centric friends have visited it's likely Long Island City, and then probably just to go to P.S.1's Warm Up or Water Taxi Beach. LIC technically stretches from Queens' southern border with Brooklyn's Greenpoint neighborhood past Queens Plaza toward Astoria at roughly 34th Avenue, but a nice day's worth of activities are centered around the section of LIC known as Hunter's Point.
Hunter's Point has grown rapidly thanks to rezoning that allowed Battery Park City-like high rises along the waterfront. The young professional influx brought new stores and restaurants to Vernon Boulevard, the neighborhood's main drag. Gantry Plaza State Park along the waterfront is hands-down the best view of Manhattan anywhere. And if you're a fan of any of the shows produced by nearby Silvercup Studios, you might recognize a 30 Rock exterior shot or two on the streets of Hunter's Point. LIC's industrial buildings were repurposed for studio space in the 1970s and 1980s, giving the neighborhood an artistic reputation that survives today. The P.S. 1 Contemporary Art Center, in a historic school building, dates to 1976 and is now aligned with the Museum of Modern Art. The graffiti-covered 5 Pointz/Crane Street Studios is an outdoor gallery like few others you've seen.
Don't shop in Williamsburg for thrift stores don't seem so thrifty; go to Queens! Queens is cheaper, and Long Island City has one of the best thrift stores ever, called Just Things. Technically, it does just have things. But it has cheap things. Beautiful things: jewelry, hats, porcelain, clothes, shoes, records, antiques, etc, etc., and it's been in the neighborhood for thirty years. Just the other day, we happened upon a beautiful wooden box for a friend's birthday, and it was cheap! It's not a hip thrift store; it's just a thrift store--something that's becoming harder and harder to find.
Recreate ... at Gantry Plaza State Park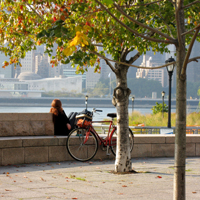 Ever found it difficult to relax in crowded Central Park? Would like to hang out in Gramercy Park but don't have the key? Want to read a book in Madison Square or Bryant Park but find them closed for private events? Head out to Gantry Plaza State Park, a rare breed of park that actually feels like one. Never heard of it? Most people haven't, which is why it's one of the last, quiet, anxiety-reducing spaces in the city. A set of four docks reach into the East River, drawing people (and their dogs) toward the skyline of Manhattan. Out here, it's quiet. The water may be contaminated, but it looks nice in the setting sun. There's flocks of birds--not pigeons, but birds! Real birds! The air is cleaner, almost breathable. You may be reminded that, from a distance, New York City doesn't seem so bad. Also, the final scenes of both Munich and The Interpreter were filmed here. It's true.
LIC Bar rises to the level of one that's actually worth more than a 10-minute trek. The drinks--mostly microbrews, Belgian beer, and single-malt scotch--are deliciously cheap. The interior hasn't changed in 100 years; it's gorgeous, covered from floor to ceiling in ornate woodwork. The backyard is perfect for summer nights: two giant weeping willows seem to erase the general noise of the city. In the winter, there's always a fire going in what used to be a carriage house. There's live music every Sunday. There's a photo booth. It's never too crowded or too quiet, or too hip or too unhip. LIC Bar effortlessly is what so many bars in Williamsburg and the Lower East Side fail to be--an authentic, relaxing, happy place.
Eat ... at Tournesol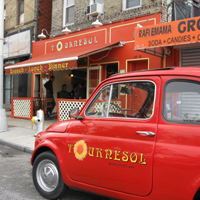 Queens' best French bistro has a tiny old red car in front of it. If you're in the neighborhood, you can't miss it. Perfect steak frites rival higher priced West Village options. The ratatouille, lamb chop and daily specials are other solid mainstays. And did we mention the prices are significantly lower than those on the island of Manhattan? And on more than one occasion we've overheard Manhattanites says it's their favorite French restaurant, too. So go. And look for the red car.
---
Not For Tourists is the ultimate city guide. From the award-winning printed guidebooks to the interactive website with over 70,000 listings to the gorgeous new iPhone app, NFT makes urban living and exploring a little bit easier. Follow Not For Tourists on Facebook.
SUBSCRIBE TO & FOLLOW LIFESTYLE
HuffPost Lifestyle is a daily newsletter that will make you happier and healthier — one email at a time. Learn more