"Who is Don Draper?" The line that opened the season 4 premier of Mad Men that finally aired Sunday night. Maybe some day we'll be able to eventually answer that question but if we're going to discuss fashion, I think the appropriate question should be "Who is Peggy Olson?" because daaayyymn she is looking good!
Mad Men costume designer, Janie Bryant, was right when she told me that Peggy's style would be changing the most. Not that we're going to see Peggy in a mod shift mini anytime soon, if at all. But from Peggy's new hair cut to the five, yes, FIVE new wardrobes paraded in the premier episode, I think everyone would agree she deserves rave reviews! For the past three seasons we have watched Peggy transform from a young conservative schoolgirl style to a sophisticated hardworking and may I say assertive woman.
And there was definitely a new change in Betty as well. Her pearls are still her go to accessory. But her hair is bigger and she is certainly wearing more tweed skirt suits than ever. Betty went from channeling Grace Kelly to channeling Jackie O. I wonder if her new man, politician man, Henry Francis had any influence?
Betty Draper (Photo by Mike Yarish/AMC) Jackie Kennedy (Courtesy of Getty Images)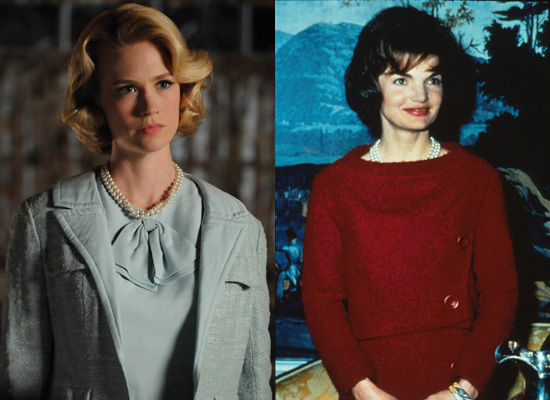 And speaking of new, I am loving the new digs at Sterling Cooper Draper Pryce. So maybe it is smaller and they don't have a conference table yet but it felt brighter to me than the previous office at Sterling Cooper. Perhaps it was the rays of sunshine seeping in SCDP that inspired such risk taking actions in Sunday's show. Peggy Olsen herself thought of a successful master PR campaign without Don's approval. And Don kicked out client, Jantzen, a family owned company that was determined to a make a two-piece bathing suit conservative. Hey Jantzen, the only modest swimwear you'll ever find is the burqini and I'm almost certain burqinis did not exist in 1964.
On a final note, did anyone know there are twitter accounts for most of the cast on Mad Men including the dearly missed Sal Romano? They're actually hilarious. Checkout the ones for Betty, Don, Peggy, and Joan. Also for you Mad Men fashionistas out there, including you Mad Men characters on twitter, checkout how you can get that Mad Men inspired look - so bring out your inner Betty and Peggy.

SUBSCRIBE AND FOLLOW
Get top stories and blog posts emailed to me each day. Newsletters may offer personalized content or advertisements.
Learn more