Update: Janie Bryant will be appearing on QVC Wednesday night at 10pm ET. She'll be selling a reversible swing coat, a leopard bag, and much more from her line Mod. You can find her items online at 9am ET tomorrow on QVC.
Sorry for the four week hiatus from my rundowns of the always exquisite fashions of Mad Men. I spent the last month observing the holy month of Ramadan but now that it's over, it is time to discuss some serious business: the latest looks from New York Fashion Week, suitable for our favorite characters and those refined accessories: gold jewelry and silk pocket squares.
With New York Fashion Week underway, I couldn't help but see Betty in Ports 1961, Peggy in Jason Wu, Joan in Prabal Gurung, and Don in Simon Spurr. We cannot deny the profound effect Mad Men and the era it represents had on past collections and the latest trends, including the show's very own designer Janie Bryant who launched her line, Mod, last Friday on QVC. Below are my favorite looks that I see Lane, Betty, Roger, Joan, Don, and Peggy walking out with from Lincoln Park to 1965 Madison Avenue.
It's 1965 and we have yet to see any of the principle cast go mod. According to fashion historian Daniel James Cole, "In 1966, you had to wear a skirt that was at the knee or higher, or you'd look ruefully out of fashion." If that's the case, then the characters still have a few months. But Janie Bryant did tell me she'd introduce new styles with new characters such as Bethany Van Nuys, who looks like a trendier Betty Draper -- I mean Betty Francis. (It's just as hard to type her new name as it is to say it because I secretly wish her to still be Betty Draper).
Not only have the ensembles stayed conservative and classic, but so has the jewelry. In the early 1960's, women preferred gold accessories to silver and pearls to big chunky beads. And we see that preference week after week with the Mad Men ladies dressing up with gold- plated earrings, simple gold brooches, and pearls. Fashion and accessories during the early 1960's was so charming due to its subtleties. A small touch of jewelry took each frock from good to perfection.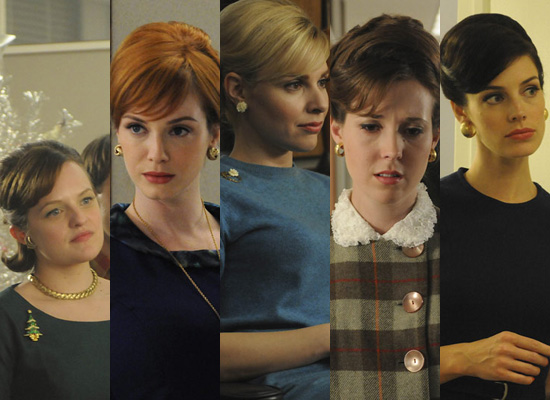 Women are not the only ones that got to splurge on accessories; well, we women still do but the men nowadays don't do so as much. However, in the 1960's men were all about dressing up their three-piece-suits with simple touches here and there, such as silk pocket squares. Not to be confused with the handkerchief that is only used for personal hygiene matters, pocket squares are just accessories placed in the outer breast pocket, adding a splash of color or just that extra detail to complete the look. Pocket squares also have specific folds -- there is the simple flat pocket square, the one point pocket square, the two point pocket square, the... you guessed it, three point pocket square, the geometrical four point pocket square (a Bert Cooper favorite), a puff pocket square and apparently a few more folds. Who knew you could do so much with so little material? In this case however, I favor the Roger Sterling pocket square style, the simple flat square shape that just peek-a-boos over the breast pocket.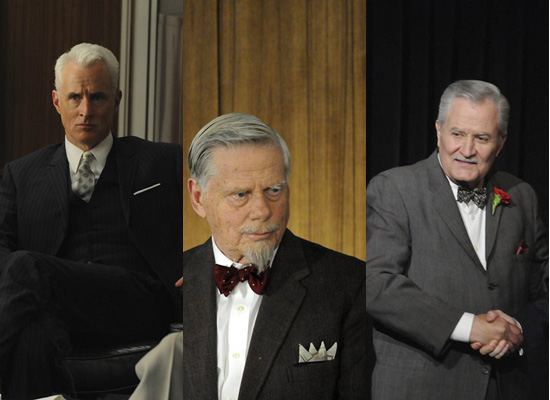 All NYFW photos courtesy of Style.com. Mad Men photos courtesy of AMC.