by Cristina P. Alesci

Hours into Super Bowl Sunday, Barack Obama was counting on a last minute Hail Mary pass to beat Hillary Clinton's home field advantage on Super Tuesday.
Obama volunteers mounted pulpits over the weekend in a statewide effort to petition worshippers for their support. On Saturday, campaigners focused on mosques, where they distributed literature about the candidate.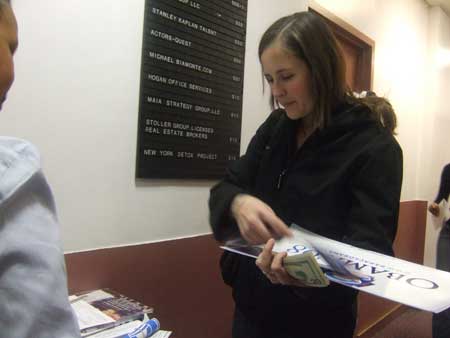 At campaign headquarters, an Obama supporter gears up for an event on Monday.
But the big push came on Sunday, according to Tamara Hood, who coordinates Obama's faith outreach plan in New York. Volunteers went out to nearly a thousand churches throughout the state, according to Hood.
"Church leaders are community leaders, they make a difference and are equally important as elected officials in their community," said Hood.
Some of the religious organizations, especially those with existing ties to the candidate, invited Obama representatives to visit their parishes. Hood's staff also sought permission to send campaigners to targeted churches that had not reached out directly to the campaign. In hundreds of houses of worship across New York, the volunteers read letters penned by the candidate seeking support from the congregations, according to Marc Lavorgna, a campaign spokesperson.
"We're working through a new model. The unions and party organizations have all generally fallen into line with the home state senator, which is what we expected," said Lavorgna. "We are doing it through a different mechanism, which fits the Obama campaign's message of grassroots change."
At the Church of God of Prophecy near the corner of 165th Street and Gerard in the South Bronx, Kenneth Padilla, a graduate of Brown University and Rutgers Law School, rose from the pews to call for change.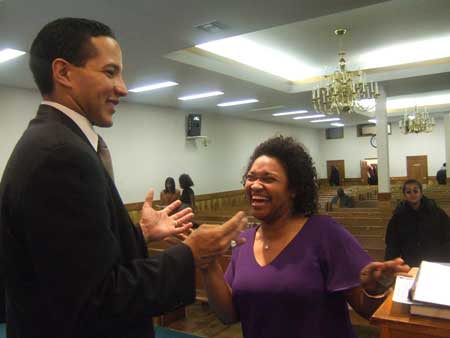 Padilla speaks with parishioners after the service.
"When you go out there on Tuesday, believe in us again. Believe in the future. Believe in the youth. Believe we can make a difference in this life," said Padilla.
At the lectern, Padilla described how he overcame inner city violence and poverty before returning to his native Bronx as a district leader for the 76th Assembly District.
"According to all the statistics, I shouldn't be here right now. I should've been dead or in jail," said Padilla, explaining how the support of his community helped him succeed.
Padilla's message resonated with many of the assembled worshipers, who included a number of Hillary Clinton backers as well as a few Republicans.
Fitz-Arthur Brown, the church treasurer, sees Obama as a solid choice, despite his qualms about the Senator's position on abortion.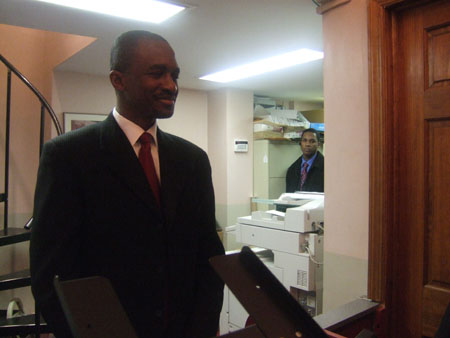 Fitz-Arthur works in the church's office after the service.
Similarly, Theodore James, a parishioner for over 15 years, admitted he generally supports conservative candidates and would have preferred a black Republican. But James thought Obama was still an attractive candidate.
"I think he's young, black and understands the plight of the black man and black people," said James, adding that Padilla's noontime speech had pushed him closer to Obama.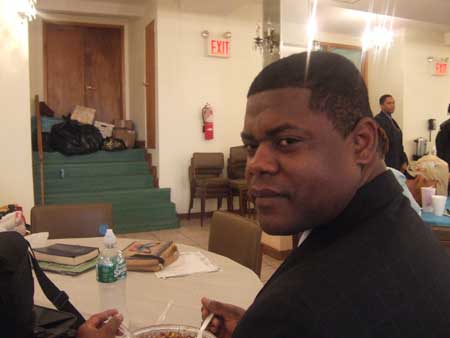 James grabs a bite after Padilla's speech.
Several hours after Padilla's speech, the underdog New York Giants came from behind to beat the heavily favored New England Patriots in the last seconds of the Super Bowl. As sports fans around the country went to bed, Senator Obama's supporters labored long into the night, hoping their grassroots tactics would pull off a similar upset on Tuesday.
Obama campaign worker sticks it to the man,
SUBSCRIBE AND FOLLOW
Get top stories and blog posts emailed to me each day. Newsletters may offer personalized content or advertisements.
Learn more