By Daniel Macht and Eliot Caroom
Democratic presidential candidate Dennis Kucinich railed against ABC News Saturday afternoon for excluding him from a televised debate, and characterized his rivals as "dittos."
"I'm not going to go away," Kucinich said to cheers and applause outside the Harlow's Pub in Peterborough, N.H. "I'm sorry, but this is democracy still. Those airwaves belong to the people. They don't belong to ABC."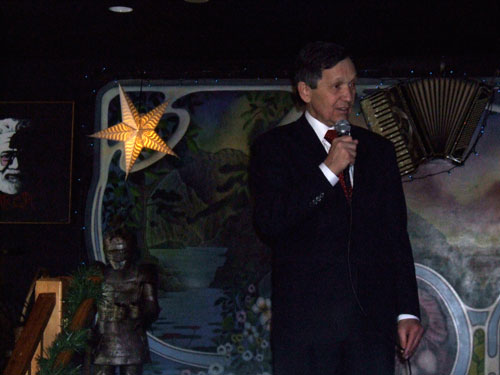 On Friday, Kucinich filed a complaint with the Federal Communications Commission against ABC. The network said Kucinich did not qualify for the debate because he didn't place in the top four in Iowa, poll higher than five percent in New Hampshire, or nationally.
The Ohio congressman addressed a room full of supporters drinking pints at Harlow's on Saturday at noon shortly after two musicians sang, "hey, hey - no more war. We would rather feed the poor."
Kucinich told the Peterborough crowd that he campaigned lightly in Iowa because that state's Democratic Party was too cozy with the health care industry. As an advocate of a system that would put health insurance companies out of business, Kucinich said he knew he couldn't win-- especially since he was excluded from some of Iowa's forums and debates.
Kucinich said the decision to support Barack Obama was an "Iowa only" strategy.
He said he didn't support John Edwards because of that candidate's connection to Fortress Investment Group, a hedge fund. Kucinich promised a more clear explanation on his website later.
"Even though I disagree strongly with Obama, I felt that his sincerity merited telling our supporters to go over to him," Kucinich said.
Kucinich emphasized that he still intends to win the nomination. He said a vote for him would be the "courageous" thing to do.
"The other candidates have essentially agreed on everything," Kucinich said. "I'm the only one who voted against the war in Iraq, and then voted against funding it every time."
Here's a video of Kucinich stumping on the street against TV networks and the other Democratic candidates: the "dittos."