Happy Halloween everyone. I've had a pretty scary week. I got started on my Paper Diet, and like any serious dieter, I kicked it off with a cleanse. I need to clear out all the unnecessary paper clutter from my system. I began with my worst offense -- my desk at the Manilla office. Here's the "before":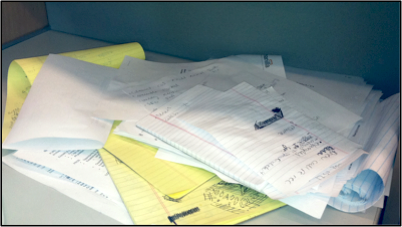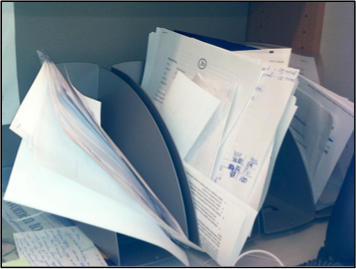 What a clutter catastrophe. I managed to dig through it all, and pretty painlessly in ten-minute sessions every day over one week. Here are some highlights of what I uncovered from the rubble. No judgments please.
• Several to-do lists with dates ranging from last week to early 2009. Looks like I never got around to making that dentist appointment.
• Photocopies of all the documentation I needed to rent my apartment (three months ago), including bank statements and a photocopy of my social security card. I need to introduce myself to the shredder.
• A notebook from an Italian class I dropped out of two years ago.
• An itinerary for my first trip to Manilla's San Francisco office (nice memory, but I can I pull up the email version if I ever feel nostalgic).
• Dozens of meeting agendas and presentations -- we all have iPads and laptops, not to mention these documents are projected on the conference room monitor -- let's stop handing these out, everyone!
After a week of sorting through this mess of paper, I found that 90% is of no use to me, and I either recycled or shredded it. I uploaded most of the remaining 10% to Dropbox. In total, I lost a staggering 11 pounds of paper weight this week -- an impressive number by any diet standards. I'm left with two books, Manilla's company values, and a paper cut. Without all this messy paper clutter, I'm feeling more productive already. Here's what I'm working with today: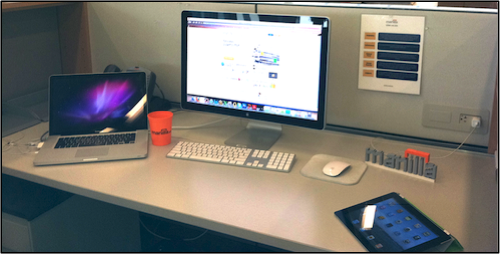 Don't pretend you're not jealous.
The first week of my paper diet was certainly a success. Check in next week as the cleanse continues and I move on to an even scarier place -- my "home office," otherwise known as the dining room table.
SUBSCRIBE TO & FOLLOW LIFESTYLE
HuffPost Lifestyle is a daily newsletter that will make you happier and healthier — one email at a time. Learn more