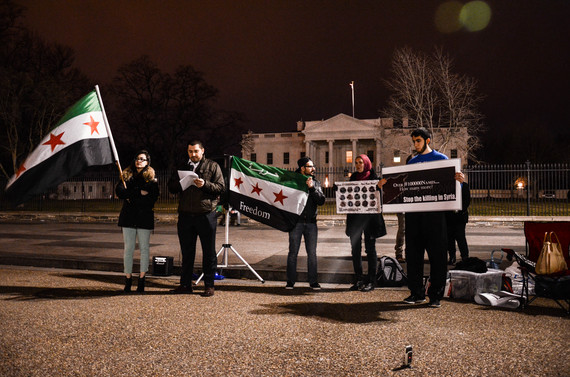 Activists read the names of Syria's victims outside the White House at 2 am, March 15. (Omar Ghabra)
For the three days leading up to March 15, Syrians gathered in front of the White House to read the names of 100,000 victims of Syria's war. Seventy-two hours after the start of this vigil, Raed Faris, a well-known Syrian activist and survivor of a recent assassination attempt, took to the stage:
"Mahmoud Nasser Qadri-99,998
Mohammad Saeed-99,999
Khaled Khoja-100,000"
The end of the reading was planned to coincide with the beginning of a rally marking the third anniversary of Syria's revolution gone wrong. After Faris read the final name to what was now a crowd of hundreds, a sharp silence filled the air.
As I stood in the sea of green and black striped flags during this brief interlude, observing the stricken, tearful faces of those around me, my mind wandered back to March 15, 2011, when I was glued to my computer in anticipation of Syria's first wave of demonstrations. Throughout the day, images and videos streamed in of protesters tearing down posters of Bashar al-Assad and his father, of brave men and women marching and chanting for freedom and dignity --"death and not humiliation," they proclaimed. For 40 years, such brazen acts of defiance were inconceivable in what had been dubbed "Assad's Kingdom of Silence." But change was in the air. Surely, we thought at the time, in the year 2011, a dictator couldn't massacre unarmed protesters under the watchful eye of the international community and get away with it.
I thought back to February 2012, as the uprising approached its first year anniversary amid the siege of the Baba Amr district of Homs. This offensive marked the first time Assad unleashed the full force of his military on an opposition held area, indiscriminately destroying it with Russian tanks and fighter jets. Hundreds were killed, including American journalist Marie Colvin, who appeared on CNN the day before she was murdered to decry the systematic targeting of civilians. Surely, we thought, hundreds of civilian casualties and the punitive destruction of an entire neighborhood would spur some sort of international response.
I thought back to the Houla massacre in May 2012, when 108 people, including 34 women and 49 children, were summarily executed by Assad's militias. The unprecedented savagery of this incident, during which many of the victims were slaughtered with knives, led many of us to the same erroneous conclusion yet again.
Little did we know then the unspeakable horrors that would soon be added to the list of crimes insufficient to trigger a constructive international response would grow to include the carpet-bombing of entire cities, the targeting of medical facilities and personnel, and even a large-scale chemical weapons attack. Perhaps it was naïve, but we failed to realize that the world's great powers would hold strategic geopolitical considerations above all else, even the prospect of the worst humanitarian catastrophe in decades.
Today, the deathtoll has surpassed 140,000. Thousands more are languishing in Assad's depraved prisons. More than two million have fled the country and another 6.5 million are internally displaced -- together, these figures add up to almost half of Syria's total population. Polio is back. Crazed radicals have seized control of large swathes of the country and begun imposing their barbaric interpretations of Islamic law. Hezbollah has gone all in for Assad, fanning the sectarian flames that the so-called secular Baathist regime ignited. And despite all of this, the prospect of any assertive international action is more distant now than it has ever been.
Last year, the Washington Post's Fareed Zakaria suggested President Obama's stance on Syria may be "Machiavellian rather than humanitarian." Recent statements from the president and high level administration officials support Zakaria's assessment. Denis McDonough, Obama's chief of staff, reportedly told Sen. John McCain during a recent trip to Guantanamo Bay that the administration's Syria policy, or lack thereof, was working because "Well, we are keeping Iran pinned down." President Obama echoed this cold calculus during a recent interview with Jeffrey Goldberg.
"I'm always darkly amused by this notion that somehow Iran has won in Syria," Obama said. "[Syria] was their one friend in the Arab world, a member of the Arab League, and it is now in rubble. This isn't good for Iran."
In an op-ed she penned for Nick Kristof's blog, Lina Sergie Attar, the activist behind the #100000Names campaign, writes that within each of the names that were read out during the 72-hour vigil is "an embedded question: How many more?"
Who knows? But at least we Syrians can rest assured that all of these deaths and the destruction of our ancient homeland, with all its timeless historical treasures, are not in vain. We just need to focus on the benefits of our prolonged misery -- like the fact that it's keeping Iran busy and giving President Obama something to smile about.