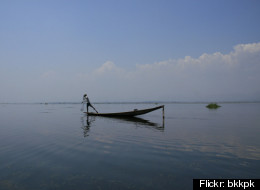 Looking for destinations to head to right now? From newly emerging hubs to hotspots at their zenith, here are my top ten choices. Book your trip now.
Incredible powder skiing, hot springs that are cinematic in their beauty, and the kind of cuisine worth the trip in and of itself. Now comes word that Christina Ong, one of the world's premier hoteliers behind the COMO group is developing a new resort here in the next couple of years. And best of all it is far enough from the nuclear disaster that there were no bad effects following the tragic events last year.

Move over South of France. This rugged Mediterranean island is one of Europe's most beautiful and well-kept secrets. Among the treats: gorgeous white sand beaches around Bonafacio (Le Domaine de Murtoli is one of the most jaw-dropping resorts I have ever seen), incredible cuisine with both seafood and game (try the country restaurant of La Ferme di Campo di Monte) and boutique hotels like U Palazzo Serenu www.upalazzuserenu.com with its easy access to both the sea and medieval hilltop towns. Looking to rent a villa for friends and family? Cedric Reversade has a particularly good portfolio of options around the island.

One of my favorite travel writers, Gisela Williams, tagged the islands for their new surf destination appeal and new high end resorts, and I most heartily concur. The islands have become home to new surf competitions in the last few years and spots like the Four Seasons Kuda Huraa offer the kind of Robinson Crusoe cachet to match the great waves.

I love Kenya and particularly Lamu but I wouldn't recommend a visit with the recent kidnappings there. But Kenya's issues have made other African countries even safer particularly this adventure meets luxury safari up and comer. Book a trip with Cazenov+Loyd and if you are feeling particularly adventurous add a jaunt up Mount Kilimanjaro to your list.

I went last year and fell completely and utterly in love. You have Angkor Wat, clearly one of the world's must sees, Phnom Penh, a charming sleepy capital, and the coast which has all the charm of Thailand and Vietnam but which still feels undeveloped with sweet towns like Kep and atmospheric hotels like Knai Bang Chatt. If you can splurge look no further than the new Song Saa resort, with luxe over-the-water bungalows, a sexy infinity pool, and a pavilion for sunrise yoga sessions.

Many people can't even pronounce its name but this smaller Portuguese city -- with its UNESCO heritage old town and the new Centre of Arts and Culture -- will be in the spotlight this year as the European City of Culture for 2012. The country in general is also an increasingly hot destination with travelers who have already visited Spain and Italy discovering better prices and less touristy venues here.

Olympics 2012. Queen's been on the throne 60 years. Kate's baby watch. Enough said. But seriously outside the games and new royal family appeal, the city has rarely been more exciting, with new hotels and restaurants (like the new Belgraves from the Thompson group), up and coming neighborhoods like those in East London, and an art scene that's taken over the world. Don't miss blockbuster exhibits like the big Damien Hirst retrospective at the Tate Modern starting in April.

Looking for the new Tuscany? The new Puglia? Italy's undiscovered gem? This is my pick and I spend most of the year crisscrossing the county that's now my home. Blessed with both beautiful beaches and a coastline like Amalfi (but with hotels that cost a fraction of Positano and hardly a foreign tourist in sight) plus cultural icons like UNESCO's Matera (where The Passion was filmed) and gorgeous mountain villages, the region is likely to finally have its moment in the spotlight with the opening of Francis Ford Coppola's Palazzo Margherita www.palazzomargherita.com in Bernalda this spring, his grandparents former home. The spot had its trial run last summer when Sophia Coppola and Phoenix frontman Thomas Mars tied the knot at the Italian family seat.

This was one of my two choices for the New York Times 45 places to visit in 2012 and there are so many reasons to make the pilgrimage now: new luxe lodges like the Tierra Patagonia and the Singular right at the edge of Torres del Paine national park; a wine country that is a fledging Napa Valley equivalent with Casa LaPostolle among the world ranked vintages; a network of national and privately run parks (like Parque Pumalin) that encompass some of the most beautiful eco systems in the world; and the great culinary and cultural offerings of Santiago.

This one has been on my wish list for years but with the historic re-establishment of diplomatic ties with the U.S. and Hilary Clinton's recent visit one can now plan a trip with the knowledge that the country seems to be moving in a more progressive direction politically. And with beautifully restored colonial-era hotels, hundreds of temples, treks through remote villages, and pristine beaches lining the Bay of Bengal this is Southeast Asia's new must-stop.
Follow Ondine Cohane on Twitter: www.twitter.com/ondinecohane