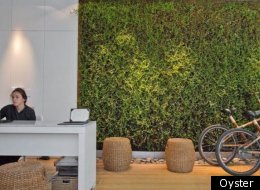 Earth Day is on Sunday and if you know Oyster.com, you know that we're planning a trip to celebrate. (We'll take any excuse to party.)
And Earth Day calls for some tree-hugging and eco-friendly practices. So we've picked out 10 green hotels around the globe where you can celebrate Earth Day by being kind to Mother Nature.
Don't have a chance to get away this weekend? Pretend by clicking through our slideshow anyway.
-- Jane Reynolds, with reporting by Devon Antonetti
10 Green Hotels Just in Time for Earth Day
Arenas del Mar is proof that staying at an eco-resort doesn't mean roughing it: Its 38 contemporary rooms are among the nicest in Manuel Antonio, its restaurant is excellent, and its public spaces embody rustic luxury. The hotel went to great lengths not to disrupt the surrounding ecosystem, so wildlife sightings are a daily occcurence. Before constructing the hotel, developers studied the native monkeys and built in areas that wouldn't interfere with their daily routes. And it's not just the design that's eco-friendly: Initiatives like solar panels, an underground electricity system, and chlorine-free ionization system in the pools allow the resort to respect the environment in its daily operations.

This is a green hotel with a presidential stamp of approval. Back in January, President Obama chose to stay at this eco-friendly, mid-range hotel outside of Vegas for his trip to Sin City, and the Element's general manager believes that the Commander-in-chief picked the hotel for it's eco-friendly policies (despite the fact that his entourage arrived in gas-guzzling SUVs). The LEED-certified hotel's green intiatives include in-room recycling bins, energy-efficient light bulbs, and charging stations with specially-reserved parking spots for hybrids.

This modern, eco-friendly boutique is not only focused on guests' wellness but the earth's wellness as well. The first carbon neutral hotel in Buenos Aires, the 17-room hotel offers a cozy, wellness-focused experience to travelers by sporting a vertical garden (inside the hotel and out), an honesty bar with organic products, a tranquil lobby, and bamboo bicycles for eco-conscious guests to explore the city. Rooms are spacious and bright with plush bedding, iPod docks, and attractive vine-draped balconies. Plus, a free organic buffet breakfast is included in the rate; but all of this eco-friendly luxury comes at a high price.

Offering eco-friendly bungalows in a lush, friendly setting, Natura Cabanas is a taste of serene, northern coast luxury for a remarkably fair price. It's quiet, and a bit rustic -- there is no AC in the rooms, light bulbs are energy efficient, and guests must manually activate (and then shut off) hot water when showering -- but that's the point. Rooms also have no televisions and no phones, lending the resort a secluded, unplugged vibe.

This 36-room boutique hotel in the heart of Healdsburg is a good pick for eco-conscious folks looking for something convenient to wineries with a modern, hip, relaxed vibe. The rooms are all done in a minimalistic style, using sustainable materials, and are equipped with all the high-tech amenities you could want. Plus, they come with private balconies or patios. With a LEED Gold certification, the H2 features green amenities such as loaner bicycles, lots of open spaces, and a green roof. The hotel was built on the site of a former gas station, but all contaminated soil was removed before the building of the property began.

One of the first LEED Gold-certified hotels in New York City, the luxurious Crosby Street Hotel is an eco-friendly option in the trendy SoHo neighborhood. The hotel focuses on creating a lot of open space (hence the sculpture garden courtyard), as well as practicing sustainability; the rooftop kitchen garden not only provides fresh produce for the hotel's restaurant, but it serves the dual purpose of lowering heating and cooling costs. Regional materials were used in the construction of the hotel, and eco-friendly cleaning products also minimize the hotel's carbon footprint.

The Selinda Canoe Trail is a four-day, three-night trip that takes place along the Selinda Spillway, offered from May to October. Camp is set up each night in secluded spots along the water -- far from modern conveniences such as electricity and flushing toilets, but as luxe as camping can get, with great meals and an attentive staff that does all of the setting up and packing up for you. A safari-on-water, the trip's highlight comes during the day, when wildlife such as elephants, hippos, and giraffes can be spotted. And it is one of the most eco-friendly safaris in Botswana, as all traveling takes place in canoes along the river.

The stylish and luxurious Ohla Hotel is centrally located in the Gothic Quarter of Barcelona. This boutique hotel offers 74 modern rooms with high-tech amenities and free Wi-Fi, and the chic rooftop pool and lounge boasts incredible city views along with a space to sunbathe. Following a slowly-emerging trend in the Barcelona hospitality industry, the Ohla Hotel has adopted numerous eco-friendly features such as solar panels, LEDs, and high-end natural toiletries.

Viceroy Snowmass is easily the most luxurious resort in Snowmass Village, and is packed with top-notch amenities, including a 7,000-square-foot spa with a stunning relaxation room, a solid fitness center with modern Technogym equipment, and a lovely pool area with a heated saline pool, cabanas, and a fire pit. Plus, with a LEED Gold Certification, the hotel includes eco-friendly amenities such as low-flow faucets (which saves about 1.35 million gallons of water per year), environmentally-friendly cleaning products, and free parking for guests who arrive in high-efficiency vehicles.
Follow Oyster on Twitter: www.twitter.com/Oysterhotels