10 Incredible, Summer-Ready Pools (PHOTOS)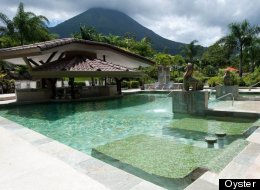 It may not be summer time quite yet, but that doesn't mean we aren't dreaming about it. And of course when we think of summer, we picture gorgeous pools (to swim in, lie out near, fill in the blank here.) So here's some eye candy for all of you dreamers.
We found 10 beautiful pools -- with drool-worthy features to boot. Check 'em out!
-- Jane Reynolds, Staff Writer
10 Incredible Pools to Hold You Over Til Summer
The Gansevoort is without a doubt the sexiest resort on Grace Bay, and a large part of its appeal is thanks to its stunning pool surrounded by palm trees. Drool-worthy Feature: The pool has four hard-decked islands. Though they require a reservation (with a fee attached), they include two lounge chairs, an umbrella, a table, chairs, and, of course, the envy of everyone else at the pool. See more photos of the Gansevoort Turks & Caicos, a Wymara Resort>>

An immaculate, art-filled property fronting Wailea beach, the Four Seasons stands at the pinnacle of the area's resorts, offering spacious rooms, a top-notch staff, and a slew of amenities -- including three high-design pools. Drool-worthy Feature: Talk about VIP treatment; the poolside cabana staff refills guests' free (and automatic) glasses of ice water seemingly after each sip, and employees patrol the lounge chairs with cold towels and spray-bottles of Evian to spritz guests' faces. See more photos of the Four Seasons Maui>>

Built in 1926, the iconic Biltmore (a national landmark) brings timeless luxury to a hotel scene overwhelmed by skin-deep glitz. Though far from any beaches, it offers -- among many other luxuries -- an amazing pool. Drool-Worthy Feature: This 22,000-square-foot pool is the largest in the continental U.S. Actor Johnny Weissmuller, better known as Tarzan, used to be a swimming instructor at the pool many years ago. See more photos of the Biltmore Coral Gables>>

The Joule is one of the coolest -- and most luxurious -- hotels in Downtown Dallas. And it features one of the most talked about pools in the states. Drool-Worthy Feature: The Joule's cantilevered pool juts out over Main Street, so swimmers can get a glimpse of pedestrians below. See more photos of The Joule, A Luxury Collection Hotel>>

La Reunion Antigua Golf Resort is an outstanding luxury pick located in the shadow of four volcanoes (two of them active) about 30 minutes from the colonial city of Antigua, Guatemala. Room have private patios with infinity-edge swimming pools, but the resort also has a main pool as well as a separate kiddy pool. Drool-Worthy Feature: These gorgeous volcanic views are hard to beat. See more photos of the Reunion Golf Resorts & Residences>>

This ornately designed Sunset Strip hotel, already an icon less than a decade and a half after opening, has an exclusive pool and poolside lounge, and more scene than even the Sunset Marquis. Drool-worthy Feature: The white walls and hanging potted plants gives this pool a beachy feel -- despite it being several stories above bustling Sunset Boulevard. See more photos of the Mondrian Los Angeles>>

Some things at the Raleigh Hotel are vintage-bordering-on-dated; but not the stunning free-form pool. Drool-Worthy Feature: This pool (surrounded by vintage lounge chairs and umbrellas) became a Miami landmark when former swimmer and movie star Esther Williams leapt from its waterfall diving board in a sequined bathing cap. See more photos of the Raleigh Hotel>>

Opened in December 2008, the 2,034-room Encore is all about pure opulence, including the gorgeous European Pool. Drool-Worthy Feature: The classically elegant pool surrounds a unique outdoor casino. See more photos of the Encore of the Wynn>>

For a small hotel, this 54-room boutique has a lot to offer: great views of Arenal volcano, a lovely spa, a bar with an outdoor terrace, an on-site restaurant, and a beautiful pool. Drool-Worthy Feature: This hot springs pool has natural thermal waters that help guests relax and take in the scenery. See more photos of the Royal Corin Resort & Loto Spa>>

Situated on more than 200 acres of picturesque land, The Ventana Inn & Spa looks like a rustic cabin nestled in the woods -- yet it features a long list of on-site amenities, including two pools. Drool-Worthy Feature: This pool is in a secluded spot for a reason -- it's the resort's clothing-optional pool. So "forget" your bathing suit and enjoy a dip au naturel. See more photos of Ventana Inn & Spa>>
Follow Oyster on Twitter: www.twitter.com/Oysterhotels