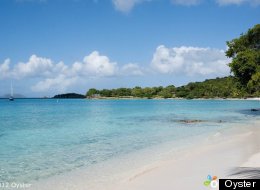 Summer's in full swing -- can't you just hear the beach calling your name?
But while some of us are happy with just a patch of sand and a salty sea breeze, others hit the beach with a little something specific in mind. Maybe you want to go surfing, indulge in some late-night partying or take full advantage of a clothing-optional zone
So no matter the kind of beach scene you're looking for, we've got you covered. Check out our list to find the beach that suites your style this summer. Get ready to hit the sand!
-- Jane Reynolds, Oyster.com
Beach Vacations for Partiers, Surfers and More (PHOTOS)
Why Partiers Love It: It's Cabo, baby! The infamous line associated with the town of Cabo San Lucas reflects its hard-partying atmosphere which makes it a popular choice among college-aged spring breakers. But Medano Beach has something for revelers of all ages -- as long as you're down to get in on the fun, of course. The soft, sandy beach is lined by bars -- everything from inexpensive dives to upscale cocktail lounges. And no shirt, no problem! Where to Stay: Almost all 142 units of the Cabo Villas are romantic, airy and bright -- with modern décor, stylish fixtures and spacious balconies with stunning views. The ocean-side location is convenient for party people -- Medano Beach's shores may be teeming with vendors and tourists, yet guests can find a bit of a reprieve (if they choose) at the hotel's beach bar and sushi joint, Baja Cantina.

Why Surfers Love It: On Maui's east coast, Koki Beach is a beautiful, secluded spot known for its red sand and epic waves. The rocky shoreline, dramatically sloping sandy bottom and strong currents can mean dangerous conditions, but that's just why hardcore hang 10-ers love it. Where to Stay: The Travaasa Hana overlooking Hana Bay delivers rustic luxury in the middle of Maui's lush east coast. Incredible service, a top spa, excellent food, a long list of available activities and only 70 rooms on acres of uncrowded property make this spot a perfect oasis. Though the hotel does not provide direct beach access, it does run a free shuttle to Koki Beach.

Why Nudists Love It: Well, because it's a nude beach, of course! Located on the French side of the island, Orient Beach is a popular hangout for all types of tourists and locals -- whether they choose to wear a bathing suit or their birthday suit. As a marine reserve, the beach boasts fabulous snorkeling, and Orient Bay's sands are lined with restaurants and bars so you won't have to go far (or put much on) for a bite to eat. Where to Stay: Situated within an upscale community featuring several resorts, restaurants and one of the island's best beaches (well, as far as clothing-required ones go), Hotel La Plantation's colorful Creole-style villas offer seclusion with well-spaced and stylish tropical rooms, a small but lovely restaurant, a modern pool with chic lounge seating and beautifully lush grounds.

Why Juiceheads Love It: Dating back to the 1930s, Muscle Beach has long been a popular spot to roll by in Santa Monica. All day long, tourists can watch uber-tan and uber-jacked muscle men pump iron on the beach's now-rusty bar equipment. You may even spot up-and-coming studs -- after all, Arnold Schwarzenegger was discovered on this beach. Try out the equipment when crowds are thinner, like on not-the-sunniest of days. Where to Stay: The Loews Santa Monica is right across the street from the beach and features bright rooms and an efficient staff. The real standouts here, though, are the ocean-view pool and recently-renovated fitness center.

Why Recluses Love It: Part of a national park, Caneel Beach is a gorgeous, secluded spot on a ecologically-protected bay. Though it's open to the public (technically all beaches in the U.S. Virgin Islands are), it's never crowded and beach-goers can enjoy a quiet swim in the pristine waters or a relaxing nap on the white-sand beach without interruption. Where to Stay: Built from a historic sugar plantation, the profoundly serene Caneel Bay resort sits on 170 acres of a national park dotted with seven remote beaches -- including Caneel Beach. Even with a quaint pool and rustic rooms that lack TVs and phones, Caneel's attentive service and unparalleled setting make it one of the Caribbean's best resorts.

Why Scuba-Divers Love It: The protected reefs just off of the famous Seven Mile Beach in Jamaica are great spots for snorkeling -- not only are there tons of colorful fish and sea creatures to see, but there are also calm waters, making underwater activity even more pleasant. The beautiful beach is dotted with lounges and low-key restaurants (many with live reggae) so divers can unwind with a Red Stripe post swim. Where to Stay: Restricted to couples ages 18 and up, the large (though quiet) Couples Swept Away is located right on Seven Mile Beach (arguably one of Jamaica's best beaches). Modern rooms with Wi-Fi and iPod docks, quality food and a low-key atmosphere make this all-inclusive a must -- for those of age, of course.
Follow Oyster on Twitter: www.twitter.com/Oysterhotels