This year's Golden Globes Awards was a celebration of global cinema. When the self-described King of Bollywood, Shah Rukh Khan, stood onstage and accepted his Best Picture Award for Slumdog Millionaire, handed to him by Tom Cruise, the sweep was complete.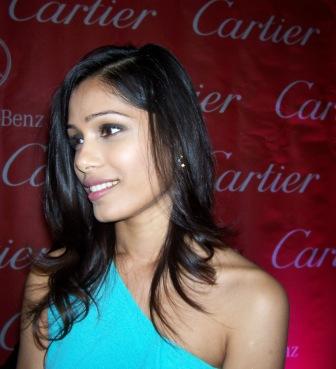 Freida Pinto, co-star of Golden Globe Winner Slumdog Millionaire, Photo by Paige Donner
Slumdog Millionaire also brought home the gold for director Danny Boyle who beat out time-honored Hollywood greats like Clint Eastwood and Ron Howard for this year's statue and also won for Best Film Score, by AR Rahman, beating out Clint and the others yet again in that category.
Watching this years' Globes' red carpet arrivals was like watching a group of prep Academy kids saying hello again after a long, long break. The Globes have always been known for their Fun! factor and this year that fun factor was ratcheted way up seemingly due to last year's skipped festivities.
Progressively throughout the evening, cut-aways of the celeb crowd appeared to spotlight, as the winners were announced, a burgeoning feeling that the Golden Globes were showering golden sprays onto our familiar and beloved cinematic masters who were nominated, but not deemed winners, by the Hollywood Foreign Piss, er, Press Association.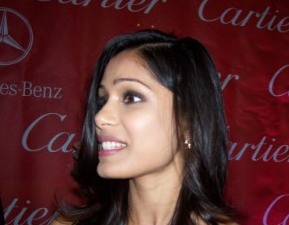 Freida Pinto, Photo by Paige Donner
Slumdog Millionaire's Freida Pinto, looking as lovely as any Kate or Angelina, appeared on stage to help the "King of Bollywood" accept his Best Picture award.
Earlier, Freida had this to say:
Paige Donner: Do you think you might be in line for the Oscar for your first-ever feature role for Slumdog Millionaire?
Freida Pinto: What is happening to me right now is so big. Let's not even talk about the Oscars. When that happens it's going to be even more than all that is happening now.
Paige Donner: How would you feel if that happens?
Freida Pinto: I will feel exactly as I feel right now. Nervous. Absolutely nervous.
Paige Donner: Can you tell us about the international travel show you hosted while you were modeling and before you landed this role in Slumdog Millionaire?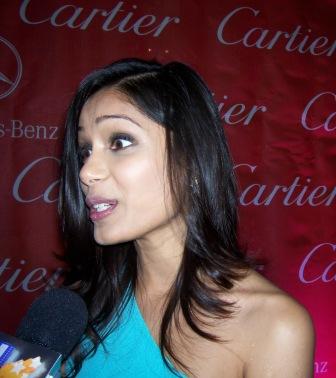 Freida Pinto, co-star Slumdog Millionaire, Photo by Paige Donner
Freida Pinto: I wasn't reporting actually, I was the anchor for a travel show so I traveled all over South East Asia. Afghanistan happened to be one of the destinations. We weren't really promoting travel and tourism there because that would be really silly but it allowed me to rediscover the place in a completely new light and it was such a beautiful place. I enjoyed myself there. I was there 13 days and I cannot begin to describe how misunderstood that place is.
Paige Donner: In what way is it misunderstood?
Freida Pinto: The people of Afghanistan are absolutely the warmest people I've ever seen, ever met. That's I think a big misconception. I hope people get to see that someday.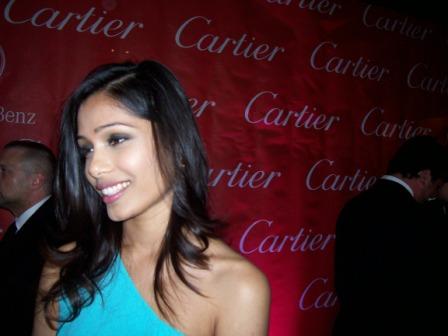 Freida Pinto, co-star Slumdog Millionaire, Photo by Paige Donner
SUBSCRIBE TO & FOLLOW ENTERTAINMENT
THE spot for your favorite fan theories and the best Netflix recs. Learn more