The turnout for the 2009 Palm Springs International Film Festival Awards Dinner and Gala included Leo (DiCaprio), Clint (Eastwood), Sean (Penn), Amy (Adams), Anne (Hathaway), Ron (Howard), Gus (Van Sant), Dustin (Hoffman), Zoe (Kazan)...
Clint Eastwood was honored this year with the Career Achievement Award, noting he's been in the biz for 55 years. "I have a couple more rabbits in the hat," he said, "You start off as a young guy and you end up as an old car...I just wish they made them run on electricity instead of gas." Eastwood acted in and directed Gran Torino.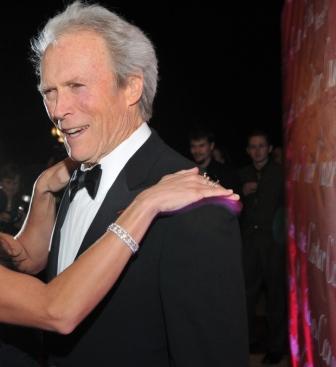 Clint Eastwood, 2009 Desert Palm Career Achievement Award, Photo Courtesy WireImage
Leonardo DiCaprio, on this year's PSIFF's Greening: "This is a fantastic effort. It's up to organizations and individuals to do their part for the environment."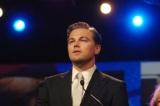 Leonardo DiCaprio, 2009 Desert Gala Award Winner, photo courtesy WireImage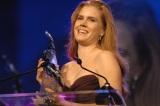 Amy Adams, 2009 Desert Gala Award Winner, photo courtesy WireImage
This star powered posse all showed up for the Palm Springs Film Festival's Dinner and Awards Gala presented by the Palm Springs International Film Festival this week. The Gala kicks off the desert's International Film Festival which, this year, has gone green! It also kicks off, in a big way, the Hollywood Awards season.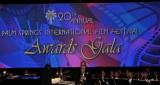 Photo Courtesy WireImage
To claim that this mega-wattage star powered posse all showed up as environmentalists, as well as acclaimed filmmakers, might be stretching things just a teensy bit....However, they did all show up and many of them in alternative fuel vehicles sponsored by Mercedes BlueTec. In addition to receiving the Desert Palm Award, many are also nominated for S.A.G. and Golden Globe Awards as well. Which means, hint hint, here's your key to divining the Academy's likely shortlist of this year's contenders.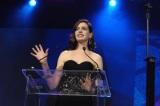 Anne Hathaway, Desert Palm Award 2009, photo courtesy WireImage
Anne Hathaway: "It's a huge honor to be a part of this."

The Palm Springs International Film Festival, now in its 20th year, will see more than 125,000 attendees during the festival run, the majority of whom are from outside Coachella Valley. People come from all over the nation and the globe to attend this festival which will screen over 200 films.


photo courtesy WireImage
Leo had this to say about the new administration:"There is so much more being done now in this new administration than what's been done in the past administration. It's uplifting to see the environment and environmental issues being given the necessary attention they deserve." Mercedes, co-sponsor with Cartier who is an ethical jeweller according to Frederic de Narp of Cartier, on hand for the Festival's Gala, chauffeured DiCaprio in and around Palm Springs in a Mercedes GL 320 BlueTec Clean Diesel, a clean diesel burning SUV that has a Bin 5 rating.
Offering some insight into what draws such a concentration of star power to Palm Springs for the kick-off to Hollywood's Awards season, Dustin Hoffman, recipient of this year's Chairman's Award, quipped, "The Golden Globes started to get a jump on the Academy Awards, then the Palm Springs International Film Festival's Desert Palm Awards began to get a jump on the Globes...now watch out for next year's Fairfax Avenue Awards..." (Fairfax Avenue is a kosher district in L.A.) Hoffman's film, Last Chance Harvey, officially launches the Palm Springs International Film Festival.
Festival Director, Darryl Macdonald offered his explanation as to what draws the stars in such Governor's Ball-esque droves to Palm Springs for the Desert Palm Gala Awards and Dinner: "Many things draw such star power to our festival, not least of which is the credibility of the festival as an artistic and cultural event both with the independent film community worldwide and within the studio community in Hollywood. A Clint Eastwood, a Dustin Hoffman, a Leo DiCaprio, an Anne Hathaway...these are artists with integrity. They need to feel that the event they've been asked to attend, and indeed decide to attend, has the kind of credibility and the kind of integrity that burnishes their name and their image. They're only going to get involved in events that make them look good for the right reasons." Tribal Chairman Richard Milanovich of the Agua Caliente Band of Cahuilla Indians committed generous sponsorship of the film festival yet again this year, "the relationship between the city and the tribe is a very close one, we are community partners," he said at the Opening Night Gala.

DiCaprio went on to accept the Ensemble Acting Award on behalf of the cast for Revolutionary Road, co-starring Kate Winslet. As he did so, he acknowledged the novelist, Richard Yates, who wrote the drama, saying, "Hopefully our collective efforts have honored Richard Yates' work tremendously." Sam Mendes (American Beauty) directed. Yates' daughter Monica, was thrilled with DiCaprio's speech, saying that it was all Leo's idea to so generously acknowledge the writer. Alexandre Desplat was feted for composing the music for the film The Curious Case of Benjamin Button and took home the Frederick Loewe Award for Film Composing.
Amy Adams, recognized this year with the Desert Spotlight Award, is another who is being nominated for her work in an Ensemble cast for Doubt where she plays opposite Meryl Streep, "my generous scene partner," and Philip Seymour Hoffman. Doubt is directed by Golden Globe nominee for Best Screenplay, John Patrick Shanley. Amy Adams' next project is Julie, Julia about cooking every recipe from a Julia Childs' cookbook, directed by Nora Ephron.
Hathaway was recognized with the Desert Palm Achievement Award for Rachel Getting Married. Sean Penn was recognized with the same Achievement Award for playing the role of Harvey Milk in Milk. Last year he won the Gala's Director's Award for Into The Wild.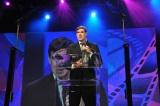 Gus Van Sant, Photo Courtesy WireImage
Gus Van Sant, Milk director and the Sonny Bono Visionary Award recipient said, "Issues of human rights are always timely and relevant. Now is not a particularly good time to tell a story of human rights...it's always a good time to tell a story about human rights." He noted that it took him a bit under two years to bring Milk to the screen. Dustin Lance Black (screenwriter, Milk) will also pen Van Sant's next project, The Electric Kool-Aid Acid Test.
Dakota Fanning was honored with the Rising Star Award and said that her recipe for keeping it real in Hollywood is that, "I have amazing family and amazing friends that wouldn't let me be any other way than I am. They keep me true to myself." February will see her in Push which is a sci-fi thriller about a group of young clairvoyants who are in hiding from a secret government agency.
Ron Howard, recipient of the Director's Lifetime Achievement Award, said, "Thank God it's not a eulogy." When this Frost-Nixon director was asked why so few child actors are able to cross the divide from child acting to an adult film career, let alone to become a top-ranked director, Howard said, "It's a very difficult thing for someone to know about themselves or their own journey." He noted that Jodie Foster has had a remarkable career. "It's very challenging when a child goes through that awkward adolescent period, all that pain, all that awkwardness gets amplified if you're also known and living some kind of a celebrity life."
"I think it tends to drive a lot of people just into hiding. And then maybe later, as adults, they'll try it again," commented Howard, "But I loved it, always. I just stayed with it nonstop and knew that I always wanted to make it my life's work." He offered these thoughts about the (mis)behavior of some celeb teens: "I look at anybody who goes through any kind of turbulence, and most people do, and I just say, well, if you took the camera and you shined it on any hundred people, any hundred 19 or twenty year olds, you'd find some pretty outrageous behavior going on. It's part of the territory of what goes on in working in a high-profile profession. It's the yin-yang of all that. But I just always feel for people struggling through that."
Donald Sutherland, who presented Eastwood with his Career Achievement Award, explained that, as an actor, when you hear there might be a role for you in a Clint Eastwood movie, "you sit by the phone waiting for the call. Then, when the call comes, you hear Clint's voice on the other end say, 'Would you be interested to play a role for $100K in my new film? And, breathless, you say, 'Of course, can you give me a few days to raise the $100K?'"
Eastwood, accepting the Career Achievement Award, thanked his financier. "You always thank your last financier," he said. He directed both Changeling and Gran Torino this year and has The Human Factor up next, starring Morgan Freeman who plays Nelson Mandela and Matt Damon who plays the captain of a South African rugby team. It's based on a true story.
This year is the first year the Palm Springs International Film Festival has gone green. Festival director Macdonald noted that greening is a process. Their green team began by downloading an instruction template from the Environmental Media Association but quickly realized some green tutorials would be helpful, which they readily got with a few phone calls to EMA. "It's not an instant process. We're working towards our goals. This year we will accomplish a 25% reduction in overall paper usage by the festival. That's huge." [Every ton of paper costs 17 trees, 7,000 gallons of water and 60 pounds of air pollution.]
"One thing came through loud and clear," continued Macdonald who co-founded and formerly ran the Seattle Film Festival, "and it's something I think everybody who is environmentally conscious but perhaps a little bit intimidated about it should know and keep in mind and that is, we were told by sage people, you don't turn green overnight. It's a process and you go step by step. Every step you take in the right direction is a good step for planet Earth." The green motto for this year Palm Springs Film Festival is Use Less.
Mira Sorvino stars in a film in competition this year called Like Dandelion Dust which is about an adoption gone wrong. Film focuses on the adoptive parents' sense of ownership of the child and lacks a gimmick-free perspective of what would genuinely serve the true well-being of the child.
Masterful filmmaker Majid Majidi has his The Song of Sparrows playing in the festival. Sadly, he could not get permission from his government in Iran to leave his country to attend the festival here in Palm Springs. For My Wife is a documentary about gay marriage and our state and Federal laws regarding it.
Departures is a film out of Japan that is "lushly scored" and focuses on a cellist. $9.99 is an Israel/Australia co-production that is a stop-motion animated film which cast the voices of Geoffrey Rush and Anthony LaPaglia.
Colony Palms Hotel is an excellent choice to stay out in the desert and was once owned by the owners of Seabiscuit, the nation's champion racehorse. Its restaurant, the Purple Palm, was ranked one of the Top 100 in the nation by Conde Nast Traveler in 2008. Very popular are its Sunday brunches and also dinner served nightly.
SUBSCRIBE TO & FOLLOW ENTERTAINMENT
THE spot for your favorite fan theories and the best movie recs. Learn more