To walk into the Chaz Dean Hair Studio in the heart of Hollywood is to walk into an Oasis of natural beauty. Dean has made it his "crusade" to cultivate and maintain the health of his clients' hair. When your clients are A-listers such as Drew Barrymore, Halle Berry, Charlize Theron as well as the entire cast of Desperate Housewives, that is no small crusade. And whether your techniques and products actually tender the desired results - healthy, silky, manageable, shiny hair - will be visible to millions.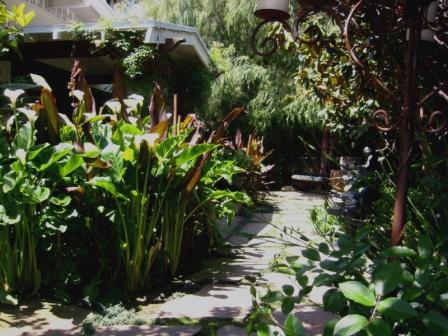 When you first enter the Chaz Dean Hair Studio, which is housed in a private, garden-encased bungalow, you are embraced by the warmth of your surroundings. Comfortable couches accent the space, beautiful murals of the Madonna (handpainted by a personal friend of Dean's who lived in the space and painted for 3 months prior to his opening up for business in 1998) adorn the walls, handcrafted iron work designs add to the overall eco-chic and comfortably cozy feel of the studio. The overall effect envelops you immediately.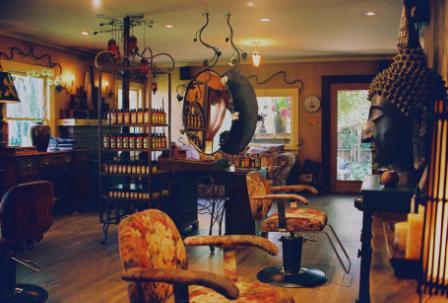 The easy-ness of the studio's vibe just gets better - my stylist, Anna-Lee, greeted me with a quick, friendly hug before handing me to her assistant for a luxuriating hair wash and scalp massage. Anna has been at the Chaz Dean studio for 5 years, the first 3 were spent as an apprentice. When you see the talent that Dean brings to his metier, you understand how an apprenticeship under him is priceless. Dean is all about seeing and then bringing out the beauty of his clients. Some of his before and after pictures are truly miraculous. "I draw out people's inner beauty rather than fight it. We're not stamping people out of some mold. We look at skin tone, eye color, lifestyle, to craft a client's look." In this respect, he feels his studio stands apart from most salons where a look may be grafted onto a person, regardless of whether it actually suits them.
The WEN Cleansing Conditioners
The cleansing conditioning treatment used on me was a blend of two of his scent lines: Sweet Almond Mint and Cucumber Aloe. His proprietary WEN ("new" spelled backwards) cleansing conditioners are the farthest thing from shampoo. Chaz explains, "Anything that lathers is stripping your hair." He says that his clients adjust quickly to his non-lathering WEN products - especially when they see the results even after the first use and feel the difference in their hair.
"Once people get used to the fact that lather is not clean, lather = stripped, they don't go back to their former products." The line is simple: Cleansing Conditioner is both the cleansing and the conditioning agent. It also comes in Fig, Tea Tree Oil (which invigorates hair growth) and Lavendar, the newest fragrance. Each product offers a slightly different benefit. The Sweet Almond mint is very moisturizing and made my hair look like a royal mane.
Dean explains, "Hair is an elastic band. If you stretch it out, it'll break. You may be using expensive hair products but if they are not moisturizing, ultimately you are drying out your hair. For example, proteins strengthen your hair but without moisture it will crack and break. Hair is a natural protein, so adding protein on top of that is protein on protein...without moisture, it will break. Moisture adds the sealing bond." The hidden problem with many "conditioners" on the market is that they contain some alcohol which dries out your hair. "The reason it fools you is when it's wet, it's great; but when it dries it gets brittle," explains Dean.
Dean worked closely with his certified organic lab to develop a plant-derived collagen. This marine collagen, which is cultivated from sea kelp, is an ingredient he has uniquely come upon and as such has a patent pending. He simply never wanted to use an animal derived collagen. He admits that even working with a "green" lab, it was difficult to convince them, "No Lather!" He also offers an oil treatment for the hair which has proven to be completely transformative for people with thinning hair.
Dean has become well-known throughout the celebrity circuit as the "fix-it" hair studio - the Go To Guy - to restore your hair after a particularly tough film or TV shoot where an actor's hair may have been treated with, say, less than gentle, reverence. WEN is the hair product line used on the sets of Desperate Housewives and 24.
Dean points out that less chemicals used on your hair and body means less chemicals washing down the drain. This is an important issue right now in our environment and when considering our water supply, which has recently evidenced trace amounts of pharmaceuticals.
Dean uses no bleach in his color products - "hair is an extension of your skin" - they all have vegetable dye. He is now launching a line of body care: WEN body lotions, body cleansers, oils. He uses only the purest ingredients. "I cook," he says, "with a clean ingredient deck" when describing how he has developed his product line. He has been doing this since 1996, first inspired by his mother who had been diagnosed with cancer and so couldn't tolerate the harsh chemicals in regular products. He worked to develop a gentle line that would be effective and smell good, too. Hence, WEN: beautfiul, natural, practical.
Chaz Dean Hair Studio 6444 Fountain Avenue Hollywood 90028 323.467-6444
Hair by Ramona, Santa Monica
"A good hair day is a great day," says Ramona Merryman who has been a celebrity stylist ever since the day she began working for the man who was the inspiration behind the lead role in the movie Hair, made famous by Warren Beatty. She has maintained clean, organic and natural practices as a stylist for just about as long, "It's important to me to have an ethic and live it," she explains.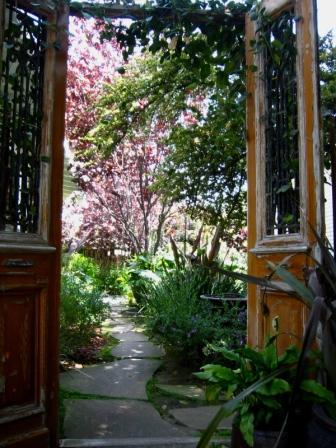 She started using Organic Colour Systems out of the UK some years ago, and when she switched to this hair color product exclusively, her clientele appreciated the change - namely, NO ammonia smell! The color processing takes a bit longer but the color lasts just as long or even longer and Ramona has been thankful for not having to inhale the chemicals normally found in salons, especially ammonia.
"I used to have a blender at the back of my salon. I would mix up batches of my own remedies - flax seed oil, essential oils, to try to patch up someone's head of hair after an episode of over-processing," she confesses. She recalls that the motto when she first started out in salons, was: "Bleach 'em out so light, they won't come back to say they're not light enough." Eventually she was hired to write a hairdresser's manual by Scientific Educational Systems covering clean hairdressing techniques.
Two more unique techniques you'll find Ramona employing while coloring and styling your hair: She uses a durable paper product to wrap your hair, not tinfoil. "Foil usage makes me sad. These papers I can wash and re-use. Foil is highly resourced," she explains, referencing the fact that tinfoil uses lots of energy to make and then it goes straight into landfills. Ramona uses an EMF neutralizer on her hairdryer. "Hair dryers are notorious for EMF emissions; up to 20,000 they can emit," she explains.
To make sense of what that means, you can refer to the SoCal Edison info pack where she first read about it. In a nutshell,the EMF neutralizer allegedly protects your brain and your nervous system from harmful electro-magnetic frequency waves. What else would Ramona like to see in her and other eco-salons? She has asked the Environmental Studies Department in Santa Monica to implement a feasibility study on re-purposing the grey water that comes out of salons - as a policy.
And don't even get her started on the subject of Permaculture! Suffice it to say that she embraces the philosophy of Permaculture wholeheartedly for her lifestyle and her salon: "The two basic tenets of permaculture is care of the planet and care of the people. I continue to endeavor to make my business as sustainable and caring as possible."
Hair by Ramona, Santa Monica (310) 391-2575
SUBSCRIBE TO & FOLLOW THE MORNING EMAIL
The Morning Email helps you start your workday with everything you need to know: breaking news, entertainment and a dash of fun. Learn more