THE BLOG
Greening Hollywood: NFL Eagles' Eco-Calendar Girls
The Philadelphia Eagles lead the NFL pack in their Go Green initiatives. Their new eco-calendar, released in July and printed on post consumer recycled paper, features the team's cheerleaders wearing only eco-friendly swimsuits and accessories. So, hey guys, does Going Green get any better than this?!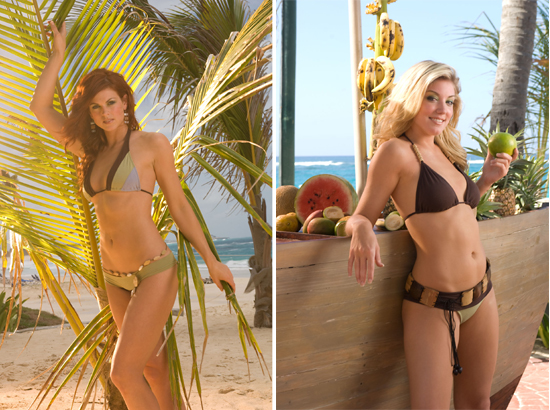 Photographed by Steve Vaccariello / Philadelphia Eagles
Jennifer Kaiser, left, a systems analyst for the Defense Department, said that only natural dyes were used to color the organic cotton in her bikini, while her belt was made of bamboo and recycled glass. Dana Pirolli, right, also wore organic cotton and a bamboo belt.

Photographed by Steve Vaccariello / Philadelphia Eagles
November 2008 features Temple student Devan West. The calendar reads: "DEVAN is wearing an organic cotton top with windmill graphic and organic cotton bikini bottoms; windmill necklace symbolizing alternative energy; pendant imprinted with the word 'green' made from silver collected from old film which was combined with an organic binder and fired to create a silver medium that is 99.9% pure silver; shell bracelet; stone earrings."
When it comes to environmental initiatives, the Eagles' owners, Christina and Jeffrey Lurie have been first in a few things. In 2003 when they began their Go Green program, they started by using 15% clean energy to power their stadium and practice facilities. "By this Fall we will be using 100% clean energy," said Ms. Lurie. "It's very important to purchase clean energy sources," she added. To this effect, the Eagles were the first organization to reimburse employees living in Philadelphia and New Jersey for purchasing wind energy.
"As a sports team, we can inform our fans and spread awareness of this issue," said Lurie. She mentioned that one of their vendors, Aramark, which is a worldwide vendor, provides them with plastic cups, utensils, and plates that are made out of compostable corn. Lurie said that they've climbed so much on board with the Eagles' Go Green program that now Aramark approaches them with ideas of how to be more environmentally conscious. She hopes these practices will be employed at other sports stadiums the world over.
"We've recycled 350,000 lbs. of paper cardboard and beverage products. In 2006 we conserved 14 tons of plastic - that's half the size of a football field, 3 feet deep. That number is probably tripled by now," said Lurie.
Other things they do: The Eagles use post-consumer recycled paper products for programs and tickets. They also have partnered with CSA, a Swedish company, their U.S. office based in Philadelphia, to use only recycled paper for their restroom facilities. When they began developing their Go Green program, they consulted with the Sexton Company, out of L.A.
"We're not doing any of this for profit," said Lurie. "We're doing it as an investment in our future. Educating fans, helping the fans adopt clean energy practices and good recycling habits,..It's a great opportunity!" emphasized Lurie.
In May, the Philadelphia Eagles, volunteers and state park staff planted more than 1,500 trees and shrubs in the Eagles Forest. The trees planted in the Eagles Forest will offset the team's carbon emissions from away-game travel, which totaled more than 9,000 miles by plane and 327 tons of carbon dioxide emissions in 2007. Through the Eagles collaboration with The Conservation Fund's GO ZERO program, they calculated that 870 trees and shrubs planted in the forest will offset those emissions.