University of California, Irvine's Urban Water Research Center hosted an evening in September at the St. Regis Monarch Resort in Dana Point that brought together Hollywood celebrity and water activist Jane Seymour and California's Lt. Governor, "Water Warrior," John Garamendi, at a benefit screening of American Southwest: Are We Running Dry? Link To Trailer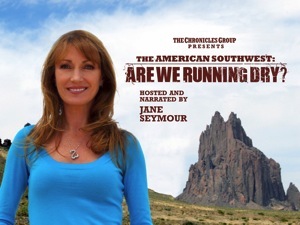 The gala dinner was in honor of the WaterUnifies.com conference organized by UC Irvine, UNESCO and USGS which will be held December 1-5th at the UC Irvine campus.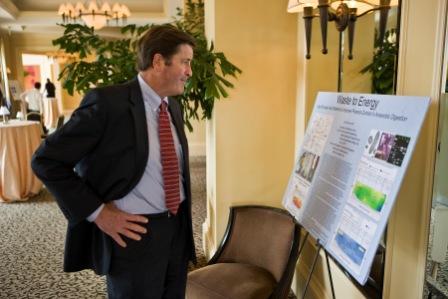 Lt. Governor John Garamendi Photo Courtesy Paul Kennedy
Gathered amongst the 350 invited black-tie guests were California's Who's Who in water including representatives from the Metropolitan Water District, Las Vegas Valley Water District, American States Water Company as well as co-sponsors Makar, ERM and Haley & Aldrich. Among the guests was filmmaker Jim Thebaut whose second documentary installment in his Running Dry series, based on the book "Tapped Out," by former Senator Paul Simon, screened. Dr. William J. Cooper of UCI's UWRC was the host and MC for the gala benefit dinner. Link To Video.
Following are interviews with Lt. Governor John Garamendi and Jane Seymour.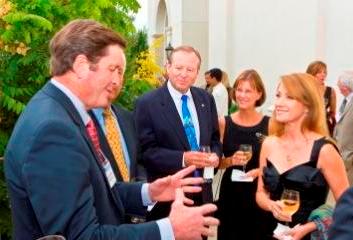 Lt. Gov. John Garamendi and Water Activist Jane Seymour Photo Courtesy Paul Kennedy
Lt. Gov. Garamendi - We have a very serious worldwide water crisis that's going to dramatically effect every human being on this planet. We have to pay attention to this. We have to take immediate action. Energy policy and water are one and the same.
Jane Seymour - Water is a non-partisan, global, humanitarian crisis. And that's why I'm involved with it. It's not something we know about. We all worry about oil, and the oil crisis, but we can live without oil, if we have to. We absolutely cannot live without water. You can survive without food for a few days but you can't survive without water.
Water is a huge issue. I narrated the first Running Dry which is all about the world, all about what's happening globally in terms of water issues including the United States. And this is a brand new one, The American Southwest: Are We Running Dry? It's very specific to the environment of the Southwest and I narrate and host this one as well. (Pls. scroll down for more from Seymour)
Lt. Governor Garamendi: I'm a 35-year Veteran of California Water Wars and before that my wife and I were Peace Corps volunteers in Ethiopia.
Garamendi has earned:
- Environmental Hero Award, June 2008 (Environmental Defense Center)
- Coastal Champion Award, November 2007 (San Diego Coast Keeper)
- Friend of the Coast Award, April 2007 (The California Coastal Coalition and The Wetlands Recovery Project)
Garamendi has championed legislation, the Pacific Protection Initiative and 5 bills to greatly reduce plastic refuse pollution of California beaches, as a member of the Ocean Protection Council.
We have seen the water issue from all over this world. I know that my experience here as well as in Wa.D.C. where I was Deputy Secretary of the U.S. Department of Interior and responsible for Western Water is that we have a crisis.
Lt. Gov. Garamendi helped develop a national global warming policy with Vice President Al Gore when he was the Deputy Secretary of the U.S. Department of the Interior.
A lot of this is driven by the climate crisis. The Greenhouse gases that are being emitted into our atmosphere are changing the climate. That climate change is putting at risk billions of people. We know that in the Himalayas, the great glaciers that feed the rivers of China are rapidly diminishing. And those river systems that a billion Chinese depend upon, are going to be in jeopardy. In California, we know that the Sierra-Nevada snow pack and the Colorado snow pack are going to diminish by 30- 70%, putting in jeopardy the 38 million people who, in California, rely upon that great reservoir system, that snow pack, to deliver water in the spring and summer. We also know the same thing applies to the Southwest. These are things that I've worked on my entire career. And I know that we must take immediate action to do two things, reduce our greenhouse gas consumption so that we don't make the situation worse, and take immediate action to adapt.
Garamendi is known as a key negotiator throughout California for water disputes. He brought the Riverside Habitat Conservation Plan, which protected 66,000 acres of rare habitat, and is now used as a national model, to successful implementation.
For example, we have a lot of water in Southern California already. Most of that water is just expelled into the ocean. We use it once and we throw it into the ocean. We need to recycle that water.
GH: How do we avoid the "toilet to tap" moniker?

Garamendi: By understanding that the water that is processed in recycling is cleaner than the water that comes out of your tap in the first place. It is clean. It is pure. It is safe. Technology a hundred years ago, that wasn't the case. Technology 50 years ago, that wasn't the case. But today's technology provides recycled water that is perfectly safe, chemically pure and very necessary in our future. We don't have to pump that water from the Colorado River 600 miles nor from Northern California 5000 feet into the air and back down again.Right now the single biggest use of electricity in California is to move water. First to the tap, and then from the tap to the ocean.
The other thing that's readily available to Southern California are the use of the underground aquifers. There are huge reservoirs in Southern California beneath our feet. Those underground aquifers are mostly unused, because they are contaminated. We need to take the water out of there, clean it with the various technologies that are readily available today, and use it. And when we have our rains, the storms, put that water back into those underground aquifers, and store it for use later, maybe for when the drought comes or maybe for the next summer. That is part of the solution. Northern California, Southern California, in fact the entire world is faced with the fact that the oceans are rising, as a result of climate change. The great ice caps are melting, that's going to cause the oceans to rise. That's going to put into jeopardy the entire California water system.
GH: Can California be a leader to other countries for its water policies?
Garamendi: The experience that my wife and I had in Ethiopia in 1966-68 when we were Peace Corps volunteers taught us that the famines that plague much of the world, are caused by the lack of rain. Now we're going to have similar problems here in the great Southwest including California. We're going to have droughts in the future. But what can you do?
First of all, the agricultural practices that we are able to use in California can be exported. Drip irrigation, for example, uses very little water but can provide significant increase in agricultural production. The way in which the land is ploughed in much of the world is very destructive. We have learned in California that we can use low-tillage techniques. With low-tillage you don't need to turn over all of the earth, only part of it. And you can use different kinds of techniques to husband the soil and the water content that is in the soil.
Also there are small reservoirs that can be built. Cisterns: We don't use much of this in California but they can be built. If you go into the Southwest today, and you look at what the Anasazis did, 700, 800, 1,000 years ago, you'll notice that they used small cisterns. They may have been one or two feet high, to capture the storm water and then allow that storm water to percolate into the soil so that they could then grow their crops. In a very small area, perhaps it was in only a 10 [feet] by 10 [feet] area. But those small cisterns are things that can be used to capture the rain that does fall. All too often that rain falls as a gully washer. And then it's gone. These small cisterns are techniques that we can learn from history, by looking at ancient civilization, to help solve the same problems we face today in this modern world.
GH: You have announced your candidacy for Governor for 2010. What are some of the environmental issues that will be part of your platform?
Garamendi: Yes, indeed, I am a candidate for Governor in 2010. And I bring to that office experience that no other candidate has. International experience, not only with the Peace Corps but also in recent years at the Department of Interior, nationally and experience in California, as a 35-year veteran of California's water wars. As a legislator, as a citizen of the state, as a farmer, a rancher in the state and I bring to the job my experience in Wa. D.C.
Finally, what does that mean environmentally? It means an absolute determination to change what we're doing. To conserve our water, to re-use our water, to make sure that our rivers are clean and that our fish and wildlife in those rivers have a chance to survive. And I know we can do it! And I know how we can do it. In 1978 I authored the first laws in California to provide a tax credit for conservation and for solar and wind energy. And I maintained those laws throughout the 80's, when Ronald Reagan was killing those programs at the federal level. And I know we can do this. I know we can use the research from our great universities and apply that research to conserve.
I was at a program earlier today at Berkeley, with the universities. I met with the men and women who are responsible for these great institutions, their buildings, their grounds and the [university's] environment. I was talking with them about what they can do to green the campuses. I'm putting together a coalition of students all across the state, we call it Go Green. We're building on the campuses a group of students who are literally going to force change at the universities. They're going to bang on the president's door and say 'We want to reduce the carbon consumption of this campus. And we're going to do it ourselves. We're going to turn our computers off at night, we're going to take those incandescent light bulbs out and replace them with LED bulbs.' These things can be done. It's about leadership.
It's about not just talking but about making the walk actually happen. I've done that for 35 years here in California, in Washington D.C. and in the developing countries of the world. And I've got a partner. I've got a partner of 43 years, that has led the way in providing food and famine relief, who has brought about 27,000 Peace Corps volunteers to work around the world on these very same issues. And I have 4 children that have also served in the Peace Corps. Building the wells, providing the water systems in the developing world and bringing it back home, building their own photovoltaic system so they can get off the grid.


Jane Seymour, Jim Thebaut (Background) Photo Courtesy Paul Kennedy
GH: What motivates you to be a Water Activist?
Jane Seymour I realized that the average person doesn't realize how severe the water crisis is. When I did this documentary we went to the Navajo nation and we met with the President of the Navajo nation. And he told me that in the Four Corners territory, 40% of the people who live there have no fresh water. That's in our nation [the United States.] Right near where we go to play golf. Right near where we have water fountains with music and lights...40% of these people [Navajo Indians] have no water. Not even bad water. None. And by rights, the Colorado River goes right through their property. We have told them they can't have it. And because they aren't greedy and because they didn't say "we want it all and we're going to siphon it off" ...they were being as Native Americans are and just saying, 'we'll take what we need and not more, because we are part of one whole.'
They have a great spiritual basis and we basically suck at them, is what has happened. It's all on paper. We've just never actually built the lines that carry the water to them. To this day we haven't. When I saw that I could not believe it! I went to have a meal when we were there. We went to the best restaurant in that part of the world. There was nothing remotely healthy to eat there. Outside there was one shower that they have to pay to be able to go to. They can barely afford to go and have a shower there. People with trucks that they can't afford, with gas that they can't afford, have to drive 10 miles to get water and pay for it and bring it back to their families.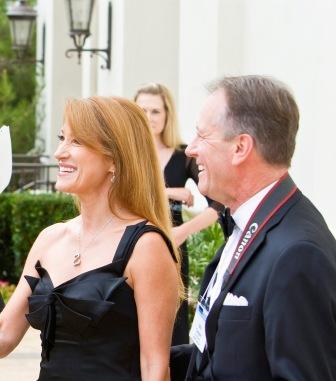 Jane Seymour and UCI's Dr. William Cooper Photo Courtesy Paul Kennedy
Seymour's Global Perspective
The issue of water is going to be the reason for wars in the future. It's already happening. I've seen it firsthand in Africa. For example, 70% of the population in Nairobi have not only no running clean water but no sanitation for toiletry or anything. It's just unbelievable. I was in Nairobi just after 9/11 with the Red Cross. I took 8 inner city kids, 12 year olds, with us. We were working with the American Red Cross. We were vaccinating 14 million children for a number of agencies in one week against measles. But while I was there what I really learned was two things. One was that the children, what they really want, is an education. And number two, the most important thing, was the water issues which were just huge. And then I realized when I was in India, in China, and I've seen all over the world the places where I've been, how bad the water issues are.
I've had water-borne illnesses myself. I nearly died from one in Puerto Rico, so I know firsthand what it feels like. And I also live in Malibu where, you know, we have to treat our own waste. Can you believe it? I live in one of the most expensive places on the planet and you have to treat your own sewage!
GH: How different are the lifestyles, in terms of their relationship to water, of the people of Nairobi, Kenya to the Navajo Indians here in the United States?
There's way more of them in a smaller space in Nairobi because they live in these terrible shelters and shacks. If anyone sees what I saw in Nairobi, you wouldn't dream of letting the tap run when you brush your teeth. You wouldn't dream of one drop of water ever being wasted.
SUBSCRIBE TO & FOLLOW THE MORNING EMAIL
The Morning Email helps you start your workday with everything you need to know: breaking news, entertainment and a dash of fun. Learn more