"The Grammy Museum: Exploring and Celebrating A Legacy of Great Music" is the signage that greets you when you enter the museum.
"Music can create strong feelings of belonging and connection..." Daniel Cavicchi, Curator, Songs of Conscience, Sounds of Freedom, Grammy Museum. "This power has been harnessed throughout American History to gather people and communities together around shared identities and values."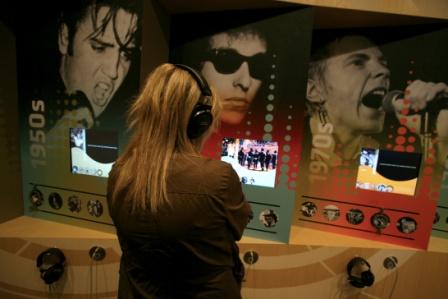 L.A. Live's Grammy Museum is an interactive playground using technology that facilitates the experience of music in so many ways. It's as much or more a playground than it is a museum in the traditional sense of encased historical objects. It was built using no taxpayer or city money, rather by using funding provided by AEG and their generous corporate sponsors, according to Tim Leiweke, AEG Pres. and CEO.
Paige Donner: Why is a museum that showcases music using the tools of technology perfect for Los Angeles?
Mayor Villaraigosa: This is the epicenter of music and entertainment, the cultural capital of America and maybe the world. It's here where we have a very strong technology sector and an entertainment sector and where the two should converge.
What this museum says is downtown is back. That we've got a center and a heart to downtown, that music and the Grammy Museum will be the heartbeat of that center, that heart.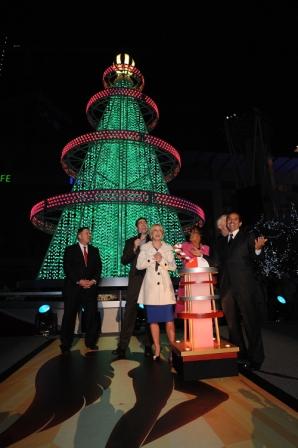 Tim Leiweke, Adam Carolla, Britney Spears, Councilwoman Jan Perry, Mayor Villaraigosa, L.A. Live's Tree Lighting Ceremony Dec. 4th, Grammy Museum opens Dec. 6th at L.A. Live in downtown L.A.
Enter the Museum and go straight to the top floor. There, you will be greeted with the Crossroads Exhibit, an 18 foot digital touch-screen table that offers up 160 genres of music. You listen to the music with the headphones attached to the table and allow your tastes and interests to guide you.


Grammy Museum, L.A. Live
On the 3rd floor, be sure to spend some time in the Museum's recording studios to play with laying down your own tracks, your own rap, recording your own singing voice and remixing all of that. The second floor's Songs of Conscience, Sounds of Freedom current installation is the museum's rotating installation.
The Grammy Museum: It's play time!
Paige Donner: Can you comment on the role technology plays in this museum?
Ted Tanner, AEG, Exec. V.P.: What we really wanted to do here was connect to the young people. Young people are very facile with technology, handheld devices, downloading music, textmessaging, emailing. What we wanted to do was use those forms of technology to reach the kids and make the music and all the deep educational value of this museum more accessible to them.
They don't want to just go see artifacts such as the cape John Lennon wore or Elvis Presleys' letter. They want to go interact with the music. They want to find out where did rap come from? What are the roots of that music? So that's what this is all about.
PD: Was that a directive from AEG?
TT: Yes. We hired the architect that designed the Spy Museum back in Washington, Patrick Gallagher. The Spy Museum is a very interactive museum; one of the first museums to really use the interactive platform as one of the major means of presenting information. And that's what this is all about.
It's about presenting information. It's about storytelling. And for us it was very much a part of making it young people's experience every day. I'm bringing my daughter's American History class here in January.
There's a great history lesson here, too. In terms of how our culture from the civil war to the revolutionary war to the Vietnam war and the protests from social justice standpoints from labor and race relations, our exhibit Songs of Conscience, Sounds of Freedom, is extremely meaningful. Look what happened with the Dixie Chicks. Music touches us in so many ways. This museum is going to connect with people in an extraordinary way.
Robert Santelli, Executive Director, The Grammy Museum
[Past life: Rolling Stone Journalist]
We're really bullish on the idea of getting people involved in music. More than just being passive listeners of music.
Paige Donner: How have you made the Museum appealing for kids and youth in particular?
Santelli: We have made a very serious attempt to make this museum educationally relevant for kids. Sometimes it's hard for teachers to work in popular music or folk music or even classical music in a classroom with all of the demands that they have on them as teachers.
So what we've done is we've worked with teachers -- we have a great teacher advisory board -- and our educational department, headed by Melissa Runcie, Educational Mgr., has actually looked at the California State standard and we've built programs and exhibits that meet or exceed the state's standards.
So if a teacher comes to our museum and comes to one of the programs that our museum sponsors, he or she can be most assured that an educational experience is what their kids are going to have.
On Saturday mornings we're going to be offering classes for kids and parents to come and learn how to play guitar or keyboards. We'll be doing programs at night with guest guitar players, guest musicians coming in to give lessons.
PD: Does the Museum allow interactivity?
Santelli: We're really pushing the concept that you, as a music fan, whether you're 9 or 19 or 59, will have the opportunity to find your inner creative muse and play with it. If you say to yourself, I'd love to play guitar then you should. It doesn't mean that when you play guitar you have to be on stage. You can play for yourself or for your family and get creative satisfaction out of that.
Hopefully when you go through some of these exhibits, you'll get a sense of that. If you feel like, "I always wanted to learn how to play guitar," and if you become a member of the Grammy Museum, you'll be able to take some of the lessons. We already have over 100 programs scheduled for 2009. And many of them are education programs that deal with learning about music, the playing of music, instruments that you'll be able to use, learn how to play a guitar, a keyboard, a bass, whatever.
Paige Donner: Why is it good to get a museum membership?
Santelli: Like all great museums, we'll have a membership base. The reason why that's very important is because members will be able to get first dibs on the curated concert series we'll be producing, lectures, symposia, film series, Q&A with artists, unplugged performances with artists which will take place in our 2nd floor, 200-seat Grammy Soundstage. So with only 200 seats, the opportunity is going to go quick unless you're a member. It's a good incentive to become a member of the Grammy Museum, to have access to these things before the general public does.
PD: Are there other museums like this in the country?
Santelli: There's the Rock'n'Roll Hall of Fame in Cleveland where I worked. There's the Experience Music Project in Seattle where I was after that. Add to that the oldest one which is the Country Music Hall of Fame and Museum in Nashville. Those are three other big music museums in America. There's also a Woodstock museum that just opened at the Woodstock music festival site in upstate N.Y. There's one in London going up called the British Music Experience which opens in March that AEG is helping develop. I'm going there next.
Ken Viste, Chief Curator, Grammy Museum
My role is primarily as a facilitator and storyteller here. My job was to find the materials to tell these great stories. That's everything from the audio to the video to the artifacts, all the texts, everything. And guiding the development of these interactive experiences we have throughout the museum.
Paige Donner: Can you illustrate with an example, such as the Spoken Word Exhibit?
Ken Viste: The attempt here was to get some diversity of the types of things people could hear. The main purpose here is it's a music museum but the Grammy's celebrate, actually, all recorded sound.
In this day and age, comedy, documentary, it's all video now. But for about 100 years this stuff was recorded audio. You bought a record of a comedian, for example. So we wanted diversity here: you've got a poet [Langston Hughes], a comedian [Bob Newhart], a brilliant orator and leader [Martin Luther King] and then you've got Henry Rollins who's a great spoken word artist in the modern-day.
PD: How did you come to make the choices you did given there was so much to choose from?
KV: Diversity of genres, viewpoints and eras. That's the filter. But even when you do that you have to say, Oh boy! There's about 50 things so what do I choose?
Sometimes it's a gut-check and you say this is the best quality we've got here. Or sometimes it's just an historical imperative like this is just something we have to have. For example, I knew I was going to have a speech on here and it was pretty much a no-brainer what speech had to go on there [I Have A Dream, MLK].
But it's also an interesting story because that speech was recorded and released commercial by Motown Records. So there's even a back story that's unfamiliar to us and kind of surprising. It's something we're so used to hearing or hearing parts of but at some point it was put on a record and released.
We will be rotating in new exhibits. Some from other facilities and museums and some from our own development. As a young museum, a lot of what you draw from are loans. So the Rock-n-Roll Hall of Fame, the Country Music Hall of Fame, they're brilliant collaborators with us and helped us out tremendously.
All those pieces will rotate back out and we want to do that because it's a modest footprint. It's not as big as the Rock-n-Roll Hall of Fame which is full of artifacts. We have some great contexts in which to feature them and we have the imperative from the diversity of music that we recognize in here to rotate them out on a pretty frequent basis. It's an exciting thing to do.
PD: Music is such an alive medium, how often will the exhibits be refreshed?
KV: I think the first thing we'll probably hear is "Where is my favorite X or where is this artist?" or such and I guess the answer we always have for that is, the exhibits are the starting point. The exhibits rotate through pretty often. We'll change the content there, but what really rotates here are the stories we tell through our educational and our public programs.
So you may say, Where's the Big Band Swing Exhibit? Well, Big Band Swing features through a lot of these exhibits but at some point I can almost guarantee you that there will be some sort of program dedicated to that and that's going to be your real opportunity to dive deep in. And hopefully, maybe, you've never even listened to the music. You hear it here, you get engaged and that program comes along and you say, Well, I'll check that out, that looks kind of fun!
Paige Donner: What are three guideposts you used for curating this inaugural exhibit?
Dan Cavicchi, Curator, Songs of Conscience, Sounds of Freedom [day job: Prof at Rhode Island School of Design]
DC: Music shapes Identity. Music brings people together. Music crosses boundaries.
Since Yankee Doodle was first sung in this country, our music has shaped people's identities. In fact, music is deeply woven into the fabric of American Society. It sparks awareness and shifts perspectives.
Music gives the voiceless a voice. It gives them a way to exercise their rights in a democracy. Think about it. Disenfranchised youth tend to make really loud music!
This exhibit is not all about protest but also about affirmation, the nation, patriotism. It's to remind people of what we all share. For example, our ritual of singing the National Anthem before sporting events. Where did this ritual spring from? And yet it is a part of our culture.
Take a look at this bamboo guitar here: This is from the recent Live Earth concerts, which took place simultaneously on all seven continents. Those concerts continued the legacy of a series of benefit concerts creating awareness about issues, including the "No Nukes" concerts by Musicians United for Safe Energy back in 1979, Live Aid in 1985, and Farm Aid, which started in 1985 and is still going strong. Issues become important and then people make songs about them; Sometimes, though, the opposite occurs, where songs and music events lend attention and importance to social issues.
Paige Donner: What kind of outreach and involvement are you offering the community of Los Angeles with the Grammy Museum?
Lynne Sheridan, Public Programs Manager [formerly with Bob Dylan's office, NYC]
LS: Public programs for the museum will be after hours and will begin between 7:30 and 8:00, probably twice a week. It will vary month to month. We plan to have 50-75 programs offered to the public and to members per year and most of them will take place in our 200-seat Grammy Soundstage Theater. Lectures, concerts, interviews, townhall meetings, film screenings.
A townhall meeting will be a public forum in which to talk about controversial issues. For example, the state of the music industry now. We're going to work with Dan Cavicchi, the curator of Songs of Conscience, Sounds of Freedom, to come up with some hot topics that are to be discussed...like a roundtable discussion with key people.
We want the community to come out. Many of our programs will be free. Many of them, Museum members will get first dibs such as 72-hour advance notice for reservations before the general public.
PD: What are some programs we can look for in your programming schedule?
LS: Our Evening With Program with Brian Wilson is scheduled for January 15th. That's a paid program but we want to make it affordable. We want people to be able to enjoy the museum, come down to our program, and feel like this is part of, and in, their community. This is where they can come for entertainment that's interesting and original and informative.
The Target Terrace upstairs and the Lobby downstairs can accommodate food and drink, otherwise the museum will be open after hours for certain programs but not for catered parties.
We are hoping to collaborate with the downtown L.A. Library for performances and other programs. We're big on collaboration here. I've met with a bunch of the other facilitators here in town and we've offered to share our space and work with them on programs for the public. For example, we put on three programs at Skirball Cultural Center including the recent Bob Dylan exhibit there.
We're working with the N.Y. Performing Arts Library at Lincoln Center to present some jazz talks where we go to NY and do one-on-one interviews with jazz greats - we'll be doing Dave Brubeck and the Pizzarelli Brothers in the Spring. And on January 21st the Lincoln Center people are coming out here and we'll be having an evening with Charlie Haden.
Brian Wilson is on January 15th and that's our Flagship program for our An Evening With series; Charlie Haden on January 21st kicks off our Jazz Talks series.
We'll also have Masterminds Behind The Grammy's which is a panel discussion with Ken Ehrlich, Neil Portnow and all the men who put together the Grammy Awards and will be moderated by our own Bob Santelli. We're also having a Retrospective Panel moderated by Jimmy Jams. Members will be able to come to that. The public will be able to come to that and share the Grammy Awards with everybody.
Museum Membership starts at $40 per year.
Admission for adults is $14.95, Youth are $10.95, Seniors $11.95, Free for members and kids under 5.
www.grammymuseum.org/membership
education at grammymuseum dot org (for teacher resources)
www.lalive.com


SUBSCRIBE TO & FOLLOW ENTERTAINMENT
HuffPost Entertainment is your one-stop shop for celebrity news, hilarious late-night bits, industry and awards coverage and more — sent right to your inbox six days a week. Learn more