I'm one of those women who loathes hair removal. I don't know if there are many of us out there, but I suspect there are. Since the first day when, as a teenager, I decided to get rid of the hair on my legs and armpits, I have spent my waking hours in hair removal torture. It's a waste of time that caused me suffering. Nonsense, really. But I didn't question it, either. At the end of the day, I'm a woman, and we have to get rid of our body hair, right?
Did I have another option? For a long time, I felt I didn't, so I merely tried to fully minimize my periods of suffering. I chose not to shave in the winter. After all, I was covered up, and nobody was looking at me... That's when I began to realize I was shaving unnecessarily, and only doing so because it was expected of me as a woman. I enjoyed my hairy legs in winter, yet coninuted to submit to near-weekly shaving torture in summer.
Yes, I am a hairy woman. I have very white skin and very black hair. My legs and armpits are veritable jungles. I know there are smooth-skinned women who shave very rarely and have fine, blonde body hair. But that's not the case with me, so trying to camouflage and pretend that hair is not there doesn't work for me. Besides, I live in Málaga, the weather is warm most of the year and the beach is there for enjoying...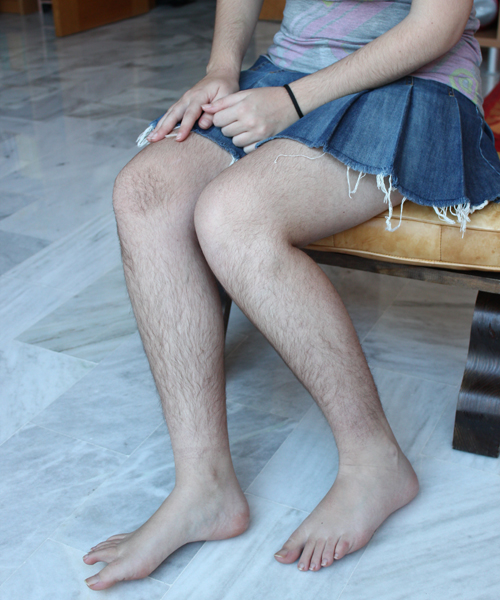 After three months without shaving, enjoying my dark jungles, time began to tick. The sun is out. It's hot. Summer is coming. Noooooooo! I had to start wearing short skirts and tank tops. And with the change in season comes my internal struggle between my needs and wants and the needs and wants of the society in which I live. This year, I'm seriously debating it: Should I shave or not?
I'm very conscious of what I want, that if it were up to me, I wouldn't do it. But is it really up to me? Logically, I can do what I want with my body, but I don't want to turn going out for a stroll into a quarrel, and don't want to decline plans because I feel like I need to hide. Because yes, I'll admit it: I'm not ready to listen to the criticism or endure the stares. I'm not a revolutionary. Yet.
How have we arrived at this situation? I'm amazed that we've reached the point where a woman who doesn't get rid of her body hair, hair that grows naturally, is a rare specimen. I'm not judging the millions of women who wax because they want to (although we'd have to dig deep to know why they want to), but I am critical of the point we've reached where there's no choice about whether or not we remove our body hair. It's a given, period.
I've been reading articles online in which women defend their right not to remove their pubic hair. We're seeing, little by little, how bikini waxing is becoming a matter of course. I won't go there, that's it, but I suppose in a few years, it will become the norm. I'm reading out there that young men demand it, that they want women with no hair on their sex. Well then, I don't care what those boys demand. I'm not interested in them.
Yet, after a rather extensive online search (both in English and Spanish), I've not found many reference articles on the non-removal of leg and armpit hair. I read a multitude of articles about Emer O'Toole, an Irish journalist that went without shaving for 18 months. You can watch a video where you see her unshaved legs and armpits. These are some other posts I found on the topic:
Reasons why I don't shave
There are also Facebook groups in which women show off their unshaved armpits, such as this one in English and this one in Swedish. And some time ago, I heard mention of a documentary, Pitstache, about this theme, which I think is currently in production.
But not shaving is still a taboo. A topic one does not talk about. One that people do not want to talk about. That's why I decided to write this article, because I think we have to bring it up and talk about it. Women need to know they have options without seeming like revolutionaries. Women need to know that we have the choice, that hair removal is not an obligation that comes along as part of being a woman. Teenage girls, when they start to grow hair, need to know that they can choose, that they decide if they want to shave or not. That both options are valid. Today, that's not the case. It had been nearly impossible for me to find photos of women with unshaven legs (unshaven armpits are easier) and so I post mine, so hairy, feminine legs can come to light, can be seen.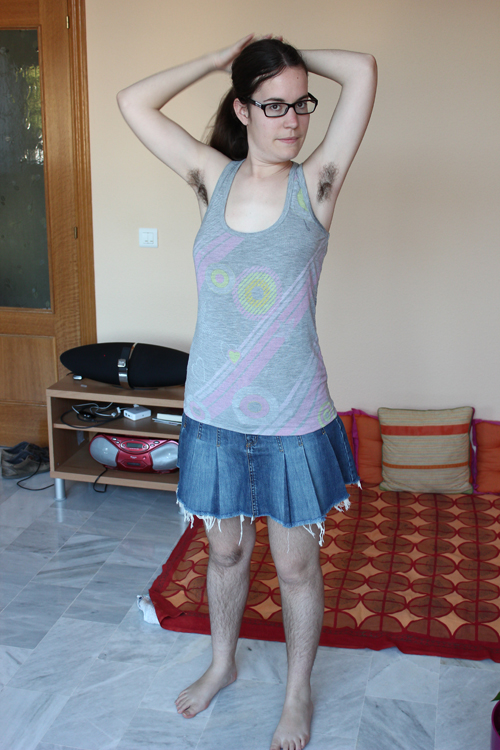 When I asked my boyfriend to shoot these pictures, he refused. I think he didn't want my hairy legs to be made public. He had enough with having to endure the plan (ha!). We had an interesting conversation and a few seconds later, he admitted he was wrong and agreed to take the pictures. He told me the pictures were an assault against aesthetics. I agree. They're an assault against an aesthetic, against an image of female beauty that we have ingrained in our culture and in our society. That same image I want to change, simply because it's not real. Women have hair on their legs. We have hair on our armpits. And on our pubis. And in a thousand other places. We're hairy, the same as men. And that's real. A reality that women, pressured by one another, insist on hiding.
I still don't know if this year I will succumb to the pressure, if I will shave again. I've not decided yet, but I'm very conscious that if I finally do it, it will be for others, and that drives me apart from my true self.
This post was translated from Spanish and originally appeared on HuffPost Spain.
Earlier on HuffPost: Body Image Heroes
Meet Our Body Image Heroes
The Golden-Globe winner told HuffPost Live how her father shaped her perspective on beauty: Beauty was very much on my mind. I had a father that would -- we would look up at billboards and he would say, "That's one version of beauty. You're another version of beauty. And she's a version of beauty. And that girl? She's another version of beauty." He always said that beauty came from within, and as much as you're younger and you're [sarcastically] like, "Yeah, beauty comes from within" -- no, beauty does come from within. I've met some of the most beautiful people, and sadly their heart is just not smiling, and that destroys it all. And then other people that aesthetically aren't considered as beautiful are the most gorgeous people I've ever seen in my life.

After the media focused on her alleged weight gain in September 2012, Gaga hit back at critics by baring her body in photographs, sharing her struggles with an eating disorder, and inviting her fans to join her in a "body revolution."

Adele says she tries not to worry about her body image and doesn't want to be a "skinny minnie." "The first thing to do is be happy with yourself and appreciate your body -- only then should you try to change things about yourself."

The actress took to Twitter to say, "I'm not trying to be hot. I'm just trying to be a good actress and entertain people."

In a powerful 2012 piece for Jezebel, the comedian responded to people who criticized her appearance: I grew up hard and am still hard and I don't care. I did not choose this face or this body and I have learned to live with it and love it and celebrate it and adorn it with tremendous drawings from the greatest artists in the world and I feel good and powerful like a nation that has never been free and now after many hard won victories is finally fucking free. I am beautiful and I am finally fucking free.

After the March 2012 frenzy around Judd's "puffy face," the actress fought back in The Daily Beast, calling the media out for making women's bodies "a source of speculation, ridicule, and invalidation, as if they belong to others."

The "Orange Is The New Black" actress wrote a powerful essay for Glamour about her struggles with self-esteem and journey to body love. She's now dedicated to making sure all body types are seen on-screen: "Ideally, I want to see all beauties, all shapes, all sizes, all skin tones, all backgrounds represented in my profession. Now that I am blessed to be that reflection I was once looking for, I'm making a promise to speak out for that little girl that I used to be."

Tate's essay about body image and motherhood not only broke the Internet; it has sparked a movement of "moms who stay in the picture."

The fitness blogger and personal trainer posted a poignant video in response to online commenters' criticism of her physique. "In this video, you will experience what it feels like to be constantly bombarded with outrageous negativity," Ho wrote in a blog post introducing the video. "You will see what it looks like to have your self-esteem stripped away. You will read real comments left by real people. You will see me struggle with my own appearance."

The "Precious" actress had the most incredible comeback to cruel comments about her weight.

On her informed, thoughtful blog "The Beheld," Autumn writes about beauty, body image, appearance and her two -- that's right, two -- mirror fasts.

Gruys went on a year-long mirror fast during which she did not study her reflection in mirrors or other reflective surfaces, or look at photographs of herself.

"I am always in support of someone who is willing and comfortable in their own skin enough to embrace it," the singer said in a recent interview.

At the 2012 New Yorker Festival, the magazine's TV critic, Emily Nussbaum, asked Lena Dunham, producer, creator and star of the hit HBO show "Girls," why Dunham is naked in so many scenes. Dunham responded, "I realized that what was missing in movies for me was the presence of bodies I understood." She said she plans to live until she is 105 and show her thighs every day.

Chung responded to critics who suggested that her slight frame made her a bad role model for young women, saying: "Just because I exist in this shape doesn't mean that I'm, like, advocating it."

The NYU student started the amazing Body Love Blog, where she posted this picture of herself and wrote an open letter to those who feel entitled to shame others for the size or look of their bodies.

This 5-foot-tall, 200-pound singer spoke openly about her weight to The Advocate, saying, "I feel sorry ... for people who've had skinny privilege and then have it taken away from them. I have had a lifetime to adjust to seeing how people treat women who aren't their idea of beautiful and therefore aren't their idea of useful, and I had to find ways to become useful to myself."

In 2013 interview with Parade, Kaling said that she was tired of being discussing her appearance: "I always get asked, 'Where do you get your confidence?' I think people are well meaning, but it's pretty insulting. Because what it means to me is, 'You, Mindy Kaling, have all the trappings of a very marginalized person. You're not skinny, you're not white, you're a woman. Why on earth would you feel like you're worth anything?'"
Follow Paloma Goñi on Twitter: www.twitter.com/airescambio