Miners in South Africa made international headlines last year for their protests demanding higher pay. I'm considering heading back to South Africa to join a new protest that's brewing over tolls the South African National Roads Agency (SANRAL) wants to charge on highways from Cape Town to the Cape Winelands. Anything that slows down a trip to this extraordinary region with its jagged peaks, verdant farmlands, flowering lavender fields and wine farms (local speak for boutique wineries) should definitely be illegal.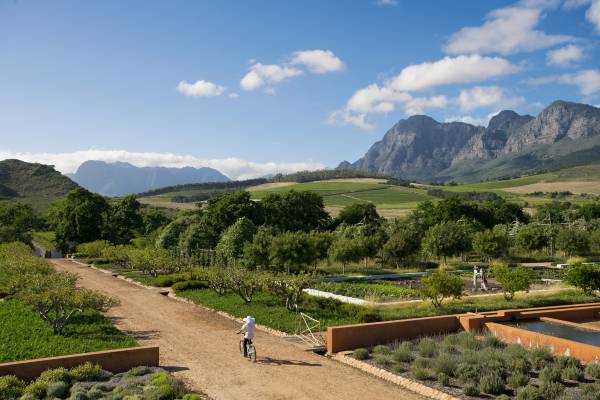 In fact, to not visit the vintners, cheesemakers and chocolatiers that stretch some 100 miles to the east and north of Cape Town is like visiting California and not going to the beach. If you're a foodie, it's simply inexcusable.
Originally settled by the French Huguenots 300 years ago, the Cape Winelands served as the halfway point between Europe and Asia for spice route ships to be replenished with water, vegetables and fruit. Many of those original farms with their stunning whitewashed architecture still stand, only today they host oenophiles, honeymooners and other contented guests who come by car, bus and train to their charming B&Bs, restaurants (more than half of South Africa's top ten restaurants are located in the Cape Winelands) and tasting rooms.
I was fortunate to start my tour at Babylonstoren, a 17th century estate in the Drakenstein Valley with orchards, olive groves, bee hives and an eight-acre garden designed by a 20-year veteran of the Kirstenbosch National Botanical Garden. At 7 a.m. each morning, Liesl van der Walt meets her gardening team, the chefs and oftentimes, owner Karen Roos, a former fashion editor, at the magnificent edible garden to pluck what's ripe and begin designing the day's menu that is magic-markered onto the pure white walls of the former kraal (cow stable) that has been turned into one of two restaurants on the property.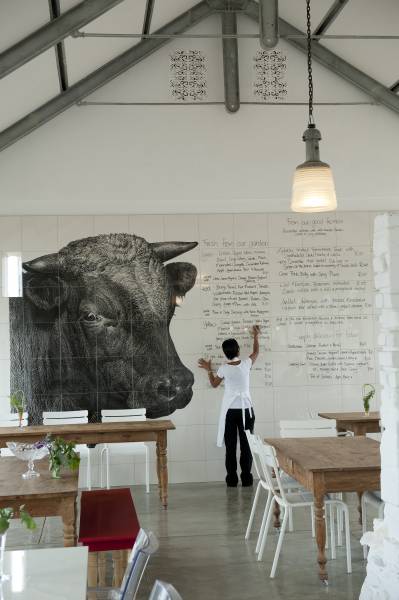 Except for a daily morning tour of the garden, time at Babylonstoren is intentionally unscripted, giving guests of the 14 exquisite cottages and the restored 1777 Manor House the luxury of strolling the 450 acres of orchards, swimming in the farm dam, relaxing at the spa or, if they want, joining in the harvesting, pruning, planting or picking of the 300 varieties of fruit, herbs, nuts, spices and vegetables.
If Eve had been here instead of the Garden of Eden, she'd have never given that snake a second thought. She'd have been too blown away by this garden where every plant is either edible or medicinal. There's also a wormery (to help with composting), a prickly pear maze, ducks and chickens and attention paid to even the smallest of details. The path through the fragrance garden, for example, is lined with crushed sea shells and the floor inlays are made from blue and white pottery shards found on the property.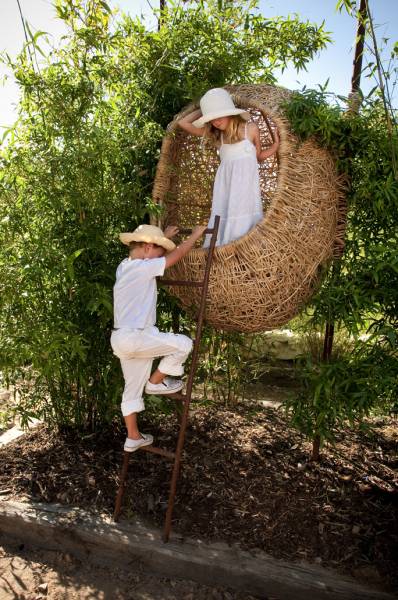 I also had the pleasure of visiting Vrede en Lust, a historic winery nestled in the foothills of the Simonsberg. Originally planted in 1688 with 10,000 vines by French Huguenot Jacques de Savoye, this wine farm is now owned by Dana and Etienne Buys. It makes quite a splash with female servers all dressed in elegant red dresses. Susan Erasmus, their acclaimed winemaker, has been known to play classical music to the grapes in the three vineyards.
This magnificent estate has a restaurant and accommodations in two restored 300-year-old homes.
So, yea, they might put a toll on N1 and N2 highways that lead to the Cape Winelands, but nothing is going to stop me from heading back there as soon as I possibly can.
Photos courtesy of Babylonstoren
SUBSCRIBE TO & FOLLOW LIFESTYLE
We're basically your best friend… with better taste. Learn more