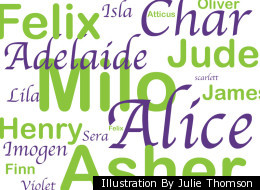 When you're choosing a name for your baby, why should you care which names were most popular last year? What really matters is which baby names are going to be popular next year and into the future. You want to know which names you're going to hear most on the playground and in the classroom, which of today's stylish choices will become tomorrow's Top Ten and which will remain distinctive.
Nameberry's top names list, tallied from nearly six million views of our individual name pages, is an indication of which names parents will be using for their babies in 2012 and beyond.
The biggest news on the list: Asher as the new Number 1 for boys, taking over from Finn. Charlotte remains the top girls' name, though Unisex Number 1 Harper is attracting interest mostly for girls. New entries to the girls' Top 10 are Scarlett and Lila, and to the boys', the fashionable classic James.
While these may be Nameberry's favorite names, which on this list are your favorites? Check this space early in the New Year for our brackets competition to pick the favorite baby names of Huffington Post Parents.
LOOK: Nameberry's Top 10 Girls and Boys Names
(
Click here or scroll down to see the complete top 100
)
Charlotte is an elegant royal name with literary cred, from Charlotte Bronte to "Charlotte's Web." The choice of Sarah Michelle Gellar and Freddie Prinze Jr. for their young daughter, Charlotte is the French feminine version of Charles meaning "free man." Charlie is its trendy nickname.

The Old Testament Asher reentered the Top 1000 only 20 years ago and now is zooming toward the top. With its lovely meaning -- fortunate or happy in Hebrew -- Asher can be shortened to Ash.

Jennifer Garner and Ben Affleck catapulted this angelic name from obscurity to stardom when they chose it for their second daughter. Not yet on the U.S. Top 1000, Seraphina means ardent or fiery and could take over for the megapopular Sophia in the coming decade.

The simple and distinctive Finn, name of the greatest hero of Irish mythology, has been used in the U.S. only for the past decade. Now it has a starring role on Glee and also harkens back to the great American literary hero Huckleberry Finn.

Amelia picks up where big sister names Emily and Emma -- long the U.S. numbers one and two -- leave off, with its Victorian feel and connection to feminist heroine Amelia Earhart.

Henry is a longtime royal classic (think Henry VIII) which has been gathering steam in recent years and now is a favorite of upscale parents who prize its solid history and connection to heroes from Henry James to Hank Aaron.

Another old-fashioned favorite popularized by Garner and Affleck, Violet is both a color and a flower name with a Shakespearean pedigree.

Milo may be well-used in Ireland but its roots are German: It's a form of Miles and means mild and peaceful, qualities any parent might wish to confer on a child.

Isla owes its new high profile to a single celebrity, the lovely Australian actress Isla Fisher, star of Wedding Crashers and wife of Sacha Baron Cohen. A Scottish place name that only entered the Top 1000 in 2008 and is already in the U.S. Top 300, Isla is pronounced with a long initial I and silent s, to rhyme with Lila.

Jasper is one of the few gem names (it's a variety of quartz) that works for boys. Persian for "bringer of treasure," the gently old-fashioned Jasper relates to The Three Wise Men, artist Jasper Johns, and the Twilight books and movies, undoubtedly the main reason for its resurgence.

Imogen is another old-fashioned name with a happy meaning, "beloved child." With the last syllable pronounced like Jen rather than Jean, Imogen has never cracked the U.S. Top 1000 but is more widely used in Britain.

Atticus may be one of the least likely popular names of the modern age, an ancient Greek name meaning "from Athens" that was brought into the 20th century as the name of the hero of "To Kill A Mockingbird."

The 19th century German princess Adelaide came first, followed by the Australian city named in her honor. Adelaide owes much of its recent rise to other fashionable A names, including Ava, Ada, Adeline, and Audrey.

Oliver, the most popular boys' name in England, is also a new favorite in the U.S., brother name to the megapopular Olivia. Both mean "olive tree." Famous Olivers include Hardy, Stone, and Twist.

Alice is an ancient name with royal roots and impressive literary connections: Notable modern writers named Alice include Munro, Walker, Sebold, Hoffman, McDermott, Adams, and Elliott Dark. Not to mention the timeless children's heroine, Alice in Wonderland.

James is a traditional name with a hot new image, largely thanks to brooding hunk James Franco. A relative of Number 1 boys' name Jacob -- both are Hebrew and mean "supplanter" -- James is an all-time top name for boys.

Scarlett Johannson did more to popularize her name in a few years than Gone With The Wind's Scarlett O'Hara managed to do over decades, making it at once more human and hotter. The White Stripes' Jack White and supermodel Karen Elson have a Scarlett.

Jude, a Latin diminutive of Judah, has a more positive image than the original, made glossier and more modern by actor Jude Law. Other cultural references: The Beatles' song Hey Jude and Saint Jude, patron of lost causes.

Lila is the most popular of a raft of double L names that are lilting and lovely: Lily, Lilian, Leyla, Laila, Lola, Talullah, and Delilah. Arabic for lilac, Lila was chosen by both Chris Rock and Kate Moss for their daughter.

Felix and Oscar are both hot names, with Felix like Nameberry's Number 1 Asher also meaning happy or fortunate, apparently a good omen for parents. Felix is also newly popular in Germany and Austria.
*rising fastest
1. Charlotte
2. Seraphina
3. Amelia
4. Violet
5. Isla
6. Imogen
7. Adelaide
8. Alice
9. Scarlett *
10. Lila *
11. Stella
12. Eleanor *
13. Maeve
14. Ruby
15. Ava
16. Eliza
17. Claire
18. Olivia
19. Lucy
20. Matilda
21. Sophia
22. Isabella
23. Grace
24. Beatrice*
25. Hazel*
26. Cora*
27. Aurora
28. Clara*
29. Nora
30. Clementine
31. Evangeline
32. Elizabeth
33. Ella
34. Lily
35. Evelyn
36. Ivy
37. Poppy
38. Audrey
39. Arabella*
40. Genevieve
41. Penelope*
42. Josephine
43. Elodie*
44. Mae*
45. Maisie
46. Emma
47. Iris
48. Pippa*
49. Elula*
50. Eloise*
51. Willa
52. Wren
53. Caroline
54. Adeline
55. Gemma
56. Aurelia*
57. Mila*
58. Jane
59. Lydia
60. Margaret
61. Rose
62. Piper
63. Delilah
64. Emmeline
65. Chloe
66. Esme
67. Cordelia*
68. Juliet
69. Zoe
70. Madeline
71. Phoebe
72. Georgia
73. Harlow
74. Olive
75. Sadie
76. Katniss
77. Anna
78. Adele
79. Eva
80. Louisa
81. Lola
82. Hadley*
83. Emily
84. Beatrix*
85. Hannah
86. Mia
87. Julia
88. Willow
89. Maya
90. Kate
91. Cecilia
92. Vivian
93. Sophie
94. Eden
95. Molly
96. Leila
97. Cecily
98. Ada
99. Millie
100Fiona
Top 100 Boys' Names
*rising fastest
1. Asher
2. Finn
3. Henry
4. Milo
5. Jasper
6. Atticus
7. Oliver
8. James
9. Jude
10. Felix
11. Owen
12. Liam
13. Miles
14. Kai
15. Hudson
16. Silas*
17. Levi
18. Leo
19. Emmett*
20. Sebastian
21. Declan
22. Oscar
23. Jack
24. Noah
25. Rhys
26. August
27. Max
28. Dashiell
29. Everett*
30. William
31. Caleb
32. Ezra
33. Eli
34. Beckett
35. Ethan
36. Theodore*
37. Charlie
38. Elliot
39. Bentley*
40. Theo
41. Arlo*
42. Julian
43. Alexander
44. Mason
45. Gabriel*
46. Benjamin
47. Jacob
48. Dexter
49. Luke
50. Jonah
51. Phineas
52. Wyatt*
53. Flynn*
54. Archer*
55. Jackson
56. Isaac
57. Hugo*
58. Elijah
59. Nathaniel
60. Lucas
61. Arthur
62. Ryan
63. Callum
64. Thomas
65. Logan
66. Roman
67. Cole
68. Elias
69. Auden
70. Xavier
71. Tristan
72. Evan
73. George
74. Gideon
75. Holden
76. Edward
77. Aidan
78. Rufus
79. John
80. Samuel
81. Grayson*
82. Hayden
83. Simon
84. Aiden
85. Andrew
86. Ryder*
87. Nicholas
88. Charles
89. Orion
90. Harrison
91. Michael
92. Axel*
93. Soren*
94. Liev
95. Tobias
96. Nathan
97. Kieran
98. Reed
99.Zachary
100. Landon
Top 25 Unisex Names
*rising fastest
1. Harper
2. Quinn
3. Rowan
4. Avery
5. Sawyer
6. Rory
7. Riley
8. Emerson
9. Finley
10. Dylan
11. Luca
12. Micah*
13. Sasha
14. Emery
15. Nico
16. Peyton*
17. Remy*
18. Blake
19. Aubrey
20. Sage
21. Parker
22. Carter
23. River
24. Teagan
25. Cameron

Follow Pamela Redmond Satran on Twitter: www.twitter.com/nameberry