What started out as a win for the defense -- getting the murder trial of former BART police officer Johannes Mehserle moved from Oakland (Alameda County) citing pre-trial publicity -- will now become an even more publicized case reminiscent of the Rodney King police brutality case back in 1992.
The case will be tried in Los Angeles where up to now the case wasn't making nearly as many headlines as it has in the San Francisco Bay Area. Erect the tents! Now a media circus is all but guaranteed. With the LA County downtown courthouse less than 10 miles from South Central LA, a predominantly African-American community where riots occurred in the aftermath of the King verdict, will another riot explode on the streets? Even before a verdict is delivered?
The case against the 27-year-old ex-transit cop, charging a law enforcement officer with first-degree murder, is not only rare, but begs for a community response. Mehserle has pleaded not guilty but admits to shooting 23-year-old Oscar Grant in the back on New Year's morning (2009) during a loud and crowded scuffle on a BART train platform.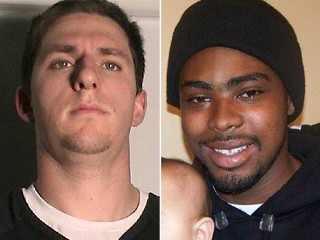 Mehserle claims he thought he was pulling out his taser gun, not his handgun. Witnesses and the victim's family say shooting Grant was unprovoked and a result of racial profiling. The district attorney says Grant was "restrained and unarmed" at the time of the shooting. Video of the shooting captured from cell phones gave the district attorney and critics extra ammunition to mount their harsh response.
In the meantime, LAPD's new chief, Charlie Beck, recently took hold of the reins. As the city's top cop, Beck is known for cleaning up the Rampart Division after allegations of corruption. The department's website describes him as, "... renowned for his ability to forge traditional policing methods, community outreach programs, tempered with the input of diverse stakeholders to form enduring crime abatement programs." The Mehserle trial may test his might.
Sheriff deputies provide security for the LA courts but city cops will likely be called in to handle fallout on the streets. As recent as October 2008, LAPD was the focus of an ACLU report stating that LA police officers are more likely to stop, search, and arrest blacks and Latinos than white people. The two agencies promised to work together to reduce the disparity -- have they? What are the numbers today?
The ACLU makes similar claims in other US cities, but the Mehserle trial will be in Los Angeles, beginning sometime at the end of next year or early 2011 according to news reports. As for jury selection, LA's population is certainly more ethnically diverse than San Diego County, where defense attorneys had hoped the case would land.
The most recent racial profiling case that made big national headlines was the arrest of Harvard University professor Henry Gates by Sgt. James Crowley, a Cambridge police officer. That incident was eventually resolved and we were treated to pictures of Gates, Crowley, and President Obama sharing a drink at the White House. Yeah, remember the "beer summit?"
This time we're talking about murder. It's bound to unite people of all colors throughout California, but no doubt, into different camps. Los Angeles: get ready.
Photos courtesy AP: Mehserle (Douglas Co. Sheriff's Dept.); Grant (Johnson Family)
SUBSCRIBE AND FOLLOW
Get top stories and blog posts emailed to me each day. Newsletters may offer personalized content or advertisements.
Learn more