Mouth Art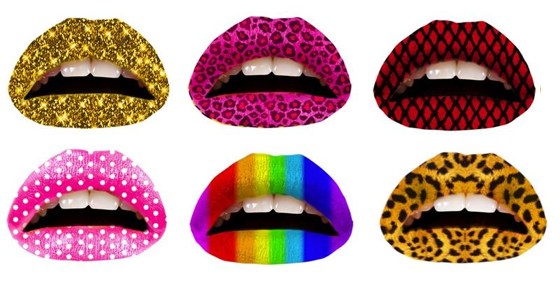 Violent Lips: Sure, I've tried to paint a rainbow on my lips before. It's harder than those circus clowns make it look. These lip tattoos are much easier. They apply with water, just like other temporary tattoos, and the only tricky part is shaping them to your mouth.
Prints include polka dots, fishnet, stripes, cheetah, zebra, and more. They're not exactly moisturizing, and food can be a bit awkward, but then you probably weren't going to wear cheetah lips to an all-you-can-eat buffet. $14.95 at ViolentLips.com.
Firm Foundations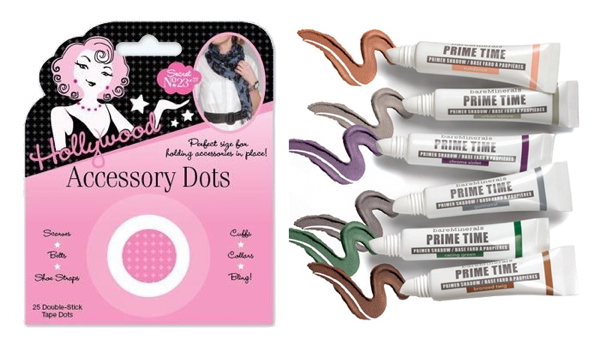 Hollywood Fashion Secrets Accessory Dots: Little circles of sheer, flexible, double-sided clothing tape keep scarves, belts, bra straps, etc. from wandering. And they're a godsend for those of us who favor flimsy, low-cut tops. I haven't accidentally flashed anyone in months. $4.99 at HollywoodFashionSecrets.com.
bareMinerals Prime Time Primer Shadows: Primers make eye shadows apply more evenly, last longer, and gives color more oomph. Adding pigment to primer is a genius move, cutting out a step for the lazy and providing the perfect foundation for vivid or smokey eye shadow. The primers can even be worn on their own for crease-proof color. My only complaint is that they currently come in just six shades. $18 at BareEscentuals.com.
Antique Manicure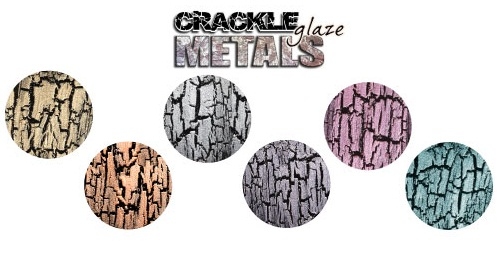 China Glaze Crackle Metal Nail Polish: These foil top coats crack as they dry, giving nails a distressed look reminiscent of antique store treasures or ancient Roman artifacts. To see swatches of all six available shades, click on the image above.The crackle top coats can be used over any nail polish, but make sure the polish is completely dry before applying the top coat! $6.99 at SallyBeauty.com.
Drugstore Treasures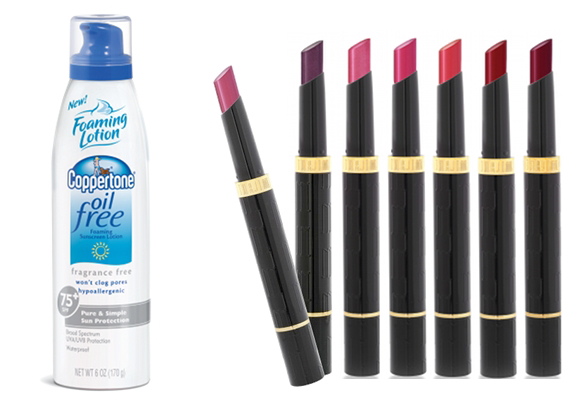 Coppertone Oil Free Foaming Sunscreen: This is the sunscreen version of hair mousse or shaving cream, an airy foam in a pressurized can. No mess, no dripping, just a lightweight cloud of SPF with each squirt. Applies easily, provides broad spectrum protection, and is water-resistant. The SPF 75+ claim should be taken with a grain of salt, though -- numbers that high are just marketing hype. $8.99 at Target stores nationwide.
Milani HD Advanced Lip Color: A new lipstick line of 6 pearl and 6 cream shades, all providing sheer yet vibrant color. The formula is silky and hydrating, has a glossy finish, and the slim case makes for more precise application. I'm not sure what could make this, or any lipstick, "High-Def," but at this price I'm willing to let the abuse of buzzwords slide. $9.49 at CVS.com.
Follow Pandora Young on Twitter: www.twitter.com/PandoraYoung