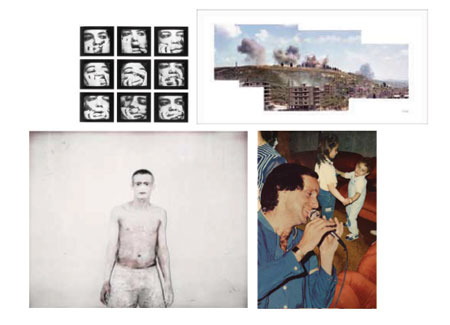 In the last few years, a thriving contemporary art scene has emerged in Lebanon despite the country's political instability and weak government. Particularly in Beirut. There, a recent surge of conceptual artists have been investigating the heritage of war and the collective memories of a lost generation via their work. Several galleries have taken over industrial spaces, showcasing the region's underexposed talents and Middle Eastern art sales are fetching millions at auction. Below, PAPERMAG looks at some of the city's most promising galleries.
Disheartened by the absence of a public contemporary art museum in Lebanon, curator Sandra Dagher and artist Lamia Joreige opened this non-profit multiplatform art center, a graffiti-covered concrete bunker, last year to allow the public free access to world-class exhibitions. Recent exhibitions include art stars Mona Hatoum and Walid Raad, both conceptual artists who address issues such as war, imperialism, the construction of nostalgia and oblivion. Lectures by international scholars and artists, film screenings and performances draw hipsters and intellectuals alike - the serious bookstore, café, and gritty terrace are bonuses.
In the Quarantina, a once desolate area which housed Palestinian refugee camps during the civil war, gallerist Andrée Sfeir-Semler has taken over another industrial space a few floors above Bernard Khoury's avant-garde architectural practice. When Sfeir-Semler, who also owns a gallery in Hamburg, discovered conceptual media artist Walid Raad and his fictional collective the Atlas project, she realized a brilliant art scene was emerging in the region. In 2008 she invited Catherine David, previously curator at the Centre Georges Pompidou and the Jeu de Paume and director of the Documenta X, to organize a thematic exhibition. For the show "In the Middle of the Middle," David asked twelve artists from multinational backgrounds to portray their complex cultural realities. Sfeir-Semler sells works to MoMa, the Tate modern and the Saatchi gallery in London, which has included several of her artists in the exhibition "Unveiled: New Art from the Middle-East."
sfeir-semler.de
Photography and installation from the Middle-East is highlighted at this gallery in West Beirut. Owner Naila Kettaneh-Kunig represents both established local talent like Fouad el Khoury and Lamia Joreige and emerging artists like Zena al Khalil, whose large multicolored collages parody the region's politics. She also organizes exhibitions with major names like Jeff Koons, Sylvie Fleury and Marc Quinn, who will be feature in the upcoming "Luxury and Degradation" show.
In the up-and-coming neighborhood of Mar Mekhail, young artist and critic Mirene Arsianos opened a tiny project space with her cousin Marwa in 2007. There is a reading room with archives and an exhibition zone as well as workshops and artist talks. Community projects are encouraged. Mirene, who studied at Goldsmiths and teaches art at the American University of Beirut, and Marwa, a gifted graphic designer, often bring Beirut's sharpest people together for magazine launches and other events.
98weeks.blogspot.com
After graduating from Central Saint Martins in 2008, Lea Sednaoui initially planned to convert space in a mattress depot into a personal sculpture studio. She changed her mind and opened a gallery instead. For the recent "Counting Thoughts" exhibition, nine female artists from around the world were invited to express their interpretation of womanhood.
Ashkal Alwan Contemporary Art Center
Major news for the Levantine art scene: the Ashkal Alwan association, a long promoter of local art, is opening a contemporary art center and academy this fall not too far from the Beirut Art Center. A multimedia research library, artist studios, an exhibition space, performance spaces and academic programs will allow local and international artists to perfect their skills, collaborate and show their work. --Shirine Saad
Collage above: Clockwise from top left: Mona Hatum "So Much I want to Say", Akram Zaatari "Saida, june 6, 1982", Raed Yassin "The Best of Sammy Clark", Antoine D'Agata "Self portraits"
For more arts-related coverage, visit PAPERMAG.