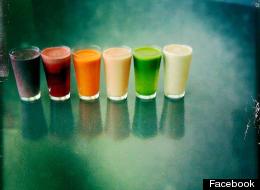 By Lauren Aardema, Party Earth writer.
A cleansed body and mind, a detoxification from Los Angeles' fumes, and a flatter stomach, these are only a few of the benefits of jumping on the bandwagon for LA's latest fad: the juice cleanse. The benefits to juicing are endless. Whether you opt for buying one juice for a snack, or trying out a juice cleanse, being healthy is a trend that will never go out of fashion. There is no better way to cleanse your body in a healthy manner than eliminating all the daily toxins while receiving maximum nutrients through fruits and veggies and enjoying non-processed foods. Visiting juice bars has quickly become on of the trendiest things to do in Los Angeles.
The Juice Health Craze In LA
The slogan at Pressed Juicery is "get back to your roots," and it aims to do just that for its customers by helping them get back to a natural state of mind and body. Unpasteurized and raw fruits and veggies provide the customer with a healthy and sustainable diet. The living enzymes in their juices provide ample health benefits. There is anywhere from two to five pounds of produce in each bottle, making one bottle easily a meal replacement. The shelf life of the juices is about 3 days, and the bottles run from $6.50-$8.00, with the exception of the aloe vera water and chlorophyl water. Pressed has several locations in Los Angeles and San Francisco, and are quickly expanding. The almond milk, which consists of almonds, dates, vanilla bean, sea salt, and filtered water, is a best seller. The juices are fresh pressed every morning at their West LA location, then delivered to the various locations throughout LA. Gluten and dairy free options are often staples at juice bars, offering the health-crazed individual a simple solution to a sweet craving.

Liquid Juice Bar is a family-owned juice bar that provides raw, organic juices, smoothies and a variety of acai bowls. A "pet friendly," juice bar, its drink and café items are moderately priced, ranging from $4.00-$10.00. They also allow you the option to "design your own juice or smoothie" giving you the option to pick your own juice or smoothie base, fruits or veggies, and any additions. Switch up your usual juice routine and try mixing fruits and veggies, or just stick to a fruit juice to enjoy on a hot, summer, LA day.

Clover is the self-proclaimed first "perfectly pure cold-pressed juice bar and eatery." From chia seed-based drinks to wheatgrass and peppermint oil, Clover offers delicious options that will satisfy any health junky's urge to stray from a healthy lifestyle. The various supplements that are offered at Clover allow the individual to not only receive nutrients from the fruits and veggies, but also gives a health boost to each drink.

Located in Santa Monica, Beverly Hills, Manhattan Beach, Marina Del Rey, and Malibu, as well as a food truck, Kreation Juices are made from Farmer's Market 100% organic fruits and vegetables from Santa Monica. The selection of juice is very extensive along with additions like Kombucha and "nut mylk," there's an option for everyone at this juice bar. The cashew milk offers an exciting alternative to the typical "almond milk," that works as a non dairy substitution.

Elixir Juice Bar has two locations in the San Fernando Valley and in Beverley Hills. Elixir provides juices, smoothies, cleanses, and fixes and supplements such as ginkgo biloba and bee pollen. With unique supplements like St. Johns wort, which claims to fight depression and exhaustion, this juice bar offers more than just your average juice and simply wants you to "be good to your body."
For more articles and reviews, go to Party Earth.
Follow Party Earth on Twitter: www.twitter.com/PartyEarth