The temperature has risen above forty-five degrees and I'm finally wearing sandals. I take my first trip to the farmers market to purchase fresh spring greens and make a big salad. But I'm not ready to ditch fish, beef, cheese and bread that I ate all winter. I'm not used to all this sunshine yet and it's far from bikini season.
I consider laying my steak over a bed of greens. I consider doing away with the heat entirely and choosing charcuterie, the dried and cured pork and beef traditionally served as tapas or antipasto at room temperature. But to best complement my salad, I decide to make carpaccio.
In Italy, several cities claim to have been the birthplace of this raw beef dish. As the most popular version of the story has it, the dish was invented for a regular customer, a countess, whose doctor told her to eat her meat raw. We can't know for certain where it was first prepared, but we know that it was named after Vittore Carpaccio, a fifteenth century painter, who was born in Venice.
Carpaccio is easy to make and can be served with a variety of toppings. The classic dressing is a mayonnaise and Worcestershire-based sauce, first made by Giuseppe Cipriani at Harry's Bar in Venice. It always makes a wonderful light meal or appetizer, but I love it in the Spring over a bed of arugula.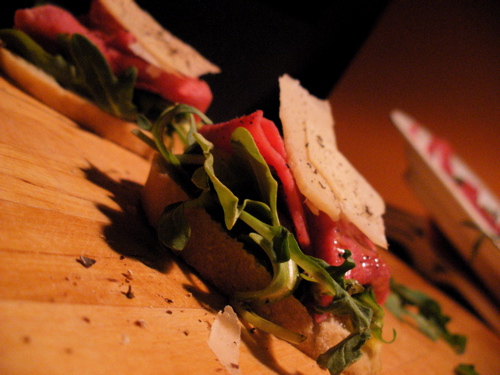 Beef Carpaccio with Parmesan and Arugula
1. Rub salt and pepper all over a 25 ounce fillet of beef. Cover it tightly in plastic wrap and place in the freezer for about fifteen minutes, or until very firm.
2. Using a mandolin or sharp knife, slice 6 ounces of parmesan into thin strips.
3. Gently wash a bunch of baby arugula and tear off the stems.
4. Using a sharp knife, thinly slice the beef fillet, after it is firm from the freezer.
5. In a small bowl, mix the juice of one lemon with 3 tablespoons extra virgin olive oil and whisk together for a dressing. Season with salt and fresh ground black pepper.
6. If you are having a sit-down dinner, arrange a bed of arugula, seasoned with salt and a dash of olive oil on each plate. Place the carpaccio on the greens, the strips of parmesan on the carpaccio, and a drizzle of dressing over the whole thing.
7. Or, if you're having a large party, arrange the beef, parmesan and arugula on thin slices of toasted baguette.
SUBSCRIBE TO & FOLLOW THE MORNING EMAIL
Start your workday the right way with the news that matters most. Learn more