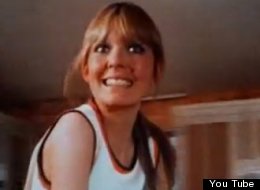 One doesn't become a superstar right out of the gate. Most actors have to audition ... and audition and audition. Struggling is part of the game. Actors pray for that first big break that will get their name on the credits -- as they roll -- at the end of a film or television show. One gig starts the resume rolling, but the parts need to keep coming their way if they hope to make a living ... and especially if they hope to become a legend and/or a superstar in the field of entertainment.
It's fun to look back at the early days of some of our biggest names in film and television to see just how "green" they were before they got their sea legs and went on to become, well, great actors and big stars. The one clip we're most in love with is Betty White singing on her 1954 television show bearing her name. It's a must see! The rest -- Tom Hanks, Jack Nicholson, Jerry Seinfeld, Marlo Thomas, Henry Winkler, Harrison Ford, Tom Cruise, Diane Keaton and Whoopi Goldberg -- are worth every minute of your time if you want to feel good about your first job, no matter what line of work you're in. We're so glad they hung in there! Enjoy!
Post 50 Actors Before They Were Stars
Actor, director, producer and writer Tom Hanks has two Oscars under his belt thanks to his brilliant performances playing a gay lawyer in "Philadelphia" and the loveable, mentally challenged young man in the comedy-drama "Forrest Gump." He has many other mega hits including "Apollo 13," "A League of Their Own," and "Sleepless in Seattle." Before he became an academy-award winner, he got his start doing small-change parts like this cute performance on "Happy Days" in 1982 where he challenged "The Fonz" to a fight.

Betty White, who is a slam-dunk superstar at the age of 90, has entertained the masses for many moons -- best known for her roles as Sue Ann Nivens in "The Mary Tyler Moore Show," and Rose Nyland In "The Golden Girls" -- and of course she's still going strong today in "Hot In Cleveland." She actually made her television debut way back in 1954 on "The Betty White Show" when, most likely, only one in five families actually owned a TV set. This clip from her show is a must-see! Who knew Miss Betty White could sing? This could be the clip that goes viral.

Jack!! This 75-year-old superstar thespian, who has been "cool" his whole life it seems, has a body of work that would knock your socks off if we mentioned all of his films in this space. Along the way he picked up Best Actor Oscars for "One Flew Over the Cuckoo's Nest," and "As Good as It Gets," plus Best Supporting Actor for "Terms of Endearment." Before he became a household name, he had to start somewhere. One of his first acting gigs came courtesy of Andy Griffith. Check out this cameo on "The Andy Griffith Show," in 1967.

Jerry Seinfeld burst onto the scene -- big time -- when he starred in his own television show from 1989 to 1998 after spending many years as a stand-up comic making his rounds on the comedy club circuit. He called his show "Seinfeld" interestingly enough, and it went on to become one of the best sitcoms of all time. Before that big break, Jerry put in some time on the sitcom "Benson" (1980-1981) and here's a great example of his early work.

Marlo Thomas will forever be "That Girl" (1966-1971), and that's just fine with us. Being the daughter of the legendary comedian Danny Thomas, it would seem that she just waltzed into the role of aspiring actress Ann Marie on the popular sitcom, but, believe it or not, daddy didn't pull the strings. Marlo worked her way up the ladder with hard work and determination building up countless credits in both film and television roles. This clip from "Bonanza" called "A Pink Cloud Comes from Old Cathay" in 1964 -- where she plays Chinese mail order bride Tai Lee -- was one of her more challenging early roles. (She appears about two minutes into the clip -- but watch the entire thing to see a very young Jodie Foster.)

When Henry Winkler signed on the do a one-shot role, playing Fonzie "The Fonz" Fonzarelli on an early episode of "Happy Days," his character proved to be so popular, he became a regular cast member. The Fonz is one of the best characters on any sitcom in any generation. We all had a Fonzie type in our school (the "leather clad greaser") growing up. Just prior to getting the biggest role of his career at that time, he made a guest appearance on "The Mary Tyler Moore Show" -- "The Dinner Party" -- in 1973. (He appears about three minutes into the clip.) Check out the hair.

Harrison Ford has given us so many memorable performances including: Han Solo in the "Star Wars" trilogy," the title character in the "Indiana Jones" film series, and Jack Ryan in "Patriot Games." He managed to grab the role of Cullen Tindall in a 1967 episode of "The Virginian," in "The Modoc Kid" episode. The man in the black hat is almost unrecognizable as the Harrison Ford we know today.

Tom Cruise is almost beyond superstar at this point. He's titanic! Where do we begin with his film credits? "Risky Business," "Born on the Fourth of July," "Top Gun," "Mission: Impossible," "The Color of Money," "Rain Man," "Days of Thunder," "A Few Good Men." Stop! We can't go on. We're out of breath. What you'll love about this clip from his first movie role in "Endless Love" is: he's raw, but still adorable!

Diane Keaton is one of our favorite "seasoned" actresses. From her first major film role as Kay Adams-Corleone in "The Godfather," to Woody Allen's "Play It Again, Sam," and her Academy Award winning role of "Annie Hall," Keaton has proven that she's a keeper. At the age of 66 (when most actresses are looking in their rear-view mirror at their acting careers), the "Something's Gotta Give" actress is still working. Her first taste of "acting," came in 1969 in this Hour After Hour deodorant commercial.

Caryn Elaine Johnson, who went on to become Whoopi Goldberg, is a household name because of her incredible talent as a stand-up comedienne, her unforgettable film roles ("The Color Purple," "Ghost," and "Sister Act,") and her gift for gab (she's currently a co-host of "The View"). This triple threat talented Academy Award winning actress gave us a glimpse of what was to be in this classic "Whoopi Goldberg: One Woman Show" on Broadway back in 1985.
Follow Pat Gallagher on Twitter: www.twitter.com/@pat_gallagher