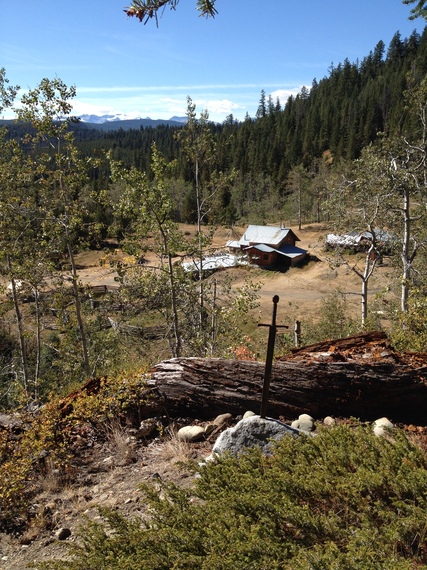 Sara Ann Taylor Gibson arrived on Earth on Valentine's Day, Feb. 14, 1974 at 7:01 p.m. During the first 12 years of her life she ran freely through pine and fir forests, flew bareback across open fields on her ginger-colored pony Gypsy and, with wooden broadsword in hand, banded together with her sister Jenny and friends Mandy and Raine to fight off Tolkien's orcs and goblins on the hillsides surrounding her wilderness home in the Precipice Valley.
This is her story.

******
Many years ago, before time itself had awakened, people lived in this valley, secure in the understanding that life was fundamentally good, and this was the best of all possible places. Their community prospered year after year.

One very quiet evening, they first heard the ominous rumblings of darkness, as evil began its torturous ascent to the surface of the earth. There was little time to prepare. Four warriors stepped forward, clothed in tapestry cloaks and armed with swords of wood, harder and keener than any sword of steel ever made.

They spent the best part of their youth fighting back the minions of darkness, keeping watch even in their dreams, always prepared and always ready. And so it was that the black hordes of the underworld were driven back into the misery from which they arose, and the doors to hell were closed again.

The people of the valley rejoiced, celebrating their good fortune. Giving thanks to the four warriors, they fell back into the pattern of the seasons. The warriors went off into the world in four different directions, seeking adventure and enlightenment.
One day, many years later, the life of the youngest warrior was taken by a thief.

The remaining three warriors knew this. With the people of the valley and all the other friends and loved ones she had drawn into her world, they mounted a great procession to retrieve her remains and bring them back to her home.

The young warrior's ashes were laid in the valley, at the foot of a mountain of granite. Her sword was driven into the very top of that peak, engraved with the words of those who knew and loved her:

UNTIL THE MAGIC RETURNS.
When Sara was first diagnosed with cancer at age 23, she became an instant advocate, dedicating her life to making a difference in the AYA cancer community. Before she died, she made two films (Sara's Story and Chasing Rainbows: Young Adults Living With Cancer), and her legacy continues to live on through Chasing Rainbows Young Adult Cancer Advocacy (www.chasingrainbows.ca).

And every Valentine's Day, we who still dwell in the valley climb the hill. We stand beside the iron sword where it is driven into the granite mountain, and we honor and celebrate Sara. Like a thief in the night, cancer stole our daughter's life, but not her heart! Her spirit still lives strong. Her voice, and the voices of other young adults who die of cancer, still ring out clear and true. They will always be remembered -- forever and beyond.
SUBSCRIBE AND FOLLOW
Get top stories and blog posts emailed to me each day. Newsletters may offer personalized content or advertisements.
Learn more