Sometimes seeing the future before everybody else around you does is a curse and you land up in a terrible, Patricia Arquette-in-Medium-style cold sweat waking up from nightmares.
And then at other times, we call that being visionary.
Architect Eero Saarinen--whose work today sometimes looks unapologetically modern, even contemporary, and glam in a Mad Men-y slash Jetsons kind of way, and at other times faintly historical, did not have the unqualified admiration of his fellow architects, even those who were presumably acolytes in his firm. In a panel discussion held in 2005 at Yale, Robert Venturi (whose work went in a more vernacular direction), politely called himself ambiguous. Cesar Pelli remembered how he (and not Saarinen) designed the TWA (now Jet Blue) JFK terminal supporting columns and Kevin Roche (having been hired and fired and rehired) the spectacular GM Technical Center staircases (see Brad Clopfil's homage at the newish Museum of Art and Design). Greg Lynn questioned whether Saarinen merely leapt at new forms without engaging in "discourse."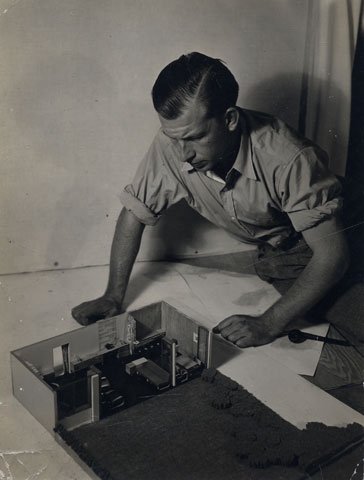 Eero Saarinen with A Combined Living-Dining-Room-Study project model, created for Architectural Forum magazine, circa 1937 Photographer unknown. Courtesy Eero Saarinen Collection. Manuscripts and Archives, Yale University.
Roche, who became the keeper of the Saarinen archives--and flame--until he donated them to Yale, was right back at him about the famous leaps even having had admittedly uneven results at the outset as an employee: "It is commonly called a creative process of genius," he vaguely admonished his fellow panelists.
These very talented architects who became well known themselves were part of the pod of Saarinen in a time when architecture was either going one way--modern--or the other--historical. But whether you think Saarinen was a genius or merely a talented predictor of iconic shapes, the exhibition at the Museum of the City of New York, which closes in ten days, is a window on the creative process of architecture, including its ups and downs.
Saarinen was born and spent his childhood in Finland with his architect father, Eliel. The Finnish Cultural Institute and Museum of Finnish Architecture and Yale School of Architecture are lead organizers of the exhibition. Curator Donald Albrecht tells the tale of Saarinen mostly through photographs and slide shows, with his chairs being the only significant "hardscape," but it doesn't matter. Albrecht and his collaborators evoke the process of his work--both his fanciful notions and those that have withstood the test of time--with minimal fuss and maximum punch.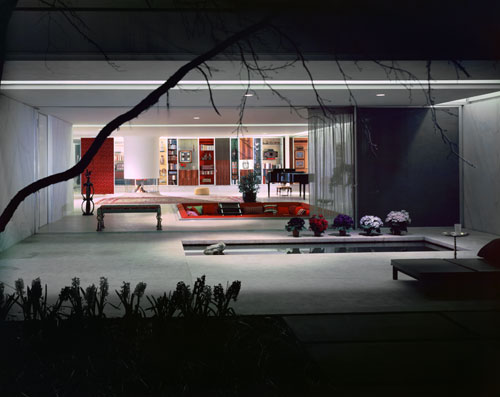 Miller House, Columbus, Indiana, circa 1957. Photographer Ezra Stoller. © Ezra Stoller / ESTO.
Besides re-connecting with the "old friends" of TWA and the divine Womb chair (still in production at Knoll), and the CBS tower, at which I spent many a lunch hour at the then hugely innovative casual outdoor restaurant, I fell in love with the country house he designed for Indiana patron Irwin Miller, and admired the John Deere headquarters which I found very Herzog and DeMeuron-y with their rust-colored Cor-ten exteriors. I even liked the Yale Hockey rink, which a friend told me originally had no bathrooms for anybody but athletes. Who ever said architects were focused on the most practical when it didn't serve their designs?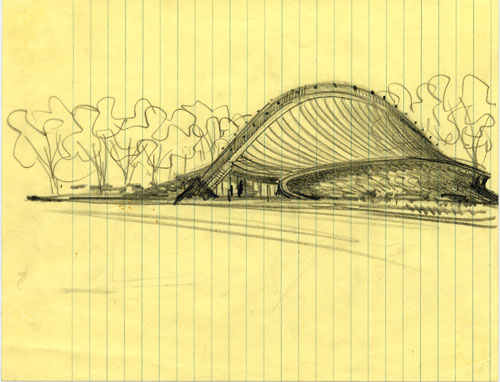 Sketch of David S. Ingalls Hockey Rink, Yale University, New Haven, Connecticut, circa 1953. Courtesy Eero Saarinen Collection. Manuscripts and Archives, Yale University.
And, I loved the tight shot of him working with his frequent collaborator on interiors, Florence Knoll, one where you see the communication in their very pores, and the photographs of his wife Aline, who was a Today show commentator, and clearly a person of artistic talent in her own right.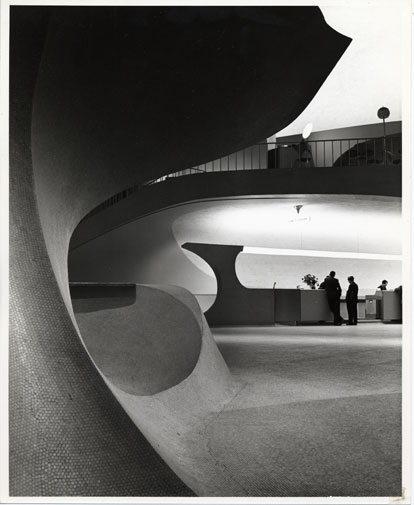 TWA Terminal, New York International (now John F. Kennedy International) Airport, New York, circa 1962. Photographer Balthazar Korab. © Balthazar Korab Ltd.
Roche said Saarinen was an endless researcher--timing airplane arrivals and talking to academic deans about their needs. This sounds appealing, even if he eventually rejected creature comforts in favor of aesthetics. This is the conversation about architecture that has been, and continues to be, the dominant one of the twenty first century. What counts most? Your fanny or your fancy?
The Museum will host a seminar about Saarinen's work next weekend. Details about that and viewing hours in the link.