The Getty is Back.
Well, it never really went away, it was just that they had folded their tents a wee bit as they recovered from internal and external strife. Administrative woes have been resolved and James Wood and Michael Brand are leading a newly invigorated pack of curators (though Marion True is still fighting her criminal charges).
They have re-emerged as an art powerhouse, more graceful about spending their money (a divine Gauguin that has just come their way) and an even more important barometer, the four exciting exhibitions of curatorial might currently on display.
Fragonard's Allegories of Love are installed in a sensuous show --and like the Courbets at the Met--you find yourself catching your breath at the near pornography of some of the images. A corollary show has loans from local collections and Lynda Resnick's trove (see this week's New Yorker on the Pomegranate Princess) is to be envied.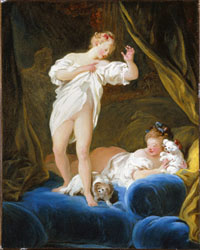 Jean-Honore Fragonard
French, about 1768
Lynda and Stewart Resnick, Beverly Hills

There are moving photographs by Graciela Iturbide, a disciple of Manuel Alfonso Bravo and keen observer through decades of both Mexican and American subjects.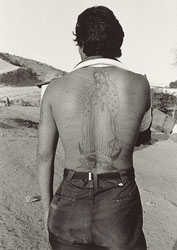 Graciela Iturbide
Mexican, 1990
And I loved a tightly curated show for one of my favorite Getty spaces that people often overlook, the Research Institute, on Bernard Rudofsky, architect and designer of all trades, including hip sandals that are still in production. The chic, compact installation included retrofitted pink windows that make the pristine Meier building just pop.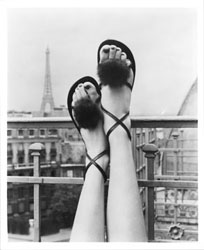 The main event is a comprehensive survey of California Video from 1968 to the present. Sometimes when you say the word "art video" you can see eyes glaze over; prepared for an interminable bout of self absorption, people often skip over these often self-indulgent instruments of self-expression.
Except that now in the California Video show, you can see, once again, that the sixties and seventies were an intensely fertile time for art and the seeds of You Tube are everywhere. Funny video. Laugh out loud video. Self absorbed and self indulgent, but in the best, playful sense: the one room of contemporary work has the veneer of cerebral sophistication now deemed mandatory but it doesn't make you whoop with delight they way some of the other, earlier work does.
Some examples:
Arthur Ginsberg's Reality TV from 1970-75, The Continuing Story of Carel and Ferd, a worthy Daddy of our current, more anemic reality programming. "Don't direct me, this is real life" says one subject, and another, "I don't give a shit what the public wants to see!"
The Eternal Frame, 1975 by Ant Farm and T.R. Uthco, first installed at the Long Beach Museum of Art where much of the Getty's video collection originated. The famous Zapruder film of the Kennedy assassination in Dallas re-inhabited by the Ant Farm team. Sit down on the sofa surrounded by Kennedy kitsch and take yourself back with a twist.
Suzanne Lacy, Learn where the Meat comes From, 1996. A hilarious take off on Julia Child which makes our current crop of non-stop cook offs and celeb chef challenges open to skewering (couldn't resist that). Lacy opines about cooking a leg of lamb as the entire flayed carcass is displayed before her. Before it deteriorates into a wrestling match between her and the meat (could make a vegetarian out of anyone), Lacy reminds us, tongue firmly in the lambs cheek, to "Establish a good relationship with your butcher...learn to speak his language."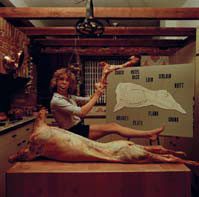 Suzanne Lacy
American, 1976
Long Beach Museum of Art
Tony Oursler, Selected Works from 1978-9. Oursler shows off his trademark sense of humor with a hot dog and milk carton. Hmmmm, use your imagination.
Eleanor Antin's 1973 Caught in the Act. I've written about Antin before--well before Cindy Sherman was inhabiting other characters for her work, Antin was donning multiple personalities. Here she multi-tasks as a ballerina being photographed and videoed at the same time as we see her being propped up with a stick.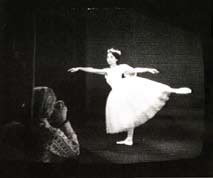 Eleanor Antin
American, 1973
Chris Burden's Big Wrench from 1980. A wry monologue about his trials with a big rig.
Martha Rosler, somewhat presciently, takes on anorexia and global food supplies and the disconnect between the two in Losing: A Conversation with Parents 1977.
Ilene Segalove examines commerce with a clear eye in What is Business (1982), true personal stories of the biz world that play like comedy. Some snippets: "Everybody was cheatin' everybody...business is biological...none of my business...not more, but why, how much and when", and my favorite, her voice-over about business lunches where, " handshakes translate into hot buttered lobster."
Jay MCCafferty (Self Portrait 1973) examines himself in the mirror over a period of years as he reacts to aging. Here, he shaves his way to enlightenment.
One room has fewer narrative-driven pieces and concentrates instead on artists rolling around to make marks on walls and guys peeing in a glass jar (Kipper Kids, Up Yer Bum With a Bengal Lancer, 1976).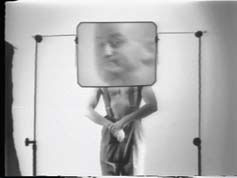 Martin von Haselberg
German, 1976
Long Beach Museum of Art Video Archive
There's a Bill Viola room of his cyber people sleeping in water filled drums (Sleepers, 1992).
Some extra material not included in the exhibition is in a video study room so you can sit and watch everything that's displayed in more personal comfort and channel surf by theme, date or artist. (That's where I caught up with Let the Good Times Roll by hot duo Stanya and Kahn from 2004 and the great line, " There's a lot of showy melancholy going around...O.J Simpson, Tonya Harding, Kurt Cobain and Lorena Bobbitt (think about it, all in one year!)."
The funhouse atmosphere doesn't quit in the room that houses the more recent piece by Dodge and Kahn, Whacker (2005), wherein a well dressed lady concentrates on weed whacking her lawn (always have loved the zen of weed whacking).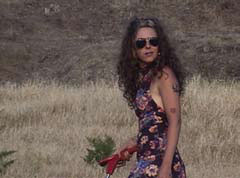 Harry Dodge and Stanya Kahn
American, 2005
But the video that says it best is the early, eponymous Baldessari (1971) that opens the show. In it, a left hand writes in a pastiche of schoolroom punishment, over and over again "I will not make any more boring art."
Hallelujah and Amen.