The Streetcar named Desire isn't located in LA or NY or even in New Orleans, really, but there are a lot of people on it. Though we think we might not be able to identify with southern ladies of indeterminate age who are aching to be wanted by soldiers, gentlemen, newspaper boys or rich Texas oil men, like Blanche DuBois, in fact, her avatars are everywhere.
Blanche (Cate Blanchett) had me at the first time she went over to the grungy sink in the two room coldwater flat in the Quarter in New Orleans where she has descended on her sister and brother-in-law and took a quick quaff of scotch -- to "settle her nerves." She's engaged in a constant dialogue with herself: she means to be upstanding and elegant but circumstances, make that men, have pulled her down.
Yes, it's true, not every faded southern belle becomes an alcoholic, deluded mess, but after seeing this production of Streetcar Named Desire at the Brooklyn Academy of Music (sold out I think, but check for returns anyway) you wonder why not.
How can people be so heartless, how can people be so cruel, go the lyrics from Hair in the song Easy to be Hard. It kept running around in my head (and on my iPod) afterward. The violence in this play -- though some downright physical -- is so harsh as to keep you flinching as the characters go at each other, the things they say infinitely more damaging that the rattle and crash of the pots and bottles constantly being thrown upstairs, outside, and right in the kitchen which doubles as a poker parlor.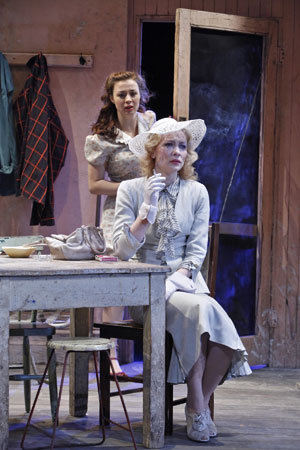 Cate Blanchett is the reason to see this production, but there are many fine reasons to stay. Liv Ullman's direction is masterful (until the end, when it's more gothic than southern and takes over the emotion) but Robin McLeavy (Stella), Joel Edgerton (Stanley -- buffy, hunky, but not Brando), and Tim Richards (Mitch) are fine too, and both the ensemble playing and their 'breakout" scenes as compelling in their way as Blanchett's over-the-toppers.
A word about those and her. She inhabits this role like no other actress I've seen. Complaints about her slippy accent are meaningless -- she is a Blanche with all the whiteness and purity and all the woody darkness that Capote conferred on her. She carries both the extreme intelligence and aspirational quality of the woman who thought, and deserved, to have another kind of life and the tawdry, pathetic dreamer who can't manage to keep change in her purse or clothes in her magic trunk, stuffed full of the people she never got to be.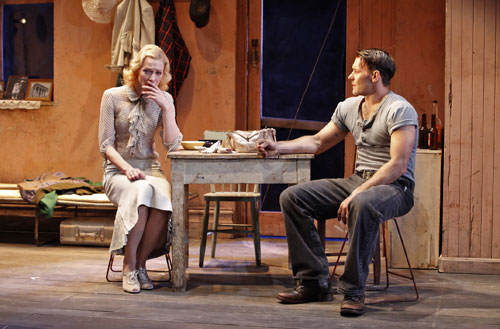 The hero, it seems to me, is still a young Tennessee Williams who began writing this piece in 1939 in New Orleans as part of the WPA writers program -- and hey, Congress, if you're listening, there's plenty of writers out here who'd be happy to start something right away if given half the chance. Williams was supposed to have based the character of Blanche partially on his sister -- but even if he did, he understands women and desire better than most straight men I've met.
Blanche is a woman of the 1930s -- women I've been thinking about a great deal -- and she has the dual nature of the women of that time. She works -- she's a teacher -- but she's also trying to keep up the values of her youth in Mississippi in the only ways she knows how. She is cultured and cares deeply about music and art (the Schumann piece she plays is one of my favorites) but she still has to depend on men in one way or another. When the (white) gloves come off at the beginning, and never go back on, you know she's trying to grapple with being a modern girl, but she keeps tripping over the boa or one of Stanley's crass locutions which throw her back on her mannerisms and away from her push to get out of her own past -- and the past in general.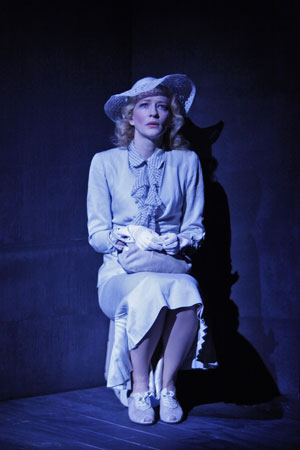 There's more than a little bit of Scarlett and Tara in Blanche and Belle Reve and Williams dipped not once but twice in the faded splendor that was all around them -- but those of us in the north might compare it to the changes we've seen locally from a monied, wealthy society with every other store empty, and everybody skittishly looking over their shoulders.
We're all looking for our share of elusive lady and gentleman love, just like the desperate characters in Streetcar: some grab for it, some wait for it, some cry for it, some fight for it, but May I speak plainly, as Blanche says, in a moment of perfect lucidity? Art, poetry, and music shouldn't have to be swept away in favor of sex and desire, which is how Williams saw at least one of the battles coming at us. Though he had the added burden of hidden homosexuality, hanging back with the brutes is just not an option.
SUBSCRIBE AND FOLLOW
Get top stories and blog posts emailed to me each day. Newsletters may offer personalized content or advertisements.
Learn more