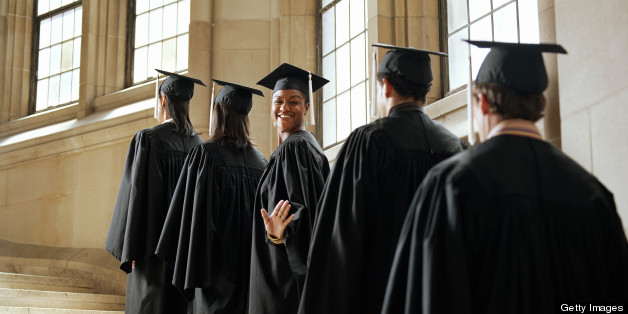 Being a cheerleader for Detroit is often an uphill battle. The city is being run by an emergency manager, the school district is being run by an emergency manager, and the Tigers give up five runs in extra innings, suggesting their relief staff is in need of an emergency manager. With this flurry of hurry, it'd be nice to report a Detroit story that talks about business as usual, where something expected happens -- like, say, kids graduating from high school, then going on to college.
It seems the Detroit Chamber of Commerce feels the same way. Two weeks ago, the Chamber announced The Detroit Scholarship Fund, a program designed to make college accessible with an approach to paying for college that is comprehensive, yet easy to follow.
Here's how to qualify for the scholarship:
Graduate from a Detroit high school after attending there for at least two years. Any Detroit high school; the high schools run by Detroit Public Schools, those that are part of the state-run Education Achievement Authority school, private, charter, parochial, whatever. If you are a Detroit resident graduating from a high school that's in Detroit, you qualify.
Apply for federal financial aid. Applying for federal aid is free, and now that your taxes are done, it's easy; you need about 10 financial figures and 30 minutes on a computer.
Enroll at one of the five participating community colleges.
Get ready to go to college.
This isn't about high grades, great test scores, where your parents went to school, or if you're a left-handed tuba player. If you want to go to college, you have to get out of high school, make sure Uncle Sam can't pay for your schooling, and be ready to participate in orientation and student success activities that will help you earn a college degree, and a brighter future.
This is one of the most amazing wake-up calls ever for every Detroiter's college dreams. Students looking for technical training for a good job can find it in the high tech labs and workshops of some of the finest colleges in the nation. For those looking to get a Bachelor's degree, this program gives you two free full years to build a strong GPA that could qualify you for one of the many transfer scholarships four-year colleges offer to community college graduates. If you're hoping for a nice college campus with lots of green space and big trees, that's in here, too -- especially if you get to the Oakland Community College campuses in Auburn Hills, Highland Lakes, or Orchard Ridge (I should know -- I teach at OCC).
For the "what if" thinkers in the audience, it's true that the scholarship doesn't include the cost of books and transportation. However, FAFSA-eligible students may qualify for a book voucher, and many colleges have a book rental options that drop textbook prices dramatically. It's true that students will have to find a way to school, but if you can find a ride to something as important as prom, you can find a ride to something as important as college.
We often hear inspiring stories of the citizens of a small town who pool their resources together to send one promising student to college. That's a true testimony to the power of the human heart -- and so is this, times six thousand, in a city whose future just got a lot brighter.
Free college for every single one of Detroit's high school graduates. The beginning of business as usual.
Editor's note: A previous version of this blog erroneously stated qualifying students didn't have to be Detroit residents. This has been corrected -- you must be a Detroit resident to qualify.
SUBSCRIBE TO & FOLLOW THE MORNING EMAIL
Start your workday the right way with the news that matters most. Learn more