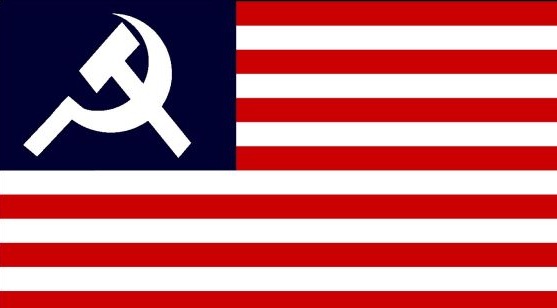 The Russian spy ring has us all up in the arms race, but it really hit home for me when I found out that the covert plotting was taking place a block from my apartment:
"Agents conducting surveillance in Brooklyn observed that Murphy and Zottoli meet at a pay phone located at the corner of Vanderbilt and DeKalb Avenues, and then walk to a nearby coffee shop. Zottolli and Murphy sat down at a table together where they stayed for approximately one hour and fifty minutes. During that time, law enforcement agents stationed inside the coffee shop overheard Murphy and Zottoli discussing the problems the Seattle conspirators were having with the computer equipment that they used for communicating with the center, " Justice.gov.
To you, these Boris and Natasha wannabes might seem charmingly old school, but to those of us living around here, it's the end-of-the-world-nuclear-annihilation-as-we-know-it all over again. They've infiltrated our coffee shop! Who knows what this means? Was Brigadier General Jack D. Ripper right? Was the plan all along to wait until the Cold War was over to sap and impurify our precious caffeinated bodily fluids?

There was only one thing for a paranoid patriot like myself to do, conduct a thorough investigation of the spies like us and report my findings to the public. We all have to be on alert, so know that I won't rest until we defeat the Communist Menace. Again.
It starts at home. Here is a photographic investigation of the Fort Greene Brooklyn block where the spies plotted against America, presumably while enjoying delightful iced coffees.
#1: Corner of Vanderbilt and DeKalb, Fort Greene Brooklyn
Looks innocent enough. A typical corner in a typical neighborhood. Look closer. The good folks in the city signage department didn't realize this, but they've leaked a detailed map of the Fort Greene Historic District to our enemies. Government do-gooders should know by now, that our landmarks are targets. This is clearly a blueprint for carnage and a bicycle escape route.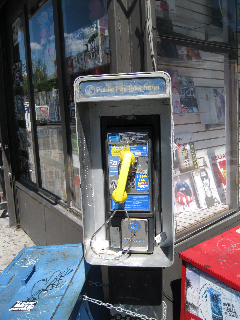 #2 Pay Phone, Opposite Corner of Vanderbilt and DeKalb
This is the pay phone where the Russkies would get their marching orders. Back in the day, Fort Greene had its share of street-level entrepreneurs who presumably used this same pay phone after distribution beckoned them on their beepers. The parallels to the 80s couldn't be clearer. Those clever Russians are going to destroy us from the inside by reflooding our gentrified Garden of Eden with crack cocaine.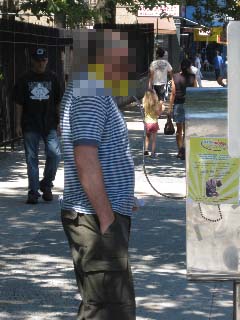 #3 Another Pay Phone Down the Block
These spooks aren't stupid, they aren't going to use the same pay phone. Russians are pros. Look at this vaguely Eastern European guy in workingman's duds minding his own business and chatting away like it's a normal everyday conversation. We're on to you. BUSTED PINKO!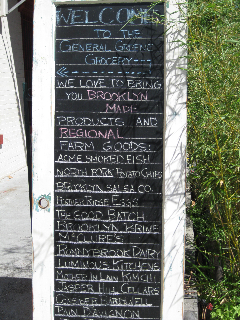 #4 Outdoor List of Available Food Items
Look there, dead center. Acme Smoked Fish. ACME SMOKED FISH!!! C'mon, who you kidding? Everyone knows all modern weaponry comes from the Acme Corporation. Wile E. Coyote was a warrior, not a rocket scientist, and those dynamite-powered roller skates weren't building themselves. "Smoked Fish?" More like smoking gun, Commies.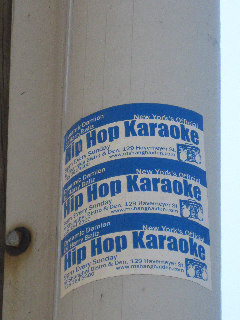 #5 Sticker Affixed to Light Pole
Sure, you want us to believe you enjoy a good old-fashioned American pastime like Hip Hop Karaoke, but let's be honest, the soon-to-be-nearby Nets aren't getting LeBron no matter how many billboards featuring Jay-Z and Mikhail Prokhorov erect. If they can get to LeBron, they can get to anybody.
#6 Basketball Court Down the Block
Did the Russians hold clandestine meetings while playing H-O-R-S-E? Well, no sober person could ever shoot on this rim, so I'd say yes, and that somehow the plotting involves Arvydas Sabonis. Can't fool us. No way, now how. You got nothin' but Nyet.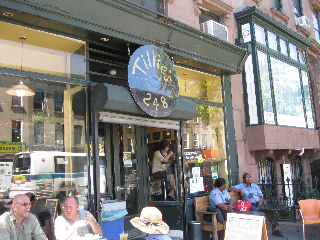 #7 Tillie's Coffee Shop
Ground zero leaves more questions than answers. Who is this Tillie and is she a Communist sympathizer? Did the spies utilize the strong Wifi? Did they ever hand out free doggie treats? Who would ever order a vegan cookie? Why is that guy in sweatpants with the headphones always freaking in there? Do people still go to coffeehouse open mics? Are the employees required to get baked before their shift? Should I go get a chai latte right now...
#8 Sign on Tillie's Community Wall
Good News from a prophet about visions and dreams that comes from a book, not our Lord and Savior? That's Commie talk if I ever heard it. Do NOT be brainwashed by the promises made by this standard-size sheet of paper. Beware of undertakers and Marxists. The state will CRUSH your dreams.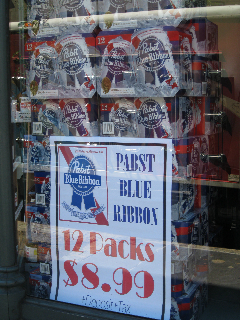 #9 Store That Sells Pabst
Not sure how this fits in, but that is a good price for a twelver of PBR.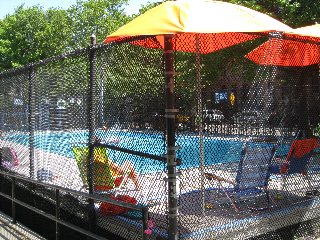 #10 Neighborhood Pool
Sweet, the pool is open. All this international espionage sleuthing means the big fella be sweatin'.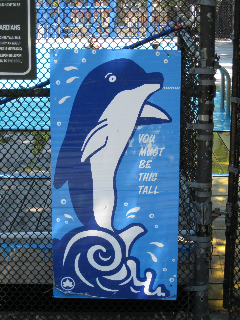 #11 Height Requirements
You must be as a big as a dolphin...Big Dolph Lundgren...Dolphin Lundgren...Rocky IV...The Expendables...IT'S A SET-UP, STALLONE! WE'VE BEEN HAD!


#12 All Quiet on the Fort Greene Front
Just what those Communist bastards want us to think.
Not on my watch. Stay vigilant.
This Blogger's Books and Other Items from...
FOLLOW HUFFPOST