Whereas President Barack Obama ordered that Stephen Colbert be given a military shaved head on his visit to Iraq, the Treasury Department ordered that President Thomas Jefferson's image on the nickel be given a haircut.
You'll notice that he's gone from a left-side profile in 2004 to facing right in 2005, then in 2006 sort of facing right, though looking slightly to the left. In the newer designs, his hair has been cut. The first two have his hair combed straight back, but the current version has a cropped quasi-Phil Spector-type page-boy effect.
Moreover, his whole face, especially the nose, has apparently morphed into a somewhat odd look. Not to mention that it weighs less. Nickel, nickel, nickel, nickel. nickel, nickel, nickel . . .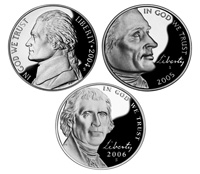 FOLLOW HUFFPOST