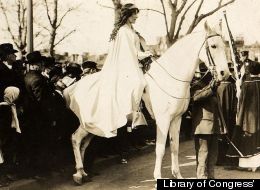 Not all heroes appear in the standard history texts. Their achievements aren't celebrated like the monumental exploits of presidents, generals, and founding fathers. But for as long as this nation has existed, ordinary citizens have done extraordinary things. In Secret Heroes: Everyday Americans Who Shaped Our World [William Morrow, $14.99], I spotlight 30 overlooked Americans who displayed an outsize measure of courage and determination. Here are 10 of them.
Inez Milholland Boissevain's brief life (1886-1916) was filled with drama: A pacifist and idealist, she was a record-setting athlete and vocal student leader at Vassar College, a crusading New York attorney who investigated the disgraceful conditions at Sing Sing prison, and a martyr to suffragists for her refusal to give up her fight for women's rights despite having developed a life-threatening case of pernicious anemia. Though she didn't live to see it happen, Boissevain was instrumental in winning women the right to vote in 1920.

The Father of Battlefield Medicine, Civil War surgeon Jonathan Letterman originated battlefield casualty management procedures that are still in use today. Before his time, wounded soldiers often lay on the battlefield for days before receiving medical attention. Letterman created the army's first ambulance corps and instituted the first organized system of battlefield first aid stations and mobile field hospitals, providing the wounded with timely, life-saving treatment.

Trains were vital to the Union's success in the Civil War, and the man who kept them running was Herman Haupt, an obscure construction engineer who could "build bridges quicker than the Rebs can burn them down." Haupt played a key role in the victory at Gettysburg, delivering tons of vital supplies and evacuating more than 15,000 wounded soldiers. Though promoted to brigadier general, Haupt refused to accept any pay for his wartime service. When the history of the Union's military rail operations was written by a jealous rival, Haupt's name was never mentioned once.

When entrepreneur Clarence Saunders opened his Piggly Wiggly grocery store in Memphis, Tennessee, in 1916, he pioneered virtually all of the familiar features of modern retail shopping--everything from prepackaged goods to self-service to the checkout counter. A merchandising genius with touches of inspired nuttiness, Saunders created a revolutionary advancement in convenience in the way we live.

Written between 1877 and 1908, the poetry and plays of frontier Army scout and prospector John Wallace Crawford helped create the myth of the western hero as a rugged loner living by a code of honor--an image perpetuated in countless movies and television programs. A real-life adventurer, Crawford was a founder of the notoriously rowdy town of Deadwood, South Dakota, and he appeared in Buffalo Bill Cody's Wild West stage shows.

In 1885, Eliza Scidmore--travel writer, photographer, and the first woman to serve on the board of the National Geographic Society--planted the seed of an idea that took nearly three decades to flower. It was Scidmore who conceived the idea of beautifying Washington, D.C., with ornamental cherry trees, which she'd seen on a trip to Japan. After campaigning for 24 years, she won the support of First Lady Helen Taft, and in 1912, the planting of more than 3,000 flowering cherry trees in the nation's capital finally began.

New York City tailor Hercules Mulligan had the singular distinction of saving George Washington's life--twice. A Revolutionary War patriot and spy, Mulligan learned of two British plots to ambush the general and alerted him to the danger. Mulligan also persuaded founding father Alexander Hamilton--originally a supporter of British colonial rule--to promote the cause of American independence.

In 1933, gold-seeking bush pilot and adventurer Jimmie Angel discovered the world's highest waterfall in the remote Venezuelan jungle. His greater accomplishment, though, was to stir scientific interest in the region where he made the discovery--the Gran Sabana, an area the size of Belgium containing towering tepuis--flat-topped sandstone mountains harboring rare species of plants and animals. The region is now protected within Venezuela's vast Canaima National Park.

Midwesterner William Van Horne took a career risk when he moved to Canada in 1881 to oversee the construction of the struggling Canadian Pacific Railway--a monumental engineering project plagued with financial problems. In the end, Van Horne did more than complete the job he'd signed up for: The transcontinental railway he built became the engine for Canada's settlement and economic growth.

An educated former slave, the daring, resourceful Mary Bowser spied on the South from inside the lion's den--in the Richmond, Virginia, household of Confederate President Jefferson Davis. Throughout 1863 and 1864, she provided the Union with valuable information about Southern military forces, at great personal risk. In 1995, Bowser was inducted into Military Intelligence Hall of Fame and hailed as "one of the highest placed and most productive espionage agents of the Civil War."