Rather than polluting the sky to catch a breath of fresh air in some rain forest, maybe we should discover the joy of dirt. You could call it the opposite of eco-tourism; pollu-tourism. Take Butte, Montana.
Butte (pop. 33,000) is conveniently located between Glacier and Yellowstone, two of the ecologically most exciting destinations in the US. But the contrast couldn't be stronger. Butte is a Superfund-site -- one of the most polluted towns in America.
The story of Butte goes back to the 1860s. It is a story of pioneering, mining and industrial development. There is little mining left in Butte. Today Butte boasts a historic uptown area with many reminders of the heyday of mining, but above all there is the Berkeley Pit. It's as impressive as the Eifel tower, as wide as the Grand Canyon and as poisonous as... well, there's nothing to compare it with. But it is beautiful, in an alarming way.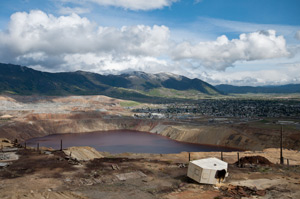 There's no swimming, no fishing and no sailing on this lake that used to be an open copper mine, hundreds of yards deep. It is contaminated with a whole range of heavy metals. A nice tourist tram takes you to the lake. For two dollars you can walk through a small pedestrian tunnel to a wooden platform, some 200 ft above the reddish brown water and stand in awe. It is truly an amazing sight to see. (The pit, by the way, is owned by Arco, a BP subsidiary. The city of Butte is negotiating to acquire it.)
The city of Butte is developing a tourism industry centering around its mining history, with an annual folk festival, an Evel Knievel biker festival and other events. And that works. It brings in visitors and puts money in the bank.
There are more places like this. In Europe, the German Ruhr area leads the way. The Ruhr was the site of mining, steel mills and other heavy industry for over a century. Now, it celebrates 2010 as Cultural Capital of Europe, a development that at first raised eyebrows even in Germany.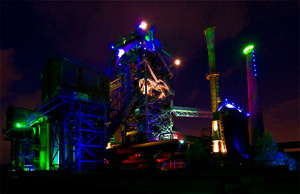 But take a look at the former steel mill of Duisburg, now a "landscape park". It is a splendid and even romantic place to visit, particularly at night. You can go dancing in the former foundry and then take your love of the moment for a summer evening walk up the illuminated blast furnace. How's that for a night out?
My feelings about places like this are ambiguous. Butte is an incredible place. It is interesting, impressive and yes, that lake is beautiful, even though you cannot stick your finger in the water. And some of the places in the Ruhr area, the Gas-O-Meter in Oberhausen and the Zollverein mine complex in Essen (a Unesco World Heritage Site!), are really worth travelling to Germany for.
On the other hand, it does seem kind of sad that the best of what the 20th Century has left for posterity would include a poisoned hole in the ground.
SUBSCRIBE TO & FOLLOW LIFESTYLE
HuffPost Lifestyle is a daily newsletter that will make you happier and healthier — one email at a time. Learn more