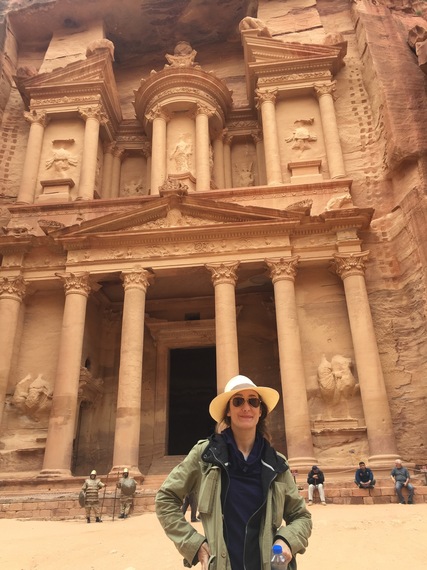 Normally, Petra would be packed with tourists. I basically had my own private tour of the place -- something only people like Prince Charles or Cher get.

The problem with the Seven Wonders of the World is... they are usually packed with tourists. They are on almost everyone's bucket list, they are insanely beautiful, and oftentimes, despite being inanimate objects, they have their own public relations and marketing teams. Which makes for huge crowds (think the Colosseum in Rome) and, if you're like me, panic attacks.
While most people think of Petra as being the Treasury -- the huge, imposing facade that was featured in Indiana Jones and the Last Crusade -- it is so much more.
According to my friend Abdullah Al Wahsh, "Petra is 50 square kilometers. Even if you spent eight hours a day for three days straight, you still wouldn't see it all."
Established by the Nabataeans in 312 B.C., near the biblical Mount Hor in Wadi Araba, the large valley running from the Dead Sea to the Gulf of Aqaba, it was the crux of an ancient trading route -- and perfectly hidden.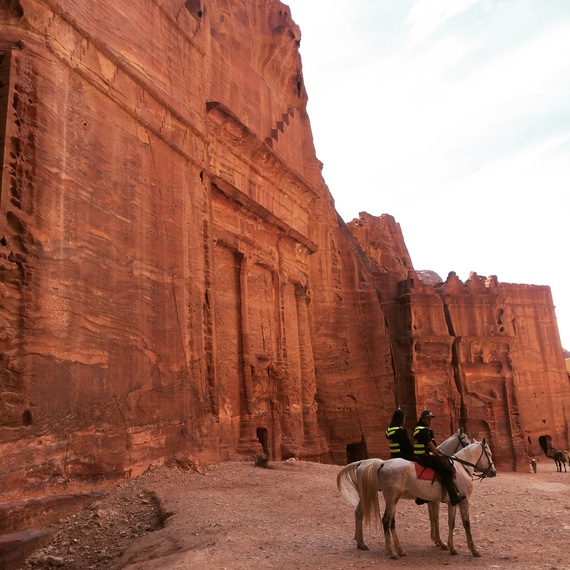 You have to go through miles of paths like this to get into the city.
"Because it's in a canyon -- and you had to go through the canyon to get there, from far away, no one could see it. For a long time, people thought it was mythical," Abdullah said. "They picked this site for protection -- and access to water. The site has an intricate system of canals and irrigation."
Today, Petra is largely intact, owing mostly to the fact that it wasn't discovered until 1812. Until the 1980s, people still lived in the cavelike homes that made up the city, and then, in the interest of preservation, the Jordanian government moved them out. In 2007, Petra was named one of the New Seven Wonders of the World, and as one of the "28 Places to See Before You Die" by Smithsonian magazine.
The only time Petra is closed is in the winter, when flash floods threaten tourists. The beautiful canyons you have to walk through to get to the city are carved by water, and when it rains or runoff from the mountains melts, it creates a rushing, torrential wall of water. Abdullah had a friend who was killed in a flood a year ago and said, "You don't even see the water -- you hear it. It is like a roar and then... it is upon you and it is too late."
But if you go now, in the spring or fall, before and after the weather gets unbearably hot, it's like a live-action version of Lara Croft: Tomb Raider... without, of course, the (illegal) tomb raiding.
And yes, I know all about the fighting in the Middle East. I am aware of the Islamic State, and the situation in Iraq and Syria, both Jordanian neighbors. but to the fears people have expressed about the region I say:
1. The Jordanian army is the most powerful in the region, second only to Israel's.
2. There have been no attacks in Jordan. As locals put it, "We are in a rough neighborhood -- but we are fine."
3. Security is everywhere.
4. Petra is beautiful, cheap, and frankly, you could always get hit by a bus in your own hometown.
Go. Be bold. Be brave. It's worth it.
If you've ever wanted to go to Petra, you MUST watch this video:
SUBSCRIBE AND FOLLOW
Get top stories and blog posts emailed to me each day. Newsletters may offer personalized content or advertisements.
Learn more