Beauty abounds here in Italy. Of course, we all know about and expect masterpieces of art, and I have learned that art comes in all shapes and sizes.
First of all, the people are beautiful. My Ortigia friend Giuseppina, her friend Vittoria and I tried, the other night (after noticing some specially gorgeous specimen), to translate the phrase 'eye candy' into Italian and came up with 'i dolci per l'occhi' (sweets for the eyes) which is pretty good, I think. The women are quite beautiful and, mostly, wear scarves and shoes and clothes confidently and, therefore, beautifully. And the men! Usually shorter and smaller than I am used to, nonetheless the young men can be quite gorgeous (and proud of it) and the older men can be incredibly beautiful (and still proud of it). The art of strutting reigns supreme, and I am enjoying the show, especially in Sicily!
I have spent wonderful time in Florence and Rome, and have, accordingly, spent wonderful time in the midst of art wonders. I have tried to see it all, and have been lucky enough to visit not only the big and famous masterpieces and places, but also the small and quieter masterpieces and places.
Through my walking art history course in Florence, I visited churches, museums, palazzos and piazzas, and the Tuscan and Umbrian countrysides in order to be dumbfounded by the masterpieces in front of me. The town of Assisi was magical, Michelangelo's Laurentian Library and stairs (supposedly the first free-standing staircase in architectural history, with flowing details and exquisite beauty) continue to amaze me, and the Rodin exhibit and the Vatican art in Rome took my breath away (just to mention a few of the many highlights).
Which masterpieces are my favorites, I wonder???? I seem to be easily influenced, and adore whatever work I am standing in front of, so some of my opinions are quite variable. Of course, two of my favorites are 'the Davids', one is Donatello's bronze adolescent hatted wonder in the Bargello, and the other is Michelangelo's image of perfection at the Academia. Donatello's is sweet and saucy and flirtatious; is his hat one indication of his sexual availability? I have heard that during Donatello's time, men and young hatted boys played a game of 'I've got the hat', which had sexual consequences. And then there is the long feather growing out of the helmet of the beheaded Goliath beneath David's foot and meandering enticingly up David's leg! I have also heard that, during the Renaissance, Florence was so tolerant of homosexuality that anyone who was gay in Italy was called a 'florentine.' I love hearing (and sometimes remembering) the stories behind the art and the theories about the art, all of which do enhance my understanding. Again, since I have the gift of time here, I am able to see and re-see my favorites, which is a real gift.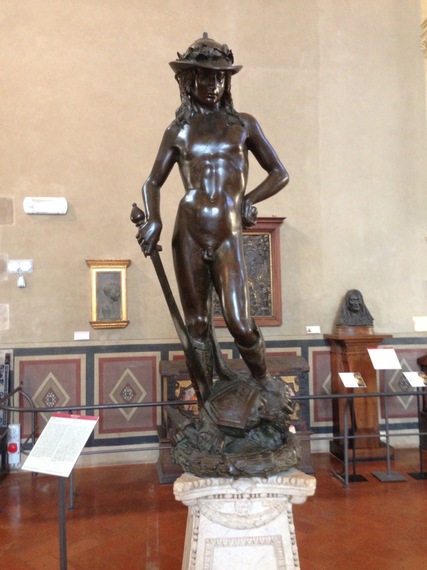 And Michelangelo's David is just exquisite, and he will remain absolutely perfect. A couple of weeks ago, with my friend Jessica, I revisited him, and I noticed, for the first time, the dimples in his right shoulder, wondering anew how Michelangelo could make a rock so anatomically perfect and beautiful. And the space he is in fits him just perfectly; he almost fills the huge rotunda with his massive spectacular body and the light from above makes him glow. Another advantage of the huge rotunda is that we, the viewers, can walk completely around Daivd, seeing him in all his glory and all his angles! Created by Michelangelo when he was very young (about 20, I think), David is about 17 feet high and glorious in his beauty and in his potential -- a truly perfect man!
And, of course, the churches, piazzas, chapels, palazzos are living museums and continue to amaze me with the gorgeous variety of beauty and art. I love seeing the art 'in situ' (in the place it was meant to be) even more than seeing it hanging in a museum; what a gift to see the masterpiece where and how it was meant to be seen.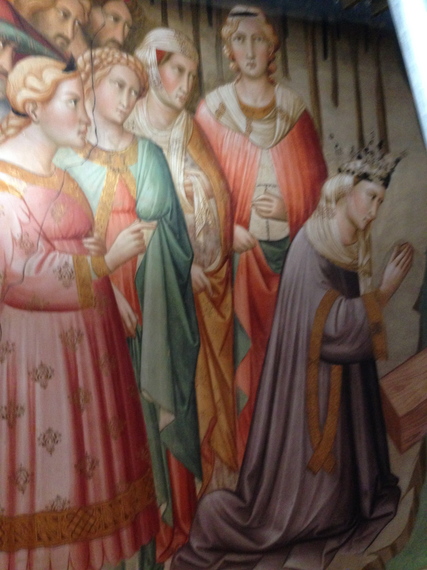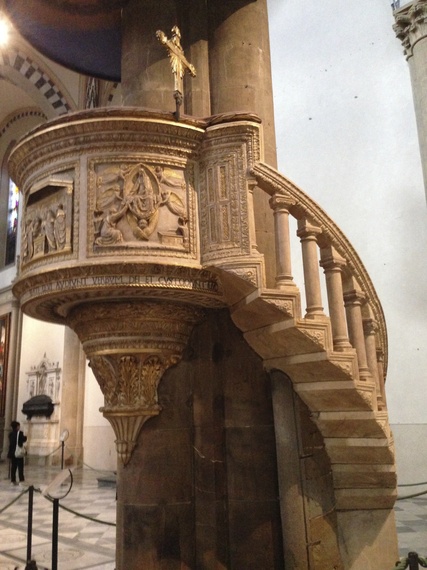 Italian museums are great and they are also very busy, mostly with tourists, but also, fortunately, with Italians. Last Saturday night Italian museums participated in the European Night of Museums ('La Notte dei Musei'), when the museums are open until about 11 p.m. and the entrance fees are waived. The invitation to the event promised an opportunity to ''create connections with collections' (creare connessioni con le collezioni). In addition, the website stated, a few days before the event:
"The European Night of Museums was created in 2005 by the French Ministry of Culture and Communication. On this occasion, the closing time of the museums is postponed to approximately one in the morning, which allows the public to visit the participating museums by night, for free. This year will celebrate the tenth edition of the European night of Museums. By welcoming the public during the night, museums invite them to visit the collections in a different, unusual and more sensory way. Many animations are offered during this event which is attended by numerous young people and families. The public participates in great numbers to this festive event: last year, two million visitors took part in the European Night of Museums in France."
I went, with my friend Giuseppina and a group of her friends, to the newly-renovated Archeological Museum in Siracusa, and it was filled with lots and lots and lots of folks enjoying this gorgeous site. Since excavations in Siracusa have unearthed artifacts from about 6,000 years ago, the collection of beautiful and utilitarian pieces is really astounding, and the museum is worth at least one visit. On Saturday families and teenagers and older folks were all wandering and enjoying the wealth, beautiful and overwhelming, much of which was found in this very neighborhood.
AND the sense of style, in the store windows and everywhere....
The store windows, usually, are works of art. In Florence, a city dense with beauty and stimulation, the shop windows are gorgeous and enticing....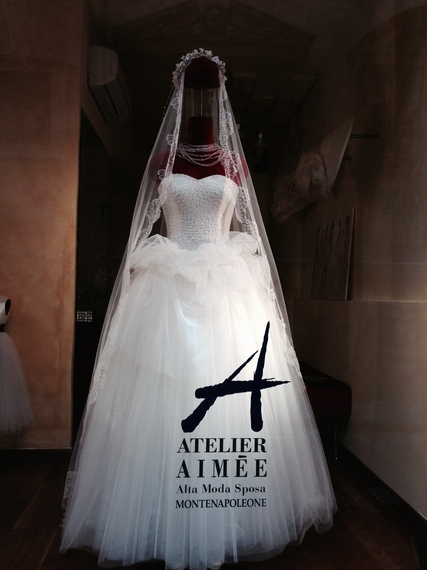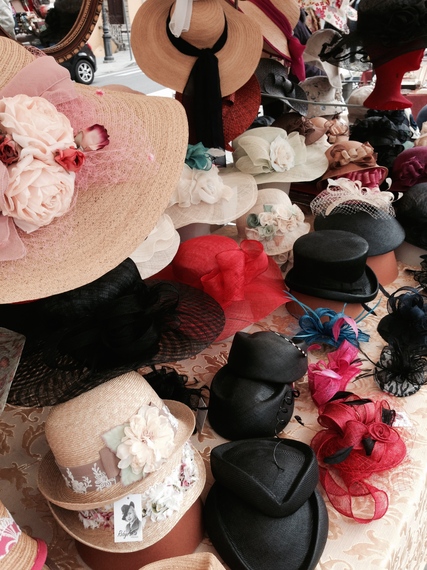 AND the flowers and the vegetables in the gardens and markets... Springtime in Italy brings out the best that grows, in Florence and here in Sicily....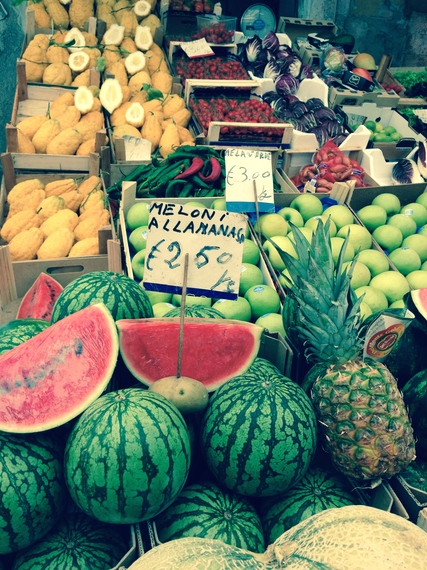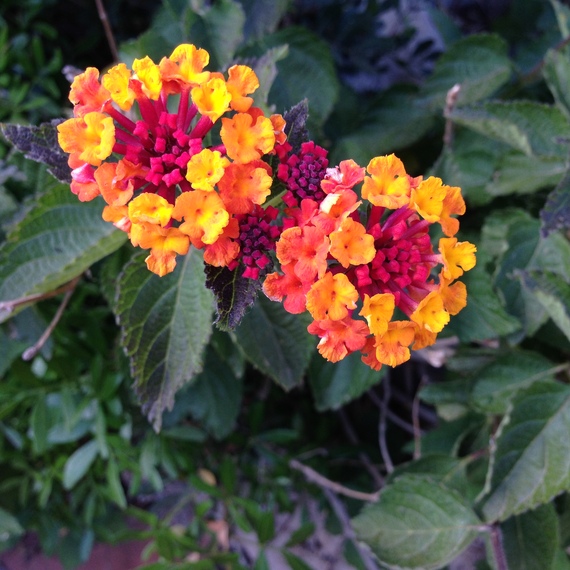 SUBSCRIBE TO & FOLLOW CULTURE SHIFT
Every Friday, HuffPost's Culture Shift newsletter helps you figure out which books you should read, art you should check out, movies you should watch and music should listen to. Learn more