Just this morning, Kristin Scott Thomas was nominated for a Golden Globe Award for Best Dramatic Actress for I've Loved You So Long. The writing is certainly on the wall for more nominations to follow for her extraordinary performance as Juliette.
British-born actress Kristin Scott Thomas recites with equal ease in tony English (Gosford Park) and near-perfect French (Tell No One), sashays gracefully from leading lady (The English Patient) to ensemble actor (Four Weddings and A Funeral) and transitions effortlessly from Hollywood productions (Random Hearts) to London's West End (The Three Sisters). As of this writing, Scott Thomas is appearing on Broadway as Arkadina in Chekov's The Seagull, while the French thriller Tell No One graces Manhattan movie screens. In the new French film I've Loved You So Long, this versatile actress manages to raise the bar on her acting legacy even higher in crafting a fascinating character named Juliette, an anti-heroine who has spent 15 years in prison for murder.
The film opens on the just-released Juliette waiting in an airport terminal. Ashen, shell-shocked, compulsively lighting one cigarette after another (for her, smoking is a matter of survival), Juliette has lost almost everything: her husband divorced her, her parents disowned her, and her career as a doctor is over. Computer skills learned in prison prepare her for much more humble work as a secretary, but none of this matters much to Juliette because, as we come to learn, she has lost something -- someone -- far more essential.
Juliette does, however, have one extraordinary thing going for her: her younger sister Lea (Elsa Zylberstein). A university professor--married to Luc with two adopted Vietnamese daughters, P'tit Lys, 8, and Emelia, 3-- Lea invites Juliette into her family. At first she keeps the charming brood at arms' length, but Lea persists. Patient yet fully present, Lea affords Juliette the space to find her footing in her shaky new life, in a scary new world. It doesn't hurt that the setting is the university town of Nancy in northeastern France, a gentle community abounding in art, culture and interesting characters.
At a cozy, wine-fueled dinner in the country Juliette is immersed in the warm teasing and easy camaraderie of Lea's circle. Diverse, academically-inclined types who distain the pretense of Paris ("It's full of Neanderthals," one character tells her), fanatically love futbol (soccer), and worship native son Eric Rohmer. (He is compared to Racine, leading one guest to wonder if his inebriated host also feels that "Stallone is comparable to Shakespeare.") When the rambunctious host zeros in on Juliette wondering where Lea has been keeping her all these years, the tension is palpable. Luc and Lea make frantic attempts to deflect, diffuse and defend, but Juliette drolly raises an eyebrow, smirks ever so slightly, takes another drag of her cigarette and speaks for herself, "I've been in prison for 15 years for murder." Everyone at the table bursts into laughter save the host who is shocked into sobriety and a newfound respect for the (still) enigmatic Juliette.
For a night on the town, Lea and Luc choose a classic American film by Ernst Lubitsch over a Japanese film by Kurosawa. But they don't see The Shop Around the Corner, either. Their mood is shattered when Luc erupts at Lea for leaving the children alone in Juliette's care. Luc has his reasons. Earlier, an affectless Juliette was ejected from a job interview after she informs her prying interrogator that the person she has murdered is her son.
Though remote, Juliette is never less than compelling. Admirers slowly gather around her despite, or because of, her brutal honesty and her silence. Scott Thomas is masterful at playing characters that appear to know something you don't. Her Juliette uses this to great effect.
Juliette finds kindred spirits who mirror aspects of her current pain and her lost self: Lea's father-in-law, a stroke victim has lost his ability to speak but retains a joie de vivre; Michel, a sensitive widower, is familiar with personal loss; her burly parole officer, an achingly lost soul holds their mandatory meetings in a bustling local café; and her precocious niece, P'tit Lys, knows what it's like to be an older sister.
Brother-in-law Luc, initially unnerved by Juliette, gradually softens as he observes her growing love for his family, and theirs for her. When he dislocates his shoulder, Juliette immediately and expertly performs a physically demanding procedure to ease his pain. The episode prompts Juliette to tell her niece a rare white lie. When P'tit Lys asks, "Auntie, where did you learn to do that?" She replies, "In the Scouts." Juliette has retained her motherly instincts, her healer's technique, and her sense of humor and becomes an indispensable, beloved houseguest.
Juliette never has to win the affection of her younger sister. Zylberstein's Lea is a study in the power of empathy, patience, and the timing of confrontation. Never is she prematurely intimate with her wounded sister (in stark contrast to Juliette's well-meaning but bumbling welfare worker). Instead she takes Juliette swimming, where water, a symbol for deep emotion, will help to heal her. Apart for so many years, the sisters come to play the piano together again; in time they will mean the words they sing from their childhood lullaby, "I've loved you so long. I will never forget you."
Lea and her family form an unconventional "halfway house," from which Juliette can transition from the ravages of prison life and the grief of standing alone in the worst loss imaginable. Aware that Michel is falling in love with her, Juliette proceeds cautiously but also exhibits growing trust when she confides in him that she has come back because of an exquisite memory of Lea as a child. This is her flicker of hope. Lea, meanwhile, reveals the childhood diary in which she marked each day her sister was away; it contains a photograph of the pre-traumatized Juliette-- the lovely and vibrant sister Lea never stopped loving.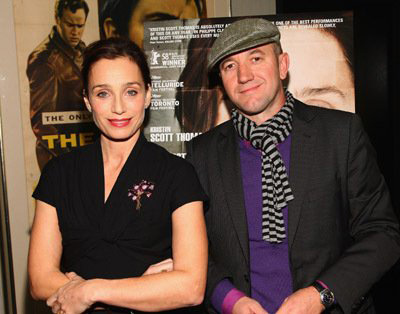 A perfect match between actress and director: Kristin Scott Thomas and Philippe Claudel at a screening of their new film. (Photo: Theo Wargo, WireImage.com)
It's hard to believe that I've Loved You So Long is writer/director Philippe Claudel's directorial debut. In his simple, artful framing of Scott Thomas, as numb and grief-stricken as she is tough and remote, the director and his actress evoke a female version of Humphrey Bogart's tight-lipped, long-suffering Rick in Casablanca. Scott Thomas smokes in a Bogey-like manner; but in later scenes transforms her face into another striking and familiar image reminiscent of Tamara de Lempicka's 1925 Auto-Portrait.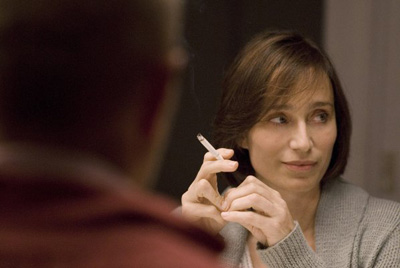 Smoking like Bogey, Kristin Scott Thomas in a scene from I've Loved You So Long. (Photo: Warner Bros. Ent. Inc, 2008)
The actors are beautifully cast; the performances are consistent and intriguing. The story (especially the ending) may not satisfy everyone, but the film remains a first-rate character study and an insightful examination of the difficulty of establishing intimacy and of maintaining relationships among beings who are extremely present (Lea, P'tit Lys), semi-present and dissociated (Juliette's judgmental, Alzheimer's-afflicted mother, the depressed parole officer, Juliette herself), and those gone but never forgotten (six-year-old Pierre, Juliette in prison, Lea as a child).
As for the motivation for and nature of the murder, you may not want to read further until you see the film.
Why did Juliette kill her six-year-old son? Why has she neither apologized nor explained her actions? Why risk extended prison time and the alienation of friends and family by remaining silent?
Ironically, Lea learns that Juliette keeps a photo of her dead son under her pillow from three-year-old Emelia, who waddles up and hands it to her. She rushes to Juliette's bedroom to discover a lab report with a child's poem written on the reverse. Saying nothing to Juliette, Lea shows a copy of the report to her Iraqi doctor friend. Thus Lea begins to realize that this was not murder but euthanasia.
Who but Lea, now grown with children of her own, could understand what it meant for Juliette to lose a child? When she at last understands the terrible nature of her nephew's disease, Lea confronts Juliette with the truth. Juliette's failure to hide the photo securely is an unconscious signal that she is ready to share her story, and in the highly emotional final scene she unburdens herself to Lea. Juliette reveals that she refused to allow her son to suffer hideously, hopelessly. She kidnapped Pierre to spend precious, final moments with him. When his condition deteriorates and he can barely move, she administers a lethal injection and holds him in her arms until the next morning. After that, she tells her sister, "I wanted to go to prison."
"Death has no excuses," Juliette believes. But Lea has cracked this wall of grief and broken through. Their hard-won rapprochement is the strongest aspect of the film's ending. Because Juliette is without apology or remorse, the film is not about redemption (a cliché used to describe most films of this ilk), but recovery. Authentic, empathic relationships can lead to recovery from loss and trauma. Juliette will endure.
About halfway into the film is a curious scene with college-age kids in high-tech wheelchairs gleefully racing--almost flying--past Juliette and Michel as the two meander down a sloping street. Pierre would have been this age. Perhaps Juliette went crazy and her son's case wasn't hopeless as she thought? Maybe all the answers are there, and we just have to look closer. I've Loved You So Long is open to a variety of interpretations; it is one of those rare films worth seeing again.

Another version of this review was written for a professional audience of psychoanalysts and will appear in the Winter 2009 Newsletter of The American Association for Psychoanalysis in Clinical Social Workunder the title, "Trauma & Recovery."