Final Close Ups on Nina Foch, Van Johnson & Others
A significant theatrical loss in 2008 was that of the versatile and lyrical actress Lois Nettleton who worked in all three mediums -- film, television, and theater -- and did so brilliantly. Anita Page, born in 1910, who starred with Gable, Valentino and Crawford, worked up until this very year. Two of the youngest actors who passed away were Heath Ledger (Brokeback Mountain, I'm Not There) and Brad Renfro (The Client, Ghost World). In their brief careers in film, they created touching characters that will stand the test of time.
This year even saw the passing of two actors from Gone With the Wind (1939) -- Evelyn Keyes who played Suellen O'Hara, sister to Vivien Leigh's Scarlett and Fred Crane who portrayed Stuart Tarleton one of Scarlett's many (many) beaus and twin brother to George Reeves' Brent. Joy Page -- who had a small, but memorable part as a young newlywed in Casablanca (1942) whose virtue is saved by Humphrey Bogart's Rick -- died in April. And then there were losses like Cyd Charisse, Jules Dassin, Paul Scofield, Suzanne Pleshette, Charlton Heston and Sydney Pollack that defy adequate memorializing. Just mentioning their names evokes a sense of movie magic.
Like Doris Day, Edie Adams, who died in October, was a wonderful singer and actress in comedies (Lover Come Back, It's A Mad, Mad, Mad, Mad World) and dramas (Love With the Proper Stranger, The Best Man). Unlike Day, she seldom portrayed leading ladies in film.
Adams conquered Broadway in a variety of musicals and plays winning the coveted Tony Award in 1956. She sparkled in television commercials as the spokesperson for Muriel Cigars, one of her trademarks to this day. She worked often in television and her 1960 appearance in the final episode of The Lucy-Desi Comedy Hour where she sings a lovely and melancholy version of "That's All" is a classic, ironic moment of TV history (Ball and Arnaz were divorced one month later).
Nina Foch was also not often cast as a leading lady in film but always made her unique contributions felt. Born in The Netherlands in 1924, she began working in Hollywood around 1943. In 1945, she got her big break in My Name Is Julia Ross. Foch was a gifted actress, television and theater director, an uncredited assistant director on The Diary of Anne Frank, and a much sought after acting coach and teacher.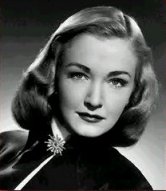 Actress Nina Foch b.1924, died on December 5, 2008. She worked in film and television and performed in Shakespeare on Broadway.
Foch is best known for appearing in An American in Paris, The Ten Commandments, Spartacus and as secretary Erica Martin in Executive Suite. This role in director Robert Wise's film was so miniscule that he had to cajole her into doing the part. It paid off with an Academy Award nomination for Best Supporting Actress, the film's only Oscar nod in an acting category. Foch managed to eclipse the performances of her formidable co-stars -- William Holden, Barbara Stanwyck, Fredric March, Shelley Winters and Walter Pigeon -- who had much larger roles. The National Board of Review wisely tapped her for Best Supporting Actress of 1954.
From the 1940s through the 1960s, Foch took on Broadway as Cordelia in King Lear, Olivia in Twelfth Night, and Dynamene in A Phoenix Too Frequent.
Foch hit the television circuit during its Golden Age appearing in such venerable institutions as The General Electric Theater, The Dick Powell Show, Playhouse 90 and Kraft Television Theatre. Working steadily from the 1970s through the new millennium, she made appearances in The Mod Squad, Lou Grant (winning herself an Emmy), and L.A. Law and proved a genius at comedy playing off David Spade in Just Shoot Me! in 2000. Her final screen appearance was in 2007 in an episode of The Closer.
Foch was an unintentional but natural scene stealer in the tradition of great actresses like Lynn Redgrave (think Kinsey, Gods and Monsters), Peggy Ashcroft, Edith Evans, Judith Anderson and Patricia Neal. She remains the leading lady in her own stunning career as an artist.
What can you say about an actor whose trademark was wearing red socks? Van Johnson began making films -- ironically, mostly pictures about WWII in which he was not allowed to serve due to a car accident that almost cost him his life--in the early 1940s. Like Adams and Foch, he thrived in the Broadway theater (La Cage aux Folles, Pal Joey), Hollywood films, and television (Rich Man, Poor Man receiving an Emmy nomination).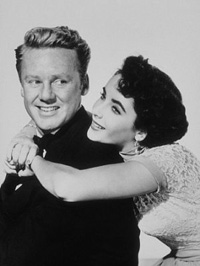 Van Johnson with co-star Elizabeth Taylor in 1950 in The Big Hangover. They also appeared together in the popular tearjerker I Remember Paris in 1954 and The White Cliffs of Dover with Irene Dunne in 1944.
Johnson was leading man to Deborah Kerr (The End of the Affair), Elizabeth Taylor (I Remember Paris), Judy Garland (In the Good Old Summertime marking the debut of a 3-year-old, newcomer Liza Minnelli) and Jane Wyman (Miracle in the Rain). He was a player in Hollywood's most elite club of actors: Humphrey Bogart (The Caine Mutiny), Spencer Tracy (A Guy Named Joe), Katharine Hepburn (State of the Union), Irene Dunne (The White Cliffs of Dover), Gene Kelly and Cyd Charisse (Brigadoon), Ginger Rogers, Walter Pigeon and Lana Turner (Weekend at the Waldorf), Greer Garson (Madame Curie) and Robert Mitchum (Thirty Seconds Over Tokyo).
Finally, The Huffington Post did not forget Paul Newman. He was the subject of more than 20 tributes on its website alone. All totaled -- even combined with the mourning and accolades displayed in countless articles appearing all over the world -- these were insufficient to sum up a face, a career and a life such as his.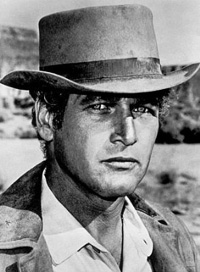 Screen images, such as this one of Paul Newman, will always speak for themselves.
Author's Note: Since this article was written, 2008 also saw the passing of singer/actress and cabaret performer extraordinaire Eartha Kitt, playwright/Nobel Laureate Harold Pinter (The Homecoming), and director Robert Mulligan (To Kill A Mockingbird).

FOLLOW HUFFPOST