It's not surprising that a Caribbean spiritual philosophy espousing
peace, unity and love -- whose charismatic spokesmen delivered its
message via a mesmerizing music, fueled by as much ganga as their lungs
could hold -- found so many devotees in a mid-70s America that was still
recovering from the divisive Vietnam War and race riots. This was also an America that was
embracing gentle Easternisms and toking up with more and more
frequency.
Even with the belief that Ethiopian Emperor Haile Selassie was
something akin to the Second Coming, Jamaica's Rastafarianism and
reggae music spoke to millions of Americans, including a white guy from
Riverdale, New York, with a trust fund and a camera. Thirty
years ago he became one of its most unlikely missionaries.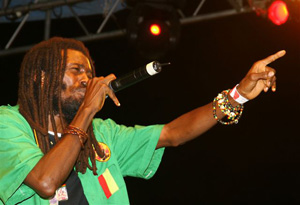 By the age of 28, photographer Peter Simon -- son of Simon & Schuster's late cofounder Richard Simon, youngest
brother of singers Carly, Joanna and Lucy Simon -- had already chronicled new age communal life, the nude beach movement, anti-war demonstrations and rock concerts. After
watching The Harder They Come dozens of times in Cambridge, Mass., in
1976 he and a writer friend named Stephen Davis traveled to Jamaica to
document the roots of reggae. Their Reggae Bloodlines (Doubleday, 1977,) "was a landmark book that provided eye-opening insights for me and
countless others in the States into the music and culture of Jamaica at
a time when reggae was just beginning to make its presence felt outside
the Caribbean," said C.C. Smith, publisher and editor of Beat
Magazine, the preeminent reggae magazine in the U.S.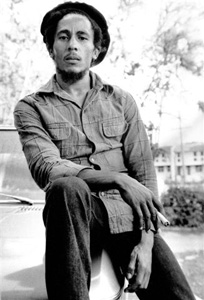 The book featured black and white photos of reggae's rising stars -- Jimmy Cliff, Bob Marley, Peter Tosh and others -- in the rough-and-tumble neighborhoods of their youth, along with rare in-studio and performance shots. For Simon, seeing Third World poverty for the first time was itself an eye-opener, having grown up surrounded
by wealth, the well-to-do and the well known.
In the years since then, Simon has hosted reggae radio shows,
photographed several other reggae books -- including I and Eye -- and produced
several CDs. But mostly he settled back into a comfortable life on
Martha's Vineyard (where his parents had brought the family since the
1950s) with his wife Ronni and son Willie, shooting family portraits
and weddings, taking pictures for the Vineyard's weekly newspapers and
self-publishing three books about the Vineyard. In all, his byline has
appeared on 12 books.
But "comfortable" did not provide much comfort for Simon in the face of
emotional frustrations, professional disappointments and physical
suffering, including a debilitating bout with candida, that eventually
led him down a slippery slope to alcoholism. His soul had unraveled and
it took personal crisis -- the threat of losing his wife, his home, his
career and his standing in the community he loves -- to stir Simon out
of his spiritual somnambulant state.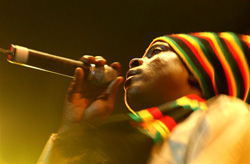 Now, after four DUIs, a 45-day stint in jail, three months in rehab and
six in a halfway house, and regular attendance to AA meetings, he
celebrates three years and five months clean and sober -- along with
the publication this month of Reggae Scrapbook (Insight Publications.
Calif.),
with words by reggae archivist Roger Steffens. With updated photos of
some of the hottest names in contemporary dancehall reggae, the book is
a highly designed full color coffee table book, a cross between
Griffin & Sabine and Be Here Now mixing and matching fonts, photo
montages and pockets containing actual full size postcards, CDs,
concert tickets and posters, DVDs and other memorabilia.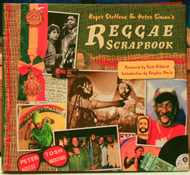 What Reggae Scrapbook does not document is Simon's own return from
the spiritual abyss.
"I have finally learned humility and compassion," he says with, well,
humility.
Among other sources of inspiration, he says, he found sustenance and
new understanding, now informed by personal experience, in the lines of
one of his favorite Marley songs, "Redemption Song":
"Emancipate yourself from mental slavery; none but ourselves can free
our mind."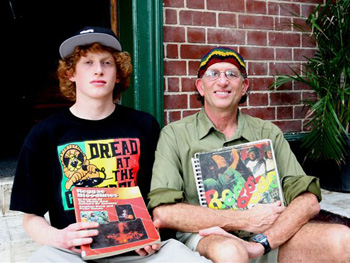 Peter Simon and his son in front of Bob Marley's Home on Hope Road
The Morrison Hotel Gallery, in
Manhattan, will show a retrospective exhibition of his work Nov. 16-18.
Simon will sign books and posters at the gallery on Saturday, Nov. 17,
from 1 pm to 5 pm. The gallery is at 124 Prince St., New York; 212-941-8770.