As I was researching my new film Paris The Luminous Years - premiering December 15, 2010, 9-11 p.m. on PBS - these questions intrigued me: What groundbreaking events happened in Paris in 1910 that revolutionized the arts of painting, sculpture, music, literature, dance, poetry, theater? Why Paris and why 1910?
In the early stages of my research, 1910 was just another fascinating year in the film's remarkable period, 1905-1930, a time that saw the triumph of Modernism and Paris become its magnetic center. As I dug deeper I discovered information that challenged long accepted dates of key events, with 1910 emerging as a major turning point in the modern arts. Having produced and directed some years before the 90-minute PBS biography Picasso - A Painter's Diary, I thought I knew a lot about Picasso. So I was surprised to find out that it was in 1910, not 1909, that Pablo Picasso and Georges Braque actually started the close collaboration that would create Cubism - "the most important revolution in thinking of the 20th century," as described in Paris The Luminous Years.
In 1910 the artists began painting together daily in a cheap rented studio in Montmartre. The results of this intense mutual collaboration is startlingly visible in the new direction seen in their numerous 1910 canvases, so similar that even experts have difficulty in determining which is by Braque and which is by Picasso. (They signed their pictures on the back.)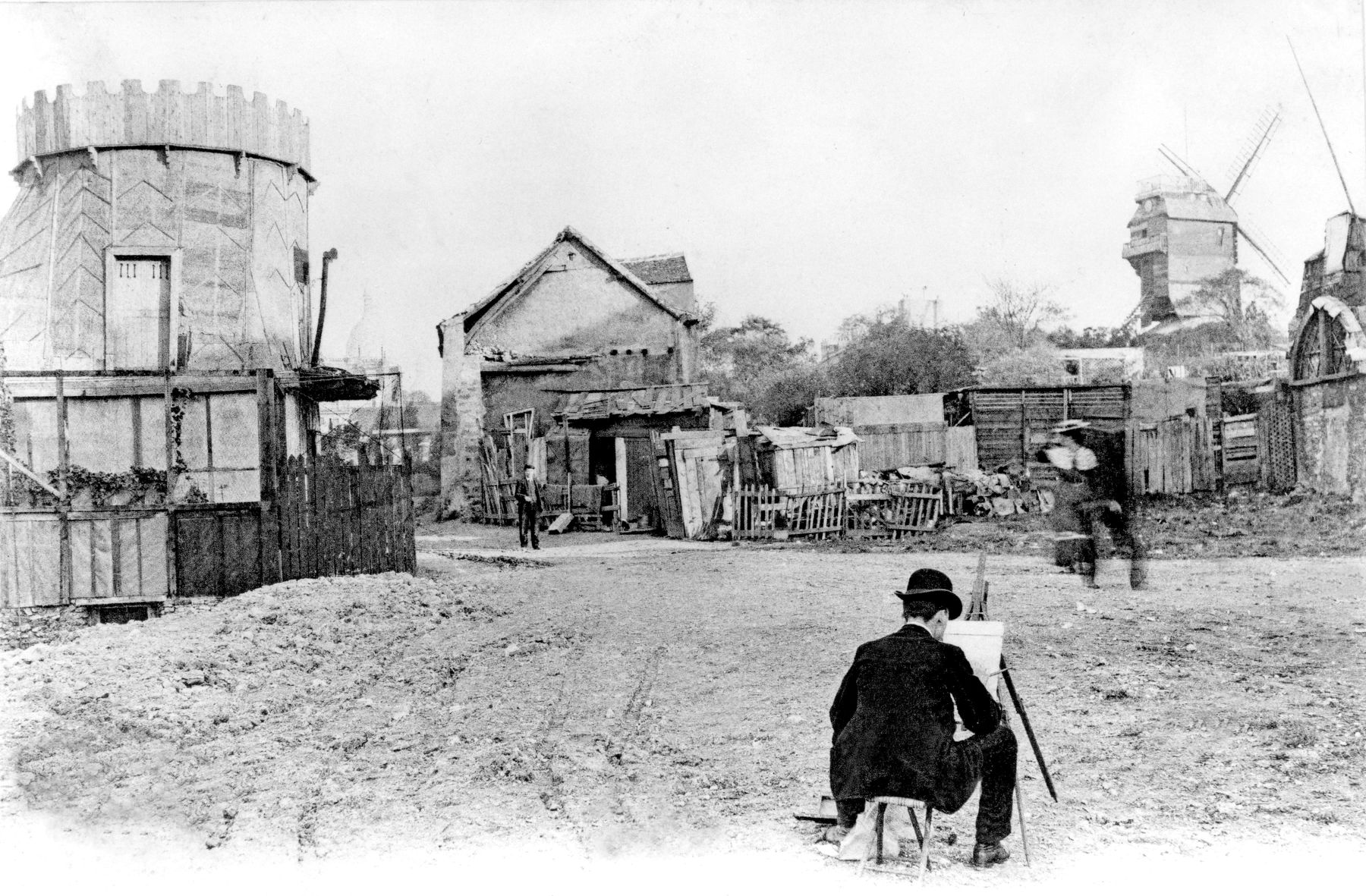 A painter working in Montmartre, early 20th century (Credit: © Rue des Archives/Tal)
Another surprise awaited me when I interviewed Lynn Garafola, dance critic, historian and author of two definitive books on the Ballets Russes. There were worldwide celebrations in 2009 as the centenary of the formation of the Ballets Russes, but Lynn tells us the real story. The Ballets Russes was founded in 1910 by a flamboyant Russian genius, Serge Diaghilev. She describes him as:
the single most important man in the art world of his time, because the Ballets Russes became a meeting ground, a crossroads for contemporary artists in different fields - for dancers, for choreographers, for modern painters who designed sets and costumes for the ballet for the first time, for modern composers and musicians who all met in the Ballet Russes.
The Ballets Russes never performed in Russia. In 1909 Diaghilev gathered a group of top Russian ballerinas and male dancers, including Vaslav Nijinsky, bringing them to Paris in a one-time visit as part of his annual Russian cultural season. Garafola states:
The Ballets Russes, in fact, only came into existence in Paris in 1910 because Paris applauded the new ballet productions and the ballet dancers to such a degree that Diaghilev then decided to form a new permanent company. And that permanent company would have its headquarters in Paris.
With this new company Diaghilev transformed ballet into a modern art.
Music would play a major role in this alchemy. Diaghilev's instinct for discovering and mentoring new talent was in his bones. One of his first moves in 1910 for his new company was to bring a young Russian composer, Igor Stravinsky, to Paris to compose the scene for a new ballet, The Firebird. Stravinsky's music electrified Paris (and my film!) and was the lust for much famous and stormy collaboration with Diaghilev. His ballet scores more than fulfilled Diaghilev's famous order "Astonish Me!" In The Rite of Spring (1913) Stravinsky's violent, repetitious and discordant chords accompanying Nijinsky's barbaric choreography instigated a famous riot. On camera, the composer describes gleefully Diaghilev's discomfort when Stravinsky played The Rite of Spring score for the impresario for the first time. Starting in 1910 with Stravinsky's compositions and soon with new scores by Prokofiev, de Falla, Satie, and Debussy, Paris became the vibrant, new center of modern music.
1910 also witnessed a seismic shift: the center of the art scene in Paris moved from Montmartre to Montparnasse - from the Right Bank of the Seine to the Left Bank, where it has remained. The innovative artist coming to Paris in 1910, or after, would not think of staying in Montmartre, now overrun by tourists. Even Picasso left his beloved Montmartre for Montparnasse in 1912.
The change was not simply geographic. Montparnasse in 1910 was the new modern neighborhood for the avant-garde, a magnet that attracted adventurous artistic spirits from all over Europe and beyond. In 1910, the Paris avant-garde became truly international. Their lifestyle changed from gathering in each others studios to meeting in cafés - the Closerie des Lilas, the Café du Dome, Café François Coppée, and hundreds of small cafés that honeycombed Montparnasse. For Paris The Luminous Years I interviewed Noël Riley Fitch, literary historian and author of Sylvia Beach and the Lost Generation, at the Sélect, a favorite '20s café. She explains:
It is impossible to exaggerate how important the café was in the life of the artists here in Paris. Many were foreigners and they lived in small hotel rooms, maybe tiny apartments, unheated, cold. For a cup of coffee they could sit in a café as long as they wished, where they had heat, a toilet, all the necessities for writing or sketching. Writers found publishers for their fiction - publishers would find writers they could publish in their magazines. It was a ferment of ideas and influences that really made for a revolution in painting and literature.
On camera, Jean Cocteau remembers:
You mustn't forget that Montparnasse was still a small provincial town. Everything happened amongst ourselves. There were arguments, violent sometimes, hates, loves, but everything happened amongst ourselves. The whole art revolution happened at that time.
As 2010, the last year of the first decade of the 21st century, comes to a close, 1910 gives us a legendary centenary to celebrate.
Watch this preview of Paris The Luminous Years. The entire film will stream after the PBS broadcast premiere at pbs.org/paris.
This Blogger's Books and Other Items from...
FOLLOW HUFFPOST