Throughout last week's opening round of the NCAA Tournament, the viewing public witnessed new heroes rising up once again as men's hoops proved that Cinderella is alive and well across the country. However, one of the more resounding stories that came in was the defeat of Robert Morris University, a group of underclassmen out of the Northeast Conference led by hardscrabble coach Mike Rice, who almost took down the (perceived to be) mighty Villanova, had it not been for more than a few questionable calls down the stretch. It was a game the Colonials didn't really lose in terms of exposure, either for them or their apparel brand, Crons.
Have you heard about Crons (Come Ready or Never Start)?
If you are a retail chain or an aficionado of big brands like Nike, Adidas or even Under Armour, you probably haven't. But if you are a grassroots soccer or hoops squad looking to find a cost efficient way to outfit your squad and make some extra bucks in your community, you may have.
Crons is the brainchild of Pat Cavanaugh, a former walk-on guard from Pittsburgh who became a serial entrepreneur, and built the Pittsburgh-based brand around a philosophy of hard work, social responsibility and quality apparel with a responsiveness to its customers. They have steadily built a loyal following in grassroots sports, with some entries into the high school market and, most recently, partnerships with the Big South Conference and Robert Morris (a school looking for an apparel partner, with a connection to Cavanaugh from when Rice was an assistant at Pitt). It may have been one of the better business stories not just around the opening round of March Madness, but of the whole college hoops season. Crons has been built on what March Madness and its mid major success stories are all about: The hardworking underdog taking down, or at least barking at, the big dog, and finding a way to move on and grow another day. Robert Morris made for great drama, and Crons made for a good business story, especially for hoops.
We took a few minutes to ask Pat some questions about the company and his brand. For more info, go to Crons.com.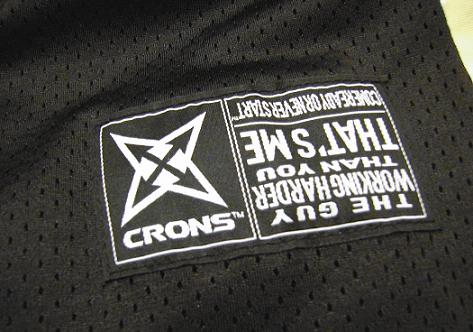 PRC: When did "Come Ready Or Never Start" transition from a motivational message that stuck in your head to an actual brand?
Cavanaugh: Back in 1996, I developed the name Crons as an acronym for Come Ready or Never Start, a good description of the mentality that helped me be successful. Then I needed a canvas on which to promotionally paint what that mentality was all about. I thought apparel was the best medium. When you're wearing something with a message you truly believe in, it makes you feel good. It motivates you. It reinforces that attitude. And it shows others what you believe in, what drives you.
PRC: How did your dream (and reality) for playing Division I basketball at Pitt inspire you to start two companies? How do you balance both?
Cavanaugh: I knew I wanted to start my own business and be an entrepreneur. And I was confident that the mentality that allowed me to walk on, earn a scholarship and become a team captain at Pitt -- outworking the competition, overcoming adversity, ignoring the doubters and staying extremely focused on setting and achieving goals -- would be most pivotal in allowing me to succeed in the business world.
As far as balancing both companies, I'm fortunate to have enough qualified people in both companies running the day-to-day operations with their own Crons mentality, and who know what it takes to be successful. They know how to make their best... better. That's what both companies are all about.
PRC: Crons is taking a different approach to reach today's consumer. Describe your sales approach and how far the brand has come since its inception.
Cavanaugh: The Crons brand is all about motivation. We exist to help people achieve their goals no matter what the odds. We all can use the Crons mentality as we take our journey toward our goals. People want to celebrate this Crons attitude that has made them successful. That's our value proposition. Sure, we have great products in terms of apparel quality, style and performance. But it's all about the motivation and the message. Everyone can relate to "Come Ready or Never Start." It transcends race, religion and background.
I remember making Crons' t-shirts for close friends, relatives and employees. Those people gobbled them up because they understood the message! Now, we've sold Crons gear to over 400 schools and organizations in 25 states. One of our biggest concentrations of customers is in California. Sales have increased 450% over the last two years. And we've been featured in the New York Times recently.
PRC: We recently saw Robert Morris University, a Crons client, put up a valiant effort against Villanova in the first round of NCAAs. How did RMU's tourney appearance and near win benefit Crons?
Cavanaugh: We were very fortunate when the New York Times featured Crons in its lead sports article for the NCAA Tournament on the same day Robert Morris came so close to upsetting Villanova. Hits on our website were way up. In addition to hearing from a number of media outlets, we heard from many of our current customers who took a chance on Crons and some of our immediate sales prospects who became even more impressed with the brand. It certainly has given us additional credibility and a big boost of momentum in our current sales of our Game Time line of football apparel and accessories. I'm sure it will help when we launch our Ladies Active Lifestyle line this spring.

PRC: In addition to apparel, tell us about some of the other products and services that Crons offers. How do they unify your message?
Cavanaugh: We're most proud of our Crons Achievers Program. This is a nine-week, nine-module curriculum that teaches kids how to set goals, manage goals and achieve their goals. It's been embraced by schools in Pennsylvania, New York, Florida, Utah and California. Every educator we've introduced it to just loves it. A lot of kids don't know how to set goals or how to deal with them when something doesn't go as planned. Teaching the importance of having that goal mentality and knowing how to use it to drive your success, is missing in the classroom. Our goal is to give every school district in the country the opportunity to utilize this program.
We will also be introducing a Crons nutritional bar very soon. It will contain high protein, high fiber and low fat. Crons is an acronym for Come Ready or Never Start. Many young athletes today just don't realize the importance of proper nutrition in being ready to practice or compete in games. This product was developed for them.
Our mission is from the time someone wakes up in the morning until the time they go to bed at night, we want them living and breathing the Come Ready or Never Start mentality. We know if they embrace this attitude that good things will happen and goals will be accomplished. Everything we offer supports this mission.
PRC: For all the young student-athletes aspiring to reach their goals reading this, what one piece of advice would you give them?
Cavanaugh: I would tell them to dedicate themselves to outworking the competition. That kind of preparation and practice will give them the confidence that they can overcome any adversity and have the best opportunity to perform to their absolute potential, and even make their best better. That work and dedication will give them confidence in reaching their goals. It will remind them to ignore the noise of any doubters. They should use that noise as motivation. They need to remember, "Come Ready or Never Start."
SUBSCRIBE TO & FOLLOW THE MORNING EMAIL
The Morning Email helps you start your workday with everything you need to know: breaking news, entertainment and a dash of fun. Learn more