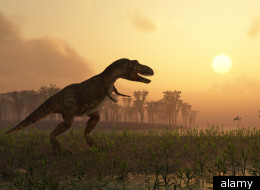 So you're interested in time travel. Think you can just strap a flux capacitor to your back, get struck by lightning, and become a knight of King Arthur's court before suppertime? Think again.
Time travel is no simple endeavor. Just because you have plutonium, a sweet car from the 1980s and the blessing of your local mad scientist doesn't mean you're ready for what awaits you on the other side of a wormhole (like hungry dinosaurs and probe-happy aliens). Time travel is 98 percent preparation, 1 percent luck, and around 53 percent screaming and running like a scared child*.
So before you go flinging yourself into the waiting jaws of grizzly molecular-decomposition death, consider the following safety tips, a small sampling of what's on offer in the thing you really need to survive your adventures in trans-temporal relocation: So You Created a Wormhole: The Time Traveler's Guide to Time Travel [Berkley Books, $14.99]**. These tips constitute a few of the most important things you should be thinking about before and during your various time travel endeavors, and may well save your life (but probably not), as well as the lives of all the hapless billions you endanger with your wanton disregard for the laws of physics (but probably not).
*Note: Percentages not based on fact.
**Note: Must buy book to live.
Each time machine model has its benefits and risks, so choose wisely. Some things to keep in mind as you dodge probing questions about your personal life from the sleazy used time machine salesman: Skin - Do you want to keep yours? Any open-air models, like giant hamster balls and Sebring convertibles affixed with flux capacitors, tend to result in melted skin. The idea here is to not BBQ yourself. Direction - Which way are you traveling? This matters. For example, a spaceship with faster-than-light capabilities works pretty well for travel to the future, but typically requires you to fly through a black hole in order to travel to the past. Which can kill you. In fact, we're not even technically sure that getting sucked into a black hole in order to time travel even works. Style - The only thing more important than traveling through time is looking good doing it. Add some neon lights. Put some tassels on the handlebars. Consider some gull wing doors. You're a time traveler -- start acting like it.

Sure, you've got a time machine with a canopy, but the horrific sizzling of your own flesh is but the least of your worries. It's best to consider every place you might land whilst time traveling an extremely hostile environment -- you'll never know when you're going to wind up in a Mongolian Horde training camp circa 1208, a Plesiosaur's aquatic nest sometime during the mid-Cretaceous, or a Robot Armament Deployment Station during one of their "destroy all humans" tizzies. Always assume that if there's a food chain, you're at the bottom of it, and if there are any people, they will want you dead. Better safe than a forgotten, greasy smear on the underside of the timeline.

We know, the first thing you're likely thinking of doing as soon as you get that plutonium rod inserted into the correct flux receptacle is to go see if you can kill your own grandfather. Just to stick it to Stephen Hawking, probably. But -- well, don't, how about. Paradoxes are more than an academic exercise: they're a real threat to The Universe. Ever been imploded? Trust us, you don't want to be. And while we're not sure that universe-implosion is the definitive sentence for grandpappycide, we guarantee that none of us want to find out. Leave your grandfather (and father, and mother, and ancestors, and Hitler, while you're at it) alone. No sweeping paradox-creating historical changes.

Then again, even if you do take great pains to avoid killing everyone in your family tree, some changes to the future (and your present) might be unavoidable. Even minor actions can have vast and unforeseen consequences: Sneeze on a president? Cats go extinct. Eat a half-eaten sandwich you found? The South wins the Civil War. Step on a butterfly? Butterflies evolve to become the dominant species on Earth. (Seriously -- that last one happened to an intern we had. He had a helluva time fighting huge butterfly assassins while trying to go back and fix history.) The important thing here isn't necessarily to avoid any changes, but to avoid overt and major changes (see Tip 3). If changes to the timeline do occur, you at least need to make a concerted effort to set things right. Even then, though, things might not be perfect. Freckles are green now and human vacuum technology was invented in place of human flight technology. Well, at least you tried.

The only thing worse for The Universe than killing your ancestors is mating with them. Truthfully, you shouldn't be visiting your past at all. But if you somehow end up there and also end up running into your parents, it's easier than you think to disallow for your existence. And then, poof! Paradox. How could you disallow for your existence if you never existed? Trouble is, your mom or dad might be kind of hot. And you, being the debonair time traveling go-getter that you are, will undoubtedly be attractive, pocket protector or no. Certainly there's some kind of weird paternal Oedipus chemistry going on there; that does not make your sick thoughts and actions okay, perv. No inter-timeline love with your ancestors.

You should always know your destination and do your best to come prepared. In addition to So You Created A Wormhole: The Time Traveler's Guide To Time Travel (which you need to live), we heartily recommend a shotgun be in your time travel prep kit, as well as running shoes. You can't overestimate the usefulness of a pair of good running shoes when fleeing cavemen, Nazi soldiers or P.O.'d creatures of any ilk. But running away and/or shooting aren't always viable methods of dealing with local indigenous populations. In certain eras, you may have to extend the hand, half-chewed animal limb, or slimy alien tentacle of friendship. Sure, those various alien creatures of the late 2300s can be frightening at first, but do you really want to be the shotgun-wielding diplomatic incident that sets off a planet-eradicating laser aimed directly at Earth? Know when you're going and what to expect before you get there.

Gallivanting through the ages won't go unnoticed, and with your phenomenal powers of scientific understanding, you're going to acquire a few enemies that would love to use your technology for evil, rather than good. Also there's that whole robot uprising thing to deal with, not to mention first contact with aliens, Hitler, countless other crazies and the occasional caveperson who starts pushing flashy buttons at random. Not everyone throughout time is trustworthy: for example, we're pretty sure Ben Franklin stole our last Peppermint Paddy the other day. That guy's kind of a jerk. And that's to say nothing of the doubles, doppelgangers, and killer assassin droids that look just like famous bodybuilding champions who are constantly trying to murder that poor John Connor kid. He learned real fast that "checking in" on Facebook is really not such a great idea. Keep your head on a swivel.
Follow Phil Hornshaw on Twitter: www.twitter.com/PhilHornshaw