Boozoo Bajou


Boozoo Bajou is Nuremberg, Germany, duo Florian Seyberth and Peter Heider. Heider and Seyberth are also known for their remixing prowess including works with Common, Nelly Furtado, country singer Tony Joe White, Jamaican roots artist U-Brown, and the legendary Henry Mancini. They tastefully marry electronic flavors with hints of Americana blues. Their 2005 album Dust My Broom includes a collaboration with American artist Ben Weaver titled "Way Down." It's spooky and groovy.
Buy: iTunes
Genre: Electronic
Artist: Boozoo Bajou
Song: Way Down
Album: Dust My Broom
Western Heritage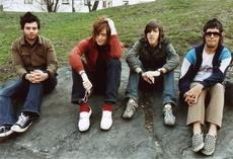 Western Heritage started as an underground four-piece group in Norman, Oklahoma. Fronted by singer/songwriter Jay Lashley (guitar, piano, bass), Jarod Evans (guitar, keyboards, harmonies), Chris Rhoads (bass, keyboards, harmonies), and Jawden Eldo (drums). The bandmates have since gone on to other projects, but their short time together produced a collection of pop songs with melodies and harmonies so gloriously catchy you'll sing them when all is silent. Western Heritage deserves a little respect and a big fan base. Get started with "She's Only 16."
Buy: iSound
Genre: Pop
Artist: Western Heritage
Song: She's Only 16
Album: Western Heritage
Ed Harcourt


Singer/songwriter and musician Ed Harcourt was born in Lewes, East Sussex, England, in the late '70s, the son of a diplomat, and is now based in London. His parents introduced him to the arts and piano lessons at an early age, shaping his destiny. Self-described as self-educated and an avid reader, Harcourt chose not to have a formal education, fearing the hard lines of conformity. Harcourt's "Myspace" take on himself: "I like writing songs, painting, fishing, cooking, cats, wolves, ducks, books, charity shop vinyl, drinking in good company, buying weird old instruments that no-one has heard of ... I'm married to the beautiful [violinist] Gita Harcourt. That's all you need to know. Bye." The Beautiful Lie, Harcourt's 2006 release, is otherworldly old-school romantic and elegant. The title "Until Tomorrow Then" should be relished and devoured.
Buy: iTunes
Genre: Alternative
Artist: Ed Harcourt
Song: Until Tomorrow Then
Album: The Beautiful Lie
Artie Shaw


Legendary big-band leader, author, composer, clarinetist, arranger, and reluctant star Arthur Jacob Arshawsky (a.k.a. Artie Shaw) was born in New York City in 1910. Raised in New Haven, Conn., where he endured rushes of anti-Semitism, Artie was shy and introverted. He played the saxophone as a boy, then picked up the clarinet at 16. In 1938, he broke the racial barrier by hiring Billie Holiday as lead singer. On the heels of Pearl Harbor, Shaw quit the music business and enlisted in the U.S. Navy, where he led the Navy band, playing several shows a day in battle zones. His collaborations include Leonard Bernstein, Frank Sinatra, Buddy Rich, Mel Tormé, and Roy Eldridge. His hits include "Frenesi," "Nightmare," "Dancing in the Dark," "Moonglow," and "Summit Ridge Drive." Hemingway, Steinbeck, and Sinclair Lewis were close friends. Lana Turner and Ava Gardner were among Shaw's eight wives, and he had two sons. In 2004, he was presented with the Grammy lifetime-achievement award. Shortly thereafter, Shaw passed away in a Los Angeles suburb. Shaw's 1941 recording of "Stardust," from the album Artie Shaw: Greatest Hits, composed by Hoagy Carmichael, is sublime history.
Buy: iTunes
Genre: Big Band Jazz
Artist: Artie Shaw
Song: Stardust
Album: Artie Shaw: Greatest Hits
Linda Ronstadt


Singer Linda Ronstadt, born and raised in Tucson, Arizona, is of German-Mexican descent. She grew up singing pop covers and Mexican folk songs with her family. After a brief stint at the University of Tucson, Ronstadt moved to L.A., where her career exploded. She became the highest-selling female vocalist in the '70s. With a career spanning nearly four decades, Ronstadt has received numerous accolades, including an Emmy, a Golden Globe, and many, many Grammys. She is a treasure, with one of those rare, nonpareil voices, soaring and sincere. "Someone to Lay Down Beside Me," written by Karla Bonoff, from the 1976 album Hasten Down the Wind, is profoundly compelling and lamentably believable.
Buy: iTunes
Genre: Rock
Artist: Linda Ronstadt
Song: Someone to Lay Down Beside Me
Album: Hasten Down the Wind
Kurtis Blow


Artist, MC, and producer Kurtis Blow was born Curtis Walker on August 9, 1959, in Harlem, New York. Kurtis Blow blazed the trail for many rap artists including Grandmaster Flash and Run-D.M.C. The young Curtis Walker started out as a break-dancer, then became a DJ and ultimately the notorious MC Kurtis Blow. At the age of 20, Blow became the first rapper to be signed by a major label. His 1979 single "Christmas Rappin" sold over 400,000 copies. Collaborations include The Fat Boys, Run-D.M.C., Russell Simmons, and Wyclef Jean. Blow is currently working with Sirius Satellite Radio on the old-school hip-hop station Backspin 43. Blow's breakthrough track "The Breaks," from the 1980 album Kurtis Blow, was the first rap single to go gold and should be remembered in your music library.
Buy: iTunes
Genre: Hip-Hop
Artist: Kurtis Blow
Song: The Breaks
Album: Kurtis Blow